(l-r) Julian Cihi, Tyler Lansing Weaks, Carl Lundsted, Patrick J. Adams, Jesse Williams, Hiram Delgado, Edoardo Ramos, Ken Marks (Joan Marcus)
Take Me Out
                                        By Fern Siegel
The revival of Richard Greenberg's Take Me Out hits a home run.
Now at the Hayes Theater, the Tony-winning baseball drama, which debuted in 2002, returns in a Second Stage production with a winning ensemble. The years haven't diminished its larger themes — friendship, sexuality, class, causality — or power.
Like baseball's almost mystical threes, the original production won three Tonys: best play, Joe Mantello for best director and Denis O'Hare for best performance by a featured actor in a play. It was also notable for showing handsome naked men in the locker room.
Take Me Out opens in the Empires' locker room, where Darren (a cool Jesse Williams, Grey's Anatomy) casually announces he's gay. He isn't worried about fallout for two reasons: First, he's a narcissist who believes he can do anything. And second, as a biracial superstar player for the Empires — read Yankees — he's largely untouchable. The team needs him — whatever his personal preferences, as his manager (Ken Marks) makes clear.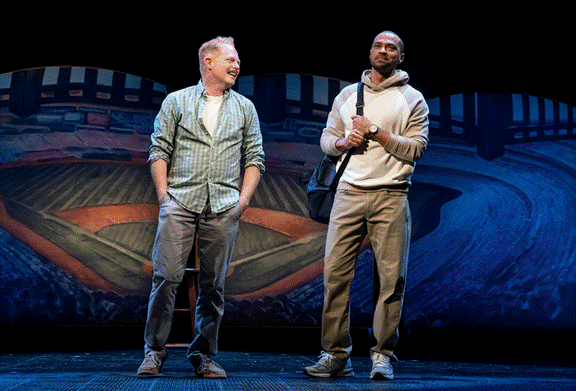 (l-r) Jesse Tyler Ferguson and Jesse Williams  (Joan Marcus)
His amiable friend, Kippy (Patrick J. Adams, Suits), the resident thinker for the Empires, muses on why Darren didn't reveal himself sooner. That question underscores a larger concern in Take Me Out: What defines friendship?
The answer proves complicated for all the characters. The life of a celebrity can be lonely — and Darren's inability to connect with anyone on a personal or professional level exacerbates his isolation. Loyalty and the ties that bind are tested by the disparate pulls of societal expectation and religion.
The latter is represented in Darren's best bud Davey (a swaggering Brandon J. Dirden), whose religious beliefs are at odds with his friend's sexuality. Similarly, Darren's teammates, whatever the club's official stance, wrestle with his announcement — and reactions range from support to indignation to fear. The hyper-charged masculinity of sports is pitted against the intimacy of the locker room, as the men navigate their relationships.
The one positive note outside the locker room is Darren's meeting with his new money manager, the nebbish Mason Marzac (Jesse Tyler Ferguson, Modern Families). Rejected by the gay community, Mason discovers that he and Darren share a similar reality: loneliness. Then Mason, because he idolizes Darren, takes an interest in baseball. And getting swept up in the sports' singularity changes his life.
Mason's paeans to baseball prove to be some of the most enjoyable monologues in the play. He waxes rhapsodic with:
"Baseball is a perfect metaphor for hope in a democratic society. It has to do with the rules of play. It has to do with the mode of enforcement of these rules. It has to do with certain nuances and grace notes of the game. First, it's the remarkable symmetry of everything. All those threes and multiples of three — attention to — virtually making a fetish of the game's noble equality. Equality, that is, of opportunity. Everyone is given exactly the same chance. And the opportunity to exercise that chance at his own pace. … And with each turn at the plate, there's the possibility of turning the situation to your favor."
Mason's sheer delight in his newfound passion provides comic relief from Greenberg's darker moments.
Those darker elements arrive in the person of Shane (a standout Michael Oberholtzer). A Southern redneck, Shane is monosyllabic and isolated. He doesn't mingle with the other players and has trouble expressing himself — and when he does, trouble strikes.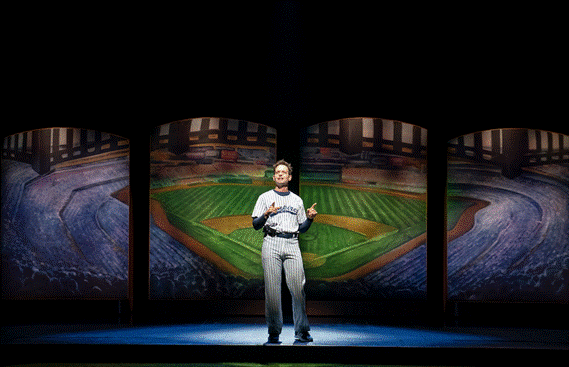 Patrick J.  Adams (Joan Marcus)
Either through sheer ignorance or background, Shane, the Empires' star relief pitcher, expresses his racist and homophobic remarks in an interview, unaware that his loaded diatribe will carry with it disastrous results.
Seamlessly directed by Scott Ellis, this revival has a fresh feel, though the first professional ballplayer to come out to his teammates was Glenn Burke, who played for the LA Dodgers and Oakland A's in the 1970s. But it's baseball's larger meaning, as an iconic American touchstone, that resonates here. Or in Greenberg's words, baseball is even "better than democracy — or at least than democracy as it's practiced in this country — because unlike democracy, baseball acknowledges loss." 
While the line ensures laughter, given Donald Trump's election response, it works on several levels. It's a reminder that every game, every aspect of life, has winners and losers. Often, loss isn't measured by a scoreboard, but by the absence of connections. Fame doesn't buy emotional security — nor does athletic merit reflect personal decency. Cause and effect are murky, complicated realities — and they haunt Take Me Out's shattering climax.
Such issues allow Take Me Out to shine, aided by David Rockwell's spare set. The ensemble is uniformly sharp; each man delivers his anger, arrogance or pathos with genuine feeling. Together, they hit it out of the park. 
Take Me Out, Hayes Theater, 240 W 44 St.
Running time: 2 hours, 15 minutes
Tickets: https://www.ticketsmarter.com/venues/helen-hayes-theatre