Photos by Carol Rosegg
                                 By Julia Polinsky
Charming, elegant, confident, delightful, and engaging: pick an adjective that basically says, "How Cool Was THAT," and it'll apply to Maurice Hines in Tappin' Thru Life.  At 72, you'd think he could be content to sit back and enjoy the fruits of a long and stellar career. You'd be wrong.
A cross between an anthology of wonderful songs and an autobiography on stage, Maurice Hines, with director Jeff Calhoun, has crafted Tappin' Thru Life, a feel-good evening of song and dance. The nattily-dressed Hines has a long history as a performer, and frames his show with his memories, and songs from the Great American Songbook to illustrate them.
The tale of his life rambles from walking up the street in Harlem as a very little boy, with his brother Gregory (dressed to the nines by stylish mother in clothes from Klein's basement), to auditions, to the Apollo, to TV, to Vegas.
About Vegas: that's where the memories show ugliness. Vegas, back in the day, was a segregated city, and the tales involving Hines, his brother, and the pool at a white-only hotel (Tallulah insisted they be allowed to swim in the pool, after which it was drained by management) gave Hines the chance to whip the audience around his little finger. Not a sound rose from the packed house, as the story moved from name dropping to shocking reality. Beautifully done; Hines is a master at capturing an audience, good times and bad.
Over the years, Hines encountered pretty much every startlingly famous name in 20th century popular music. Tappin' Thru Life can feel like an endless evening of name dropping, but really, when your experience ranges from dancing for Tallulah Bankhead to Francis Ford Coppola, never mind Judy, Frank, Lena, Ella, Sammy, and other one-name stars, well, go ahead. Drop those names.
Hines speaks lovingly of his family, sings to them, dances for them. Projections, by Darrel Maloney, at the sides of the stage show photos of the stars he mentions, the venues where he performed, all the memories, but often, mom and dad, at different times in their lives. His brother Gregory comes up a lot, too, and if Hines glosses over the 10 year rift between them, who can blame him? He honors his brother by dancing a lovely soft shoe duet, with Gregory is present as a spotlight, some warmth, a smile.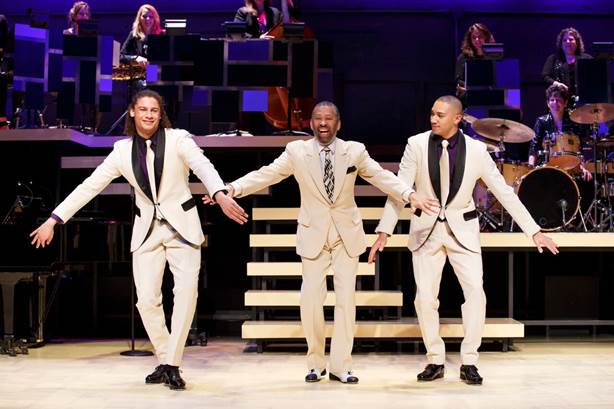 The Manzari Brothers
He evokes a world that seems gone, and yet, the house was filled with people of all ages. Also, Hines seems to be passing the torch of Tap Dance Sibling Act on to more recent generations. The Manzari Brothers, a pair of appealing young'uns, play charmingly with the star, and dance their own version of the tap-dance brother act that Hines so memorably brings to the stage, here. Sisters Devin and Julia Ruth, neither of whom is out of her teens, bring their own take on dance. At one point, the dance-off among all these deliciously talented kids makes the future of tap look bright.
The remarkable jazz band that backs him up, Sherrie Marcie and the Diva Jazz Orchestra, do a kickass job of being a singer/dancer's dream accompaniment.  Do yourself a favor and stay for the band's final number, after the show is, I suppose, technically over, and the dancers are gone. They are a smashing, hot, swinging jazz ensemble, well worth staying for. Hard to stay still, while they're working it out. You'll want to dance. Who knows? You may take up tap dancing. Tappin' Thru Life can make you feel like that. Enjoy.
Maurice Hines: Tappin' Thru Life
90 minutes, no intermission
New World Stages, 340 W. 50th St.
M,W, Th, F, Sa 8pm; W, Th 2pm; Su, 3pm
https://www.telecharge.com/Off-Broadway/Tappin-Thru-Life/Schedules-Prices