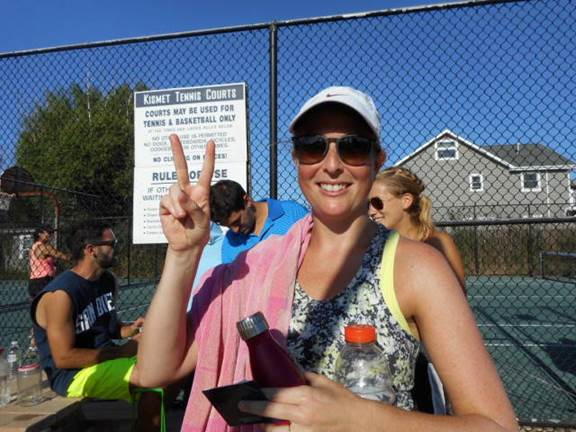 2015 Kismet Kaye Mixed Up Unisex Doubles tournament
                           Text by Barbosa, photos by Jeannie
"Kismet or Fair Harbor…its all Fire Island" said new tennis star, Danielle

Winners:  Danielle and Jim  (sexual parity)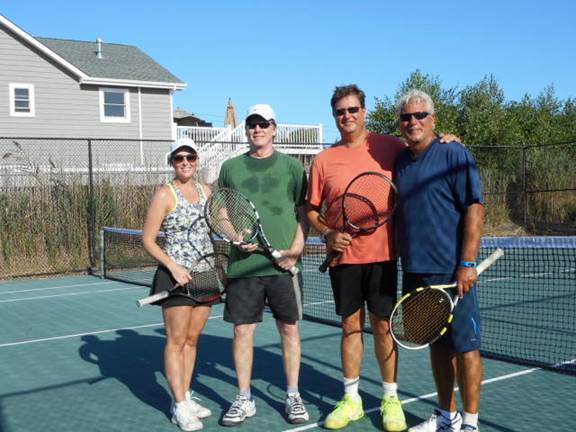 Final Four: Danielle, Jimmy S,  Dean and Gary (geographic parity)
"The 2015 Kismet Kaye Mixed Up Unisex Doubles tournament held Saturday, 9/5/15 barely lived up to its name, with only 2 women in the 16 person draw, the Winners were Danielle Feis and Jim Sugrue, preserving sexual parity.
It also accomplished its primary goal of completion in a single day, in record time, by 4:30 PM.
After three rounds, each with a different partner (hence "mixed up"), the eight entries with the highest number of games won, moved into the semi finals.
In the semis, Dean DeMarco & Gary Leone beat Tony Falotico & Dan Barbosa; and Danielle & Jim Sugrue beat Danny Engelstein & Gordon Melchner.
In the draw for the finals, in a rare case of fate ("Kismet") , the semis winners kept their partners, and Danielle & Jim S. edged out the favorites, Dean & Gary, (8-7), with a gentle volley by Jim to Gary's toes, who could not pop it up over the net.
The assembled crowd applauded, and those in the Licari Box lifted their glasses to the players, who were then bestowed their chits from the Inn and the Out, solicited by Jeannie Lieberman, Chief Solicitor, with engraved Beer Mugs to the four Finalists, testifying to their prowess to follow, arranged by Gary, Chief Engraver. The Chief Umpire, Hal Biagas, was AWOL, leaving the players to keep score when not playing, with notable integrity.
A good time was had by all.
Joe B
Chairman of the Board. "
Waiting to serve: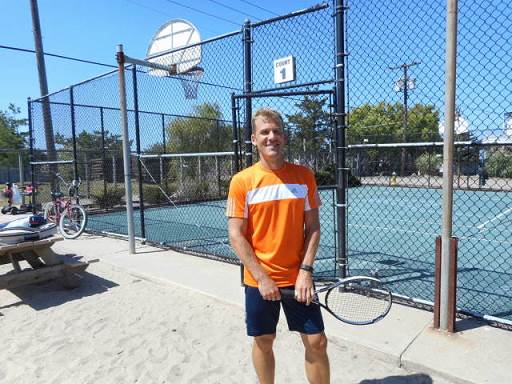 Jay Orfield

Stella B & Jay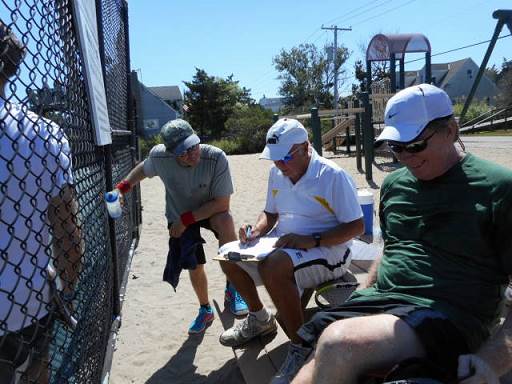 The Great Planner at work!

Tony Falotico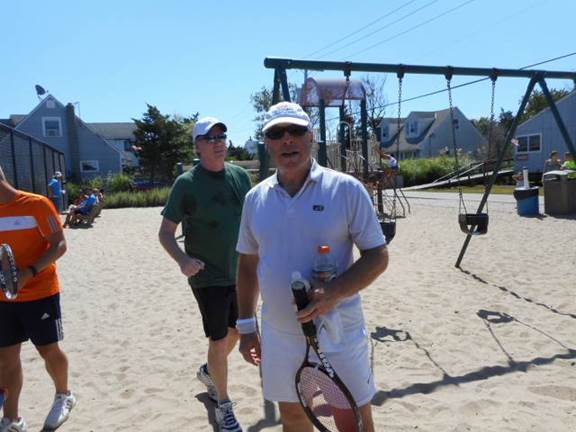 Danny Englestein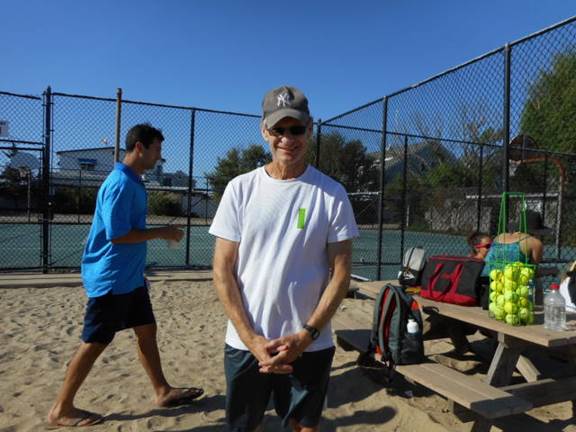 Sam Mann

Justin, Jay, Dan B & Hanna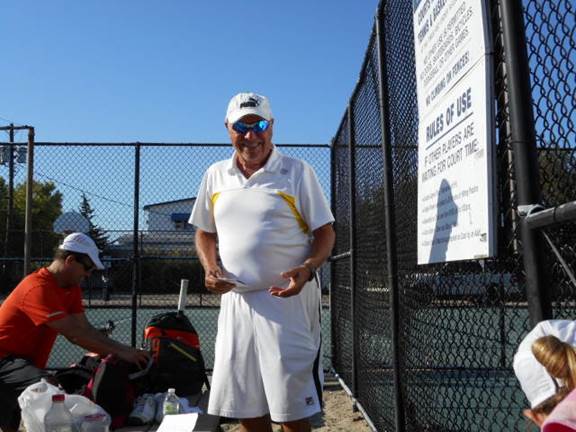 The Man Himself!
A blast from the past – compliments of Nancy Tuck
1999 Kismet Plastik Klassik
Konditions
· Earl the Pearl shall not be allowed to referee or call foot faults, nor can he make up rules as he goes along.
· Linda Languilli must leave the court area to use her cell phone.
· Linda Languilli will be awarded a tournament win if she gets through the next year without an injury.
· Three "O-Barbossa's constitute a point deduction.
· Three "O-You-Dope's" by Binnie constitute a point deduction.
· Jerry Schneidman will get point deductions for smiling or exposing the veins in his neck.
· Fair Harbor Dave will receive extra points for playing from the baseline.
· Roz and Nancy will receive extra points for double faults and hitting into the net.
· Nancy will receive extra points for getting the score right.