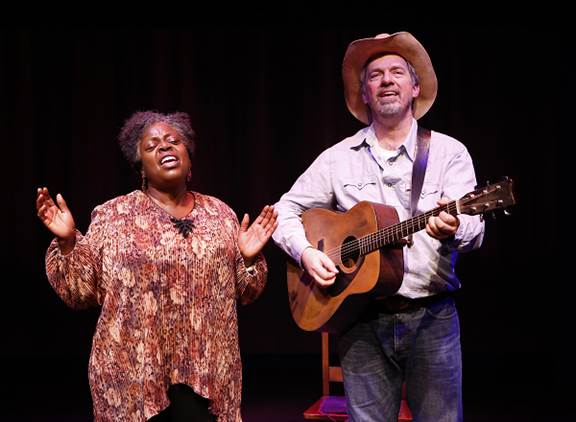 Photos by Carol Rosegg
                                 by Ethel Wynn
The new show at The York Theatre Company, Texas in Paris, is "full of music but it's not a musical," and is "based on true events, but it's not a documentary"  as described by York's Artistic Director Jim Morgan, in his witty-as-usual curtain speech.
Texas in Paris is small in many respects: two people, two chairs, a bare stage, but it has big performances and an even bigger heart. And lots of music. Based on the fascinating (and true) story of two people from Texas,  Osceola Mays and John Burrus, one black, one white, a laconic cowboy and a chatty gospel singer, who are unexpectedly hired to travel to Paris together and perform everyday songs from their lives. It is a touching journey of discovery and growing friendship of two people who would never even have talked, much less met, on their home turf. Their opposite responses to Paris are a trip in itself; the food, the absence of racial discrimination.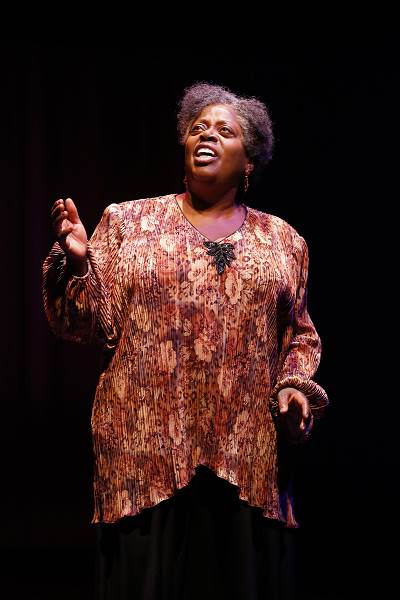 There are over 25 songs in the show—what author Alan Govenar refers to as "Roots Music"-- and they include cowboy songs, gospel songs and spirituals, and even children's nursery rhymes. Both performers, Lillias White and Scott Wakefield, are phenomenal musicians; he accompanies himself and occasionally her, on guitar, harmonica, and banjo. She sings most of her songs a cappella with a fervor that makes audiences snap their fingers and clap along.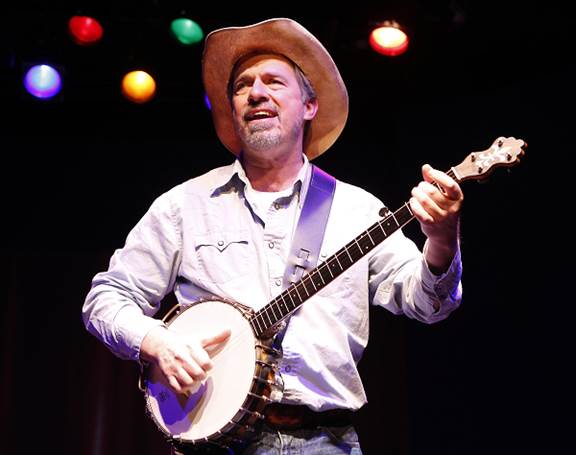 The story is straightforward; Govenar clearly cares for the characters, whom he brought together in real life. A truly bare bones production (this is a world premiere), the show could benefit from some fleshing out of the story and characters. However, there are fascinating and illuminating details in the material posted in the lobby displays that would be wonderful added to the script itself. The evening takes a while to draw you in, but once it does, you will be hooked.
The artful "non-arrangements" by Amy Jones sound spontaneous and the projections/videos by Govenar and Jason Johnson-Spinos (with evocative lighting by Brian Nason) help take us to a variety of locales in Paris. Director Akin Babatunde might have staged it with a bit more fluidity.
A partial standing ovation the night I was there reflected the audience's enthusiasm. Also overheard were comments about how timely Texas in Paris is, with its message of overcoming the racial divide and cultural differences allowing  people to come together when they are given the chance to become acquainted and interact-- and how essential that is in our country today. The chat in the women's room following the show was animated and passionate, a clear indication of how the simple, sweet story and the incredible musical performances all combine to make this premiere well worth seeing. Kudos to the York for continuing to nurture new musical works.
The York Theatre Company, in residence at Saint Peter's Theater; 619 Lexington Avenue (Entrance on 54th, just east of Lexington)
Tuesdays @ 7:00pm, Wednesday-Friday@ 8:00pm, Saturday@ 2:30pm and 8:00pm, Sunday 2:30pm
Running NOW through Sunday March 1st, 2015