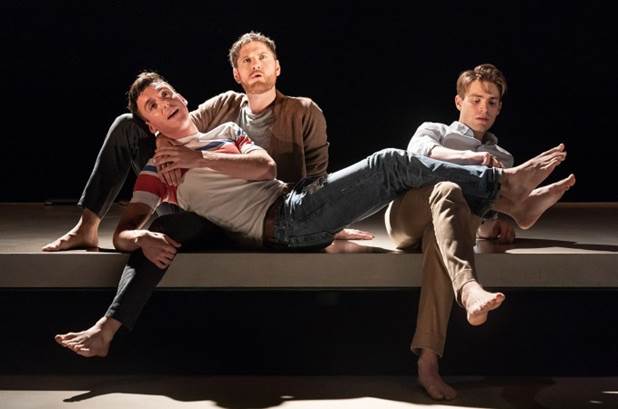 Samuel H Levine, Kyle Soller, Andrew Burnap
The Inheritance
                     by David Schultz
A modern gay intergenerational riff on Howard's End operatic in scope.
Finding a soulmate in writer E.M. Forster was the furthest thing from a 16-year-old kid's mindset. But on what would prove to be a fortuitous life changing moment, young Matthew Lopez joined his mother one afternoon to attend the film version of Howard's End in 1994. He was enthralled and captivated in a way that he only later came to realize was to become a life changing event. He has been quoted as saying that this film was as far as you could get from his life in modern day Florida. A genteel mannered treatise on Edwardian manners and class was not what he had ever experienced before in books or films. The novel became something he came back to frequently and after some time had elapsed, he discovered other books written by the author. Needless to say, Mr. Forster's secret gay romantic novel entitled Maurice, gave Matthew the key to his connection. Forster, almost one hundred years ago also was a closeted gay man, albeit this current century took an entirely different outlook on the gay experience than what Mr. Forster experienced.
In recent years Mr. Lopez has written some very distinctive plays but nothing he has written previously could have given any inkling to this massive new work on display. The Inheritance is split into two parts, each running over three hours per section. The novel's complex storyline is used as a skeletal framing device for this modern update. If one has a passing knowledge of the novel, has read it, or has seen the film, this masterful interweaving of plot details and subtle references gain with each connection to its original source. But even on its own this new work is a fascinating reworking of a classic novel that is both extraordinarily expansive and intimate in its telling.
The play begins as each young man causally saunters onto the large wooden plank that encompasses the open space. Set designer Bob Crowley has given the assembled actors a wooden spatial concept that one could construe as a life raft, it gives the roaringly good cast an uncomplicated area to play out the extraordinary events that will transpire as the work begins. The ever so casual prologue sets up the entire scenario. How to tell one's own story is the catalyst to start the evening. All the young men seek a guide…

Paul Hilton
Enter Forster himself, here named Morgan (Paul Hilton), Mr. Forster's middle initial natch. The young men slowly reveal themselves to each other and to the audience. Eric Glass (Kyle Soller) who luckily inherited his Upper West Side pre-war apartment from his grandparents is sadly being evicted from his coveted abode since the landlords have taken control, and his time is up. Eric's flamboyant writer b.f. Toby Darling ( Andrew Burnap) is kept in the dark about the impending event. While not being a spoiled brat on a good day, he is attempting to adapt his moderately successful book into a play. In a teasingly knowing wink to Forrester's novel a misappropriated Strand Books bag ushers forth young Adam (Samuel H. Levine), who, through a mutual friendship with Eric and Toby, might be just the right actor to star in this budding new play that Toby has sent off to various producers. Mr. Levine also doubles as a male hustler in the play that is an important aspect of the tale and appears to be a sordid doppelganger to Adam. Almost all the characters in the play are young 20-30 somethings. But Eric has formed a deep friendship with an upstairs neighbor, gentle soulful older gent Walter (Hilton yet again). Walter's long-time chilly companion of 36 years is  extremely wealthy businessman Henry Wilcox (John Benjamin Hickey). Frequently out of town or traveling overseas, Henry and Walter rarely connect on any significant level anymore. They both own a mystical house upstate that Walter attempts to get Eric to visit. The house and its environs have, as the play slowly reveals, a potent and tragic, yet transcendental history.
This is just the outline of the work that opens up a veritable cornucopia of ideas that constantly reverberate with the sense of history that always inhabit the characters on display: Gay history, politics, decades ago and now, Sex, Truvada treatments, HIV. Open relationships are carefully woven into the fabric of this consistently absorbing work. The long shadow of the AIDS epidemic hangs over the young men's unspoken thoughts. The moments that open up with verbal arias that seek to understand are graceful and moving. At one penultimate moment Eric opines, then asks his fellow compatriots an unanswerable question "What was the responsibility between gay men from one generation to another?"
As the First Act of Part One reaches its climax the sublime aura attained in the evening gently, then gut-wrenchingly hits the audience with a beautifully rendered moment. The intensity of the accruing emotions is indelibly etched in whomever sees this play. The heart-stopping dénouement of the first three hours is at hand. As the audience staggers out of the theater, it would be hard to fathom what comes into play in the second half.
The next three hours are indeed involving, but the immersive storyline does lose a bit of steam as it furthers the plotlines of Mr. Forster's novel. Tweaking and adding and excising various bits of plot lines as per this new vision demands is somehow diminished. On senses that this six-plus hour drama might have been better served as a one-night four-hour evening.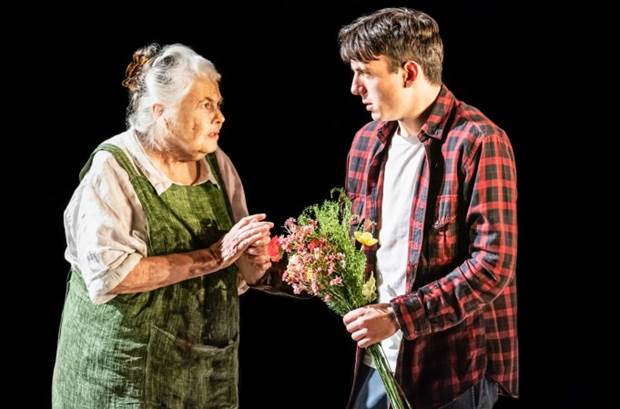 Lois Smith and Samuel H Levine    photos by Mathew Murphy
 A late in the play entrance of its only female character Margaret (Lois Smith) makes a worthy appearance. In a relatively brief fifteen-minute monologue Ms. Smith encapsulates the pain and suffering of her emotional experience and exponentially the soul of the entire work expands outward.
Director Stephen Daldry has brought quite a few performers from its original London premiere over the pond, and sprinkled in a wonderful assortment of American actors to the debut here. He seamlessly keeps the evening afloat as he marshals his company of 28 performers. The work has its emotional epiphanies as well as its inevitable dry spots. On display are (not for the faint of heart) copious amounts of nudity and raw language. All of which are perfectly appropriate within the context of the evolving storyline. The deeply embedded ideas and intricate architecture of the commingling of E.M. Forster's iconic novel and Mr. Lopez's gay tinged inspiration is a fascinating evening of theater.                        
Playing at The Ethel Barrymore Theatre, 243 West 47th Street
Telecharge.com.   212 239 6200  TheInheritancePlay.com
Open Run