The Lightning Thief: The Percy Jackson Musical
                                          By Rachel Pacelli
Lightning doesn't strike twice in this musical adaptation of a beloved series.
It was 2005 when Rick Riordan's smash children's book The Lightning Thief was first introduced. In a post-Harry Potter world, young readers were excitedly gobbling up the next fantasy-adventure series, and this tale of a twelve-year-old demigod seemed to strike a chord.
The Percy Jackson Series was born when Riordan created Greek Mythological bedtime stories for his son, Haley, who was diagnosed with dyslexia and ADHD. In these tales of young demigods fighting to save the world, the characters have 'superpowers': dyslexia, to read Greek, and ADHD for heightened battle reflexes. This inclusivity is at the heart of Percy Jackson.
After much success, including a few underwhelming film adaptations, two Off-Broadway runs, and multiple nationwide tours, The Lightning Thief is finally making its Broadway debut at the Longacre Theatre.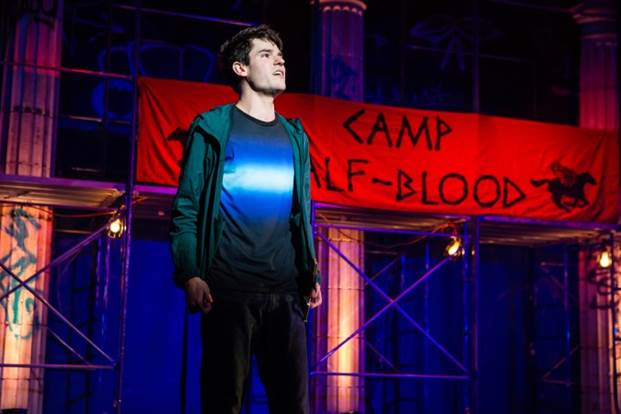 Chris McCarrell
The story follows Percy Jackson (Chris McCarrell) who discovers he is a demigod (half-God) after battling a Fury on a class trip. Realizing he's in danger, Percy is sent to Camp Half Blood, a refuge for teenaged demigods. After a riveting and intense game of capture the flag, Percy learns he is actually the son of Poseidon, one of the "big three" (Zeus, Hades, Poseidon). This is strictly off-limits, and is the reason Percy is accused of stealing Zeus's famed lightning bolt.
In an attempt to clear his name, and save the world, Percy, his best friend Grover (Jorrel Javier), and the daughter of Athena, Annabeth (Kristin Stokes) journey to the underworld to retrieve the bolt.
There's a lot to dissect with this production because it, quite literally, throws everything at you (white streamers blanket the audience at one point in the second act). Many technical aspects feel over-the-top and occasionally overwhelming. David Lander, with lighting design, creates an unnecessary and crowded array of dimly flashing streams as a backdrop. The change in red tones to set up the underworld is effective, as are the various lighting effects used for establishing sceneries (Lee Savage, scenic design). However, there are more than a few times where the bright lights are so strong that the audience has to turn away.
Similarly, the sound, done by Ryan Rumery, is a tad too loud, particularly during flashes of thunder.
Major credit is given to the puppetry designs by Achesonwalsh Studios. Some of the most awe-inspiring moments of the musical are when various mythological monsters appear onstage. The Minotaur, in particular, is exciting and feels like something out of Universal Studios. There are spectacles like this throughout, keeping an almost childlike wonder alive.
The reveal of the oracle, Delphi (Jalynn Steele) is eerie and visually stunning, making you wish the prophetical song was a bit longer ("Go west and face the treacherous lord").
Jalynn Steele shines in every role she plays, including Percy's mother, but has her most engaging moment as Charon, a Disco-styled singer. In "D.O.A.", we are given a tour of the underworld and this ironically lively number has the most complex choreography in the show. ("I ferry the souls of the newly deceased/I got a sweet ride, it was newly leased!")
Playing multiple characters, Ryan Knowles is the most transformational actor onstage. First introduced as the wise Chiron (complete with a hilarious cantered walk), Knowles' most striking trait is his deep, baritone voice that immediately screams gravitas. It's what he can do with that voice, though, that's really impressive. He plays a range of characters, from Poseidon (as a California surfer), to Hades (in a glittery jacket and flamboyant mannerisms), to Auntie M (an extremely creepy and menacing Medusa).
The costumes, makeup, and design by Dave Bova are spot-on in helping bring these mythological characters to life.
Sarah Beth Pfeifer is committed and bubbling with rage as Clarisse, daughter of Aries, and consistently fills the stage with her presence in "Put You in Your Place" ("Heard you were tough/but you don't look it/Your goose is cooked/I'm here to cook it").
There are an adequate number of battle scenes throughout, choreographed by Patrick McCollum, but the fights appear simplified and don't always feel motivationally believable.
For this performance, actor Sam Leicht took over as understudy for "Luke", along with a handful of other parts. Leicht has a decent amount of fight choreography, complex changes, various characters, and an emotional depth. He fits into the play seamlessly and his number, "The Last Day of Summer", is pained and relatable. ("I did everything they ever asked/And for what?")
Kristin Stokes as Annabeth inhabits some of the more emotionally filled moments in the show. Her solo, "My Grand Plan", is baked with a need and determination to be seen that deeply resonates, ("But I promise you I'll never be invisible again/Someone will notice/Me").
While the director, Stephen Brackett, does a solid job in setting up new scenes and keeping the action flowing, he oftentimes chooses the "more is better" adage in terms of visuals, sound, and moving parts. Many of the weaknesses in the show are due to the book (Joe Tracz), music, and lyrics (Rob Rokicki). Most of the dialogue is extremely juvenile, and the songs, even with a few fun numbers, are too on the nose and one-note. This is a family show, so aspects may be inherently juvenile, but a musical directed towards children doesn't have to be dumbed down or obvious.
Jorrel Javier is often a casualty of this. As the satyr, Grover, he is often given the most childish material, including talking to a squirrel while dramatically nodding his head, and purposefully showing to the audience how excited he is. As Mr. D (Dionysius), Javier is over-the-top, which is a fine choice for this comedic character, but he plays it vocally invariant which becomes grating as time goes on.
Finally, Chris McCarrell as our lead character, Percy Jackson, has moments of true emotional depth, but often falls into a portrayal of a stereotypical teenager. The word that best describes his performance, and the writing, is angsty.
The Lightning Thief is comprised of not one, not two, but five angsty power ballads sung by our protagonist. He doesn't know what just happened, he doesn't know who he is, he misses his mother, etc. The first few songs are fine, but when that all-too-familiar electric guitar begins to strum as Percy stands alone onstage, you'll find yourself rolling your eyes while shouting to the Gods, "We get it!"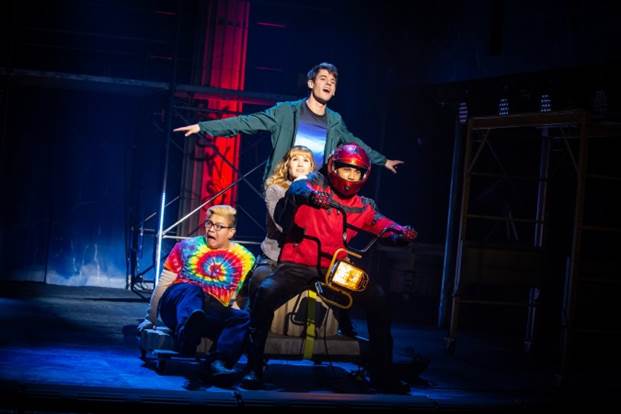 The final number of the show ends with a decent metaphor for real-life bad guys in "Bring On the Monsters", ("I'll be back next summer/You'll see me again"). The question, though, is do we want to see them again?
If you or your child are fans of the books, then you will probably enjoy this production due to pure nostalgia. It does make you wonder whether The Lightning Thief should've remained on the page. There just hasn't been any adaptation that's quite captured the lightning in a bottle effect of the series. If anything, every version just feels like a thin, albeit moderately enjoyable, homage to the books.
The Lightning Thief: The Percy Jackson Musical
Limited 16-Week Run, through January 5, 2020.
Longacre Theatre
220 W 85th St
New York, NY 11036
For tickets and more information, visit lightningthiefmusical.com