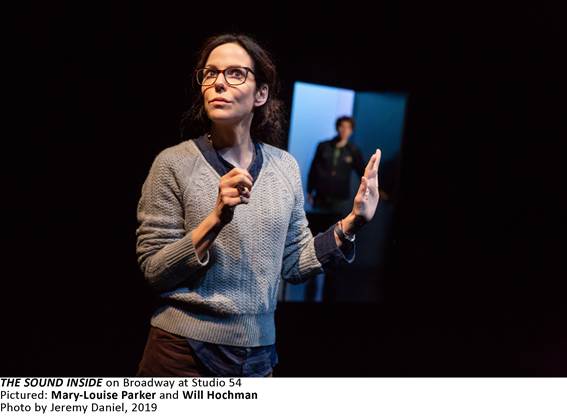 The Sound Inside

                            By Eugene Paul
In a performance of transfixing generousness, lucidity and power Mary-Louise Parker stakes a formidable claim on the Tony awards for herself and for Adam  Rapp's words driven convulsion of a play she's leading. Her partner in this excruciating exercise is brand new Will Hochman in a giant of a performance mesmerizingly directed by extraordinary David Cromer. Out of a mean, trashy season, this production towers.  Rapp's play, much a fellow of his murky quirky oeuvre for the stage here shines uniquely splendid in a production made rich with the collaborations of set designer Alexander Woodward, lighting designer Heather Gilbert  complete in understanding with director Cromer's vision. Wow, what a joy of a doozy. It's a grand slam of challenges overcome.
Let's start at the very beginning when a star light picks out Mary-Louise from the huge, enveloping blackness and allows us to get into our Mary-Louise comfort zone, settling in, enjoying our gentle tickle of familiarity with the well known, satisfying Mary-Louise idiosyncrasies. Once  this net of rapport is flung over us she takes off, presumably for more slyly ditsy heights as is her wont, but instead, something  simply magical happens:  Mary-Louise becomes fiftyish Bella Baird, single,  professor at Yale to promising writers. Or not. But very much submerged in this character, highly intelligent, deeply caring, wittily aware.  With a darkly huge personal problem: she has a stomach full of cancer. All of which she chronicles. She's a writer.
She 's convinced herself as much as she can to deal with what's left of her life in a calm, rational manner, only to have it all ferblunget when scruffy student Christopher (amazing Will Hochman) barges into her ordered  plans with his own pressing demands.  He's got to write, he's driven to write, he's working on a novel and it's taken him over and what should he do? Write, of course, she tells him. But does not tell him she's writing, too. Playwright Rapp has scarfed up the much told older woman-younger man writers situation and made it his own.
Professor Baird – she's Bella, now, and Christopher is Christopher – develop a relationship quickly, far quicker than exploding Christopher ever anticipated, and when it looks like the beginning of a seduction to him, he flees. Or she thinks he thinks so and she anxiously tries to conjure up her initial magic because she needs him. To kill her. Her cancer is not going to dominate her, she will dominate it, she has thoroughly researched all the painless deaths she can on the internet to end her life. Which she writes in her notes.
And, finally, Christopher does return to class. He's finished a draft of his novel.  She offers a tete-a-tete at her place instead of the office.. All jitters, he complies. There's a sense that he'll do anything if she will read his novel, even sex. He is stunned when she gently asks his assistance in ending her life. He agrees.  But first she has to read his novel. And we realize that playwright Rapp means for us to be gruesomely amused, that this horrifying situation is funny. Even though our two stars are not playing one whit for laughs. (For, yes, star Mary-Louise Parker has super generously submerged her deeply invested Bella to  at-the- mercy- of- his –emotions Christopher, brand new actor Will Hochman dominating the stage in true star fashion). But – will Christopher go through with their pact? And why is Bella still chronicling?
Are there imperfections? Such as, what is the play saying, overall? Such as wouldn't it be a league better in a more intimate house than in its huge present quarters? Such as why isn't there a massive publicity campaign stampeding people to this play far into the future? All I can suggest is to bring your ear trumpets.  Don't miss a word.  Adam Rapp has arrived.                                                         
The Sound Inside. At Studio 54, 254 West 54th Street near Eighth Avenue.  Tickets:$49-$169. 212-239-6200. Student Rush $35. 90 min. Thru Jan 2020 at least.