Laura Bell Bundy, Eric McCormack  (Photo: Joan Marcus)
The Cottage
By Fern Siegel
"Take charge, you said," Sylvia tells Beau, as she holds up a short, leather whip. "Context, darling."
The laugh line, which accompanies one of the many physical jokes in The Cottage, is delivered in an arch manner, befitting a sexual romp among upper-class Brits in 1923. Now at the Hayes Theater on Broadway, Sandy Rustin's tart comedy, which has bounced around regional theaters for a decade, begins with dramatic flair but proceeds with a surprisingly feminist twist.
Sylvia Van Kipness (Laura Bell Bundy) decides to expose her love affair to her husband Clark (Alex Moffat) and Marjorie, her lover's wife (Lilli Cooper). The catch? The affair is with Beau (Eric McCormack), who doubles as her brother-in-law. But because this is a lighthearted farce, with a slight nod to Noel Coward comedies, the surprise is not only mitigated, it comes with its own spin.
Sylvia thinks she's being honest by revealing her illicit relationship — but the joke, and there are many, is on her.
Fidelity, love and marriage are all called into question in a fast-paced show that uses tart humor and lots of visual gags (cigarettes hidden in odd places) to score some predictable home truths. The speed is thanks to director Jason Alexander, best known for playing George on Seinfeld, who gets uniformly good performances from his cast, save for Cooper, who seems curiously ill-suited to her role. Moffat's stylized moves are a particular plus, as is the chemistry between the rest of the ensemble. And this is very much an ensemble show.
In a lovely home in Moreton-in-Marsh, England, in the Cotswolds, thanks to a fantastic set by Paul Tate dePoo III, three couples converge — and discover that infidelity, mixed messages and a "barrage of betrayal" is commonplace. And, because it's so outrageously over-the-top, it's silly fun. Love and desire are crisscrossing families like a deranged tennis match. Clark and Marjorie are obsessed with each other, while Beau, in addition to his annual romp with Sylvia, has a passion for Diedre (Dana Steingold), just divorced from Richard (Nehal Joshi), who has a secret all his own.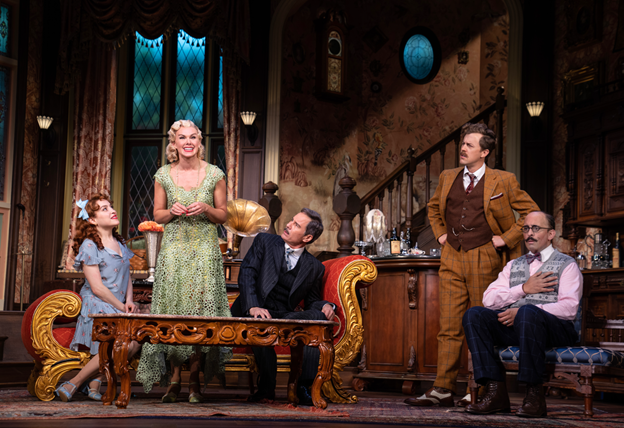 (L-R) Dana Steingold, Laura Bell Bundy, Eric McCormack, Alex Moffat, Nehal Joshi (Photo: Joan Marcus)
The Cottage is an old-fashioned madcap comedy that explains fidelity is separate from marriage and while it accepts normative structures, it occasionally upends them. The public nature of the sexual revelations is boosted by the brothers' competitive need to inherit their ill mother's estate, where the comedy unfolds. And where, we learn, she may not have enjoyed motherhood, but she did believe in female empowerment.
That's probably the most interesting aspect of a show that focuses largely on secret lovers and carnal desires. The class status means both brothers have means, especially barrister Beau. No one equates fidelity with marriage. And while they recognize there is probably some idealistic virtue in monogamy, they attest to its limitations. And yet, if Sylvia, clad in costume designer Sydney Maresca's glamourous attire, hadn't sent her life-changing telegram, what would they have done?
Though some of the plot twists are foreseeable, Bundy's comedic abilities shine. Steingold is also a pleasure to watch, while McCormack plays the straight man with aplomb. There are no 21st-century-style insights into gender, sex or economic standing here. That's not its purpose. Instead, The Cottage sticks to the genre's well-worn template. It's funny, it doesn't take itself seriously and it's a crowd-pleaser.
The Cottage, Hayes Theater, 240 W. 44 Street
Running time: 2 hours, 15 minutes
Tickets: thecottageonbroadway.com/
The Cottage
Reviewed by Fern Siegel
The Cottage is a sexual madcap romp among upper-class Brits in 1923.