Juliet Stevenson (Photo: Stephanie Berger)
The Doctor
By Deirdre Donovan
Of all the productions that have arrived in New York this summer, The Doctor may well be the most memorable.  Written and directed by Robert Icke, and starring the superb Juliet Stevenson, this play invites theatergoers to take a fresh and clear-eyed look at identity.  A liberal reworking of the 1912 play, Professor Bernhardi, by Arthur Schnitzler, The Doctor couldn't be more in step with our times.
The play brings before us Ruth Wolff (Stevenson), the founding Director of the Elizabeth Institute that specializes in the care of Alzheimer's patients.  When a Father (John Mackay) unexpectedly arrives at the institute to administer last rites to a 14 year-old who is dying of a self-administered abortion gone wrong, Ruth refuses him entry to her room. 
When news of the incident goes viral on the internet, Ruth is confronted with backlash from the hospital's staff, the girl's parents, social media users, and eventually a TV panel of social activist groups.  The panelists question her on why she blocked the priest's access, who is later revealed to be a Black man, and criticize Ruth for disdaining him as "uppity."  The upshot:  Not only is the protagonist's future in jeopardy, but the Institute's and a building bankrolled by the government are as well.  
In Icke's reimagined story, Ruth is a Jew, not by faith, but background.  And when it comes to her work at the Elizabeth Institute, she is driven to find a cure for Alzheimer's disease.  Icke has taken more poetic license with the original story, adding creative dissonance by casting women to play male roles and black actors to play white characters, and vice versa.
John MacKay (Photo:  Stephanie Berger)
The play began its stage life at London's Almeida Theatre in August 2019 and garnered accolades from the critics for its exploration of identity politics and medical ethics.  The production was put on pause during the pandemic but resumed its stage life when the health crisis eased.  With its crossing of the pond this summer, The Doctor shows it has seasoned well, with Stevenson reprising the eponymous role with brio.
Stevenson, one of London theater's most esteemed actors, proves her mettle in this show, and then some.  The production runs three hours, and at one point in Act 2, Stevenson sprints around the stage at breakneck speed, her visceral response to being continually under surveillance.  Stevenson's Ruth is alternately arrogant, politically naïve, and, with a nod to The Crucible, a bit of a "witch."  Or as the main character Ruth puts it:
"Doctors—are witches in white." 'Take this potion, my pretty one, uncork the bottle and drink, once at dawn, once at dusk and your back will straighten, your eyes will brighten and your dreams – will set themselves upright for years to come."
Some key events aren't naturalistically dramatized, which keeps the audience guessing on what happens in the pivotal scene.  For example, when Ruth is trying to block the Father from entering the dying teenager's room, it's not clear what Ruth does during the physical altercation.  Is it a touch on the shoulder?  A shove in the ribs?  Or perhaps an elbow jab?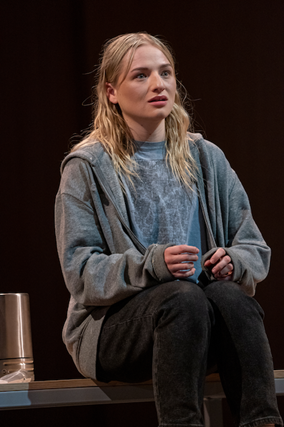 Matilda Tucker (Photo: Stephanie Berger)
The Doctor takes one on a wild and wooly rollercoaster ride that reaches its climax when Stevenson's Ruth is put on trial by social media and a tribunal in Act 2.  Indeed, a woke panelist grills Ruth on her beliefs as a medical practitioner, attempting to smear her with any label that might lead to her dismissal as director of the Elizabeth institute.
Throughout the trial scene, Stevenson sits with her back to the audience, a live camera feed projecting her anguished face on a screen as she is interviewed by experts from various fields. Eerily, it can make us feel that we are being interrogated at the same time.
When it comes to acting, the star turn definitely belongs to Stevenson, who portrays Ruth as a fiercely dedicated doctor in the medical profession.  But that doesn't mean that the other performers are in her shadow.  Indeed, MacKay as the Catholic priest who's prevented from administering the last rites to the 14 year-old, is excellent as the clergyman.  And a shout out to Matilda Tucker, who convincingly plays the transgendered teenager Sami.
Hildegard Bechtler's clinical set design, lit by Natasha Chivers, is spot-on.  Chivers, who does double-duty as costume designer, outfits Stevenson in the requisite white coat and the other performers in clothing suitable to their respective characters and situations.
Icke takes the audience to a bleak wasteland in The Doctor, and without providing any hard and fast answers to any issues, raises plenty of questions that are pertinent to our cultural moment.  The most predominant one, of course, relates to identity and who Ruth is following her trial.  The character Flint (Preeya Kalidas) rubs salt in the wound when she mockingly asks Ruth in Act 2: 
"What d'you call a leader with no followers, Ruth?
Just an old lady out for a stroll."
If Icke has overloaded his play with more themes than it can hold, he still creates theatrical magic in this theater piece and sparks fierce debates to boot.  Most importantly, Icke is true to his source in showing the central character Ruth as a victim without whitewashing her. 
What Icke has achieved in his brilliant production of The Doctor is to turn a glaring spotlight on the purity of medical ethics and the dangers of identity politics. Whatever race, gender, or religion one identifies with, this show holds a mirror up to nature—and our times.
The Doctor
Through August 19th
At the Park Avenue Armory, 643 Park Avenue (at 67th Street), Manhattan
Tickets: $54-$244 https://commerce.armoryonpark.org/overview/3693?_gl=1*iq8sqp*_gcl_aw*R0NMLjE2OTA4MzE0MzIuQ2p3S0NBand0NTJtQmhCNUVpd0EwNVlLbzlYY0FMS2c3M2haeVZPbjJhTWFTN0NMbGNuNVExSzZrdFRHbTJRd3h2VnROb0c2Zlo1cjNSb0NPOGdRQXZEX0J3RQ..*_gcl_au*OTY5Mzk2NDA2LjE2ODc0NjQ3NjY.