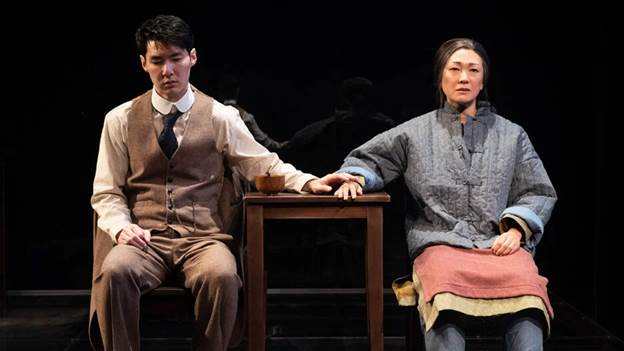 Eric Yang and Amy Kim Waschke. (Photo: Ahron R. Foster)
The Far Country
By Fern Siegel
Immigration is a hot topic of debate. But the searing human cost is often lost in weaponizing it.
Lloyd Suh's The Far Country, now at the Atlantic Theater Company, reveals a tragic period in American history, the years after the 1882 Chinese Exclusion Act, when Chinese immigration to the U.S. was severely limited.
The play covers two decades, various interrogations and the high cost — in both financial and human terms — to travel from China to San Francisco. There, Chinese immigrants could be held for months or years at the Bay Area's Angel Island waiting to disembark. Hundreds of men were crammed into small spaces, sharing one bathroom.
At Angel Island, the internees are asked ridiculous questions: How many steps in your home? What color were the stones? What was the name of your neighbor's mule? Failing to get even one question right or undue hesitation, were grounds for deportation. And if the men were lucky enough to enter the U.S., once they memorized a false back story, they endured a life of physical labor, poor housing conditions and little hope. They existing in an isolated bachelor state, with only periodic visits home.
Suh illustrates the suffering by chronicling the story of teenage Moon Gyet (Eric Yang). He must pretend to be Gee's son (Jinn S. Kim) to enter the U.S. Gee will give him a job in his laundry and passage, but he will have to pay it back, plus room and board, for years to come.
Or as his stoic mother (Amy Kim Waschke) notes, the deal is tantamount to indentured slavery.
Even to secure that meager existence, Moon Gyet endures the unendurable: 17 months on Angel Island.
Those able to scrape exorbitant sums together to send their sons to the U.S., known ironically as "Gold Mountain," knew they would rarely if ever see them again. The sacrifice was made for future generations. As one character says: "We enter a country that does not want me." Once used as cheap labor for the railroads, anti-Asian sentiment grows in the ensuing years.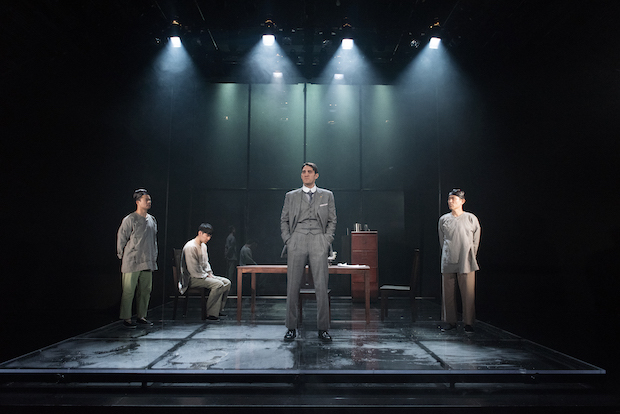 Whit K. Lee, Eric Yang, Ben Chase, and Jinn S. Kim (Photo: Ahron R. Foster)


Suh's play is disquieting, searing in its exploration of familial heartache, almost clinical in its depiction of immigration procedures. Waschke's performance is a standout — she is the emotional center of the play.
Jiyoun Chang's stark lighting design and Clint Ramos' minimalist set design add to the sense of despair. This is a world devoid of color, populated primarily with pain and toil. The chance for emotional redemption is slim.
Directed by Erik Ting, The Far Country, the second play by Suh to be produced this year in New York, is both haunting and restrained. (The Chinese Lady was produced at the Public Theater in the spring.)
Suh's Far Country presents this racist stain on American history in a concise, didactic way. But Yang's sensitivity, his recitation of his own ordeal in the service of the future, is particularly moving. So is his scene with Shannon Tyo, which suggests a potential sliver of happiness in a dark existence.
The cruelty of these years is rarely addressed in U.S. history classes. Suh's play reminds us it should be.
The Far Country, The Atlantic Theater Company, 336 W. 20 St.
Running time: 2 hours, 1 intermission
Tickets: atlantictheater.org/