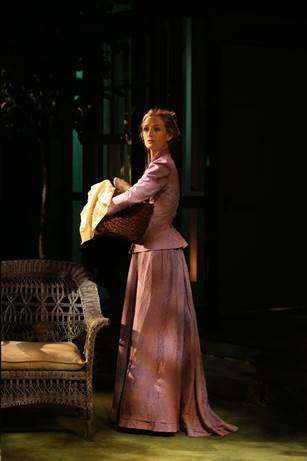 Rachel Pickup        phtos Carol Rosegg                             

                                          By Ron Cohen
Years of Irish-English strife are compacted into one day in Brian Friel's drama, The Home Place, and the Irish playwright's sympathies extend to both sides of the fray. It makes for an absorbing if somewhat tempered look into the destructive nature of colonization and political repression, felt by the oppressors as well as their victims.
Now receiving its New York premiere in an admirable production by the Irish Repertory Theatre, the 2005 play is the next to last to be written by the celebrated dramatist, who died in 2015 after a long illness. (His last was an adaptation of Henrik Ibsen's Hedda Gabler.) His canon includes such acclaimed titles as Philadelphia, Here I Come!, Translations and Dancing at Lughnasa.
The Home Place shows the hand of a master writer able to synthesize themes and ideas into his characters and still keep them compelling human beings.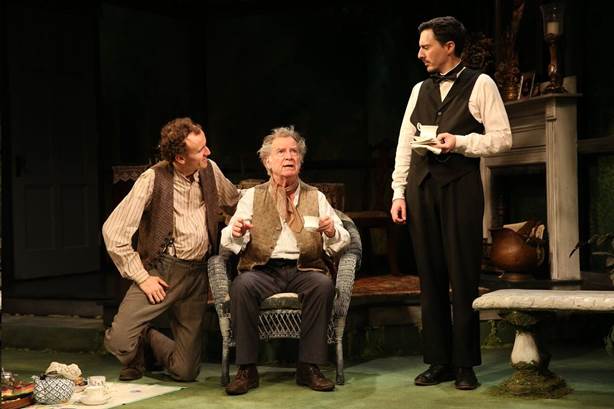 Robert Langdon Lloyd, Ed Malone, and Stephen Pilkington
The action takes place near Ballybeg, the fictional Donegal County town featured in several of Friel's works. The time is 1878, and the setting is The Lodge, the home of the English land owner, Christopher Gore, a man who has attempted to be a benevolent sire to his tenants. Living with him is his rather ineffectual son, David, and their comely housekeeper, Margaret. Both men are in love with her, setting up a romantic conflict.
But the underlying conflict of the play is the tension between the Anglo landowners and their tenants, with a spirit of Irish rebellion taking hold. A boorish and tyrannical neighboring English landlord has recently been murdered, and the threat of further violence is in the air. Christopher fears he is on a "list."
The tension is heightened by the presence of Christopher's houseguest, his cousin Richard, an anthropologist engaged in studying racial characteristics of the various strains of the Irish, taking physical measurements which he assumes will define their inferiority. A couple of locals have shown up to be measured – an impoverished widow hoping to receive "a few coppers" for her service and a high-spirited barefoot lad.
As Richard's officious assistant Perkins explains how the measurements will be taken, it's a chilling foretaste of a facet of the Holocaust and of contemporary racism as well. However, the measurements are halted by the arrival of a local leader of the Irish, recognizing their offensiveness and threatening mayhem if they continue. Christopher -- debilitated and shattered -- is forced to ask his imperious cousin to leave.
In the final scene, Christopher's spirit is further crushed when Margaret avoids his proposal of marriage. A man who still refers to the English countryside of Kent as "the home place," he reflects tellingly on his life as a landowner outlier in Ireland. "[I] believed I could do things differently. I would be the good landlord as well as being the good neighbor and the friend-in-need when the need arose. Fell flat on my face, didn't I?"
The production has been astutely directed by Irish Repertory's co-founder and artistic director Charlotte Moore. While it never quite explodes into gut-punching high drama, it maintains a solid hold on audience interest, with well-delineated characterizations and well-measured pacing.
John Windsor-Cunningham captures totally the conflicting sides of Christopher in a sympathetic rendering, and Rachel Pickup makes understandable the hold Margaret has on both Christopher and David, the latter affectingly limned by Ed Malone.
Christopher Randolph as the anthropologist Richard and Stephen Pilkington as his assistant almost inspire hisses as they go about their cruel measurements and expound on Richard's hideous "scientific" theories of race and behavior.
A colorful turn is provided by Robert Langdon Lloyd as Margaret's father, a loquacious school master, made even more loquacious by drink. He is also the leader of the town's children's choir, and their music plays an important role in Friel's depiction of the Irish soul.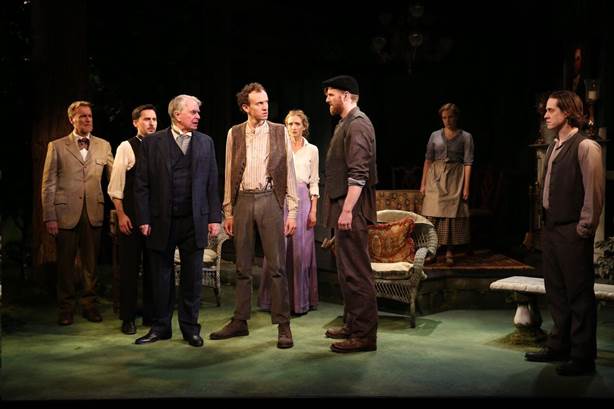 Among others in the 11-person cast, Johnny Hopkins exudes righteous menace as the leader of the town's rebels. Andrea Lynn Green also scores as the Gores' warm-hearted and saucy housemaid, and more nicely done helpings of brogue come from Polly McKie and Logan Riley Bruner as the locals who have come to be measured. Gordon Tashjian completes the company as Hopkins' quietly imposing sidekick.
The rich-looking set design by James Noone smartly defines both exterior and interior segments of the Gore home on Irish Rep's fairly minuscule stage, while Michael Gottlieb's lighting and David Toser's costumes are other notable features of first-rate physical production.
For those with a penchant for Irish history, The Home Place should certainly rate as a must-see. But in more general terms, it provides a trenchant look for all serious theatergoers into the toxic effect of decaying empire and perverted thinking on the human heart.
Off-Broadway play
Playing at Irish Repertory Theatre
132 West 22nd Street
212 727 2737
Irishrep.org
Playing until December 17