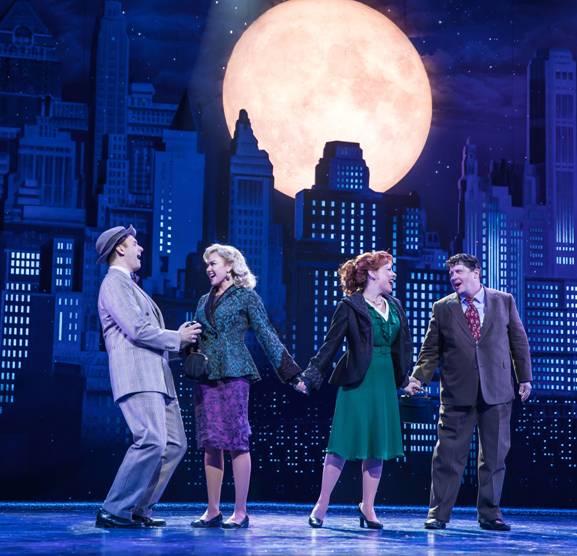 Photo by Evan Zimmerman
By David Schultz
The past year has proven to be extremely stressful with the new political regime in place. Every new day posits a new twilight zone mentality to disturb and unnerve the soul. What better time then to go back…. way back to the 1950's and relive a more innocent timeframe. The Honeymooners ran on CBS for 39 episodes. The iconic show is embedded into the subconscious of people of a certain age.
In just one season…1955-1956 the production, filmed in Manhattan was an extremely popular program. Ralph Kramden (Jackie Gleason) an overweight bus driver, his best buddy and partner in crime Ed Norton (Art Carney) work in the sewer, Alice Kramden (Audrey Meadows) his beleaguered wife, and Trixie Norton (Joyce Randolph) rounded out the cast. In 22 minutes, all manner of chaos ensued with a sweet wrap up to warm the hearts of the television audience.
Now after a few years on the road with various cuts, additions and tweaks this brand new musical version has finally arrived in its newest incarnation at The Paper Mill Playhouse. All the favorite characters are up on stage, with an impressive cast replicating all the familiar mannerisms in exaggerated set pieces. This blown up, lumpy musical has a running time of two hours and 40 minutes. As such it feels obviously overburdened with lots of padding to create a musical homage to the show.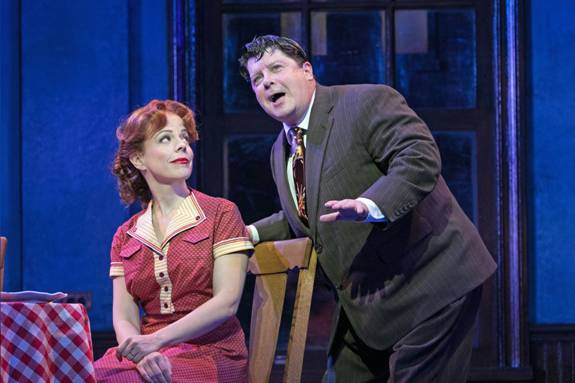 Leslie Kritzer and Michael McGrath photo by Jerry Dalia
The slim as Swiss cheese plot written by Dusty Kay and Bill Nuss is convoluted as it has Ralph entering a jingle contest for a cheese company with Ed. In no time flat they have won the contest, then offered swanky positions in Manhattan advertising, hanging with the prez of the cheese company, twirling around the edges of high society. It's a whirlwind for these blue-collar folks. The show embellishes and creates a back-story for Trixie, as she revisits her long ago burlesque history and has another chance to hit the big-time.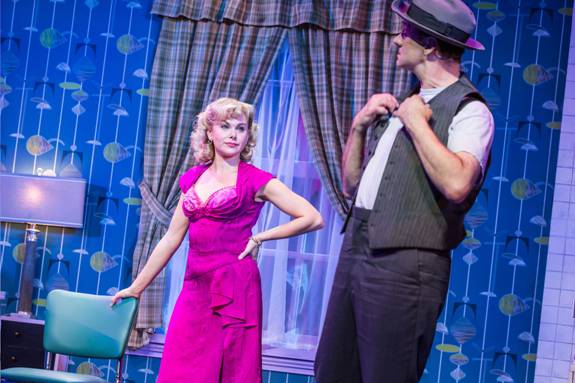 Laura Bell Bundy and Michael Mastro photo by Jerry Dalia
There are many bright spots throughout the show, primarily because of the perfectly cast leads; Michael McGrath as Ralph, Leslie Kritzer as wife Alice, Michael Mastro as Ed, and Laura Bell Bundy as Trixie are put through their paces. These talented actors eerily recreate their television counterparts with aplomb. Watching the show does bring back fond memories, but this musical jerks about in fits and starts and never finds its footing. The music written by Stephen Weiner, lyrics by Peter Mills is generic and bland. One exception occurs late in the evening as Leslie Kritzer raises the roof with a breathtaking song mingled with gorgeous jazz inflected scat. This song "A Woman's Work" stands out in contrast to the rest of the show. It is a breakout song that sadly is lacking in the show as a whole. The semi-spirited choreography by Joshua Bergasse seems desultory and occasionally finds its way, but as a whole the dances seem wooden and tacked on. It is a musical for gosh sakes, so they should flow effortlessly from end to end. Director John Rando has worked wonders with his main leads in their endearing roles, but the fact that there is so little to work with plot wise is achingly apparent.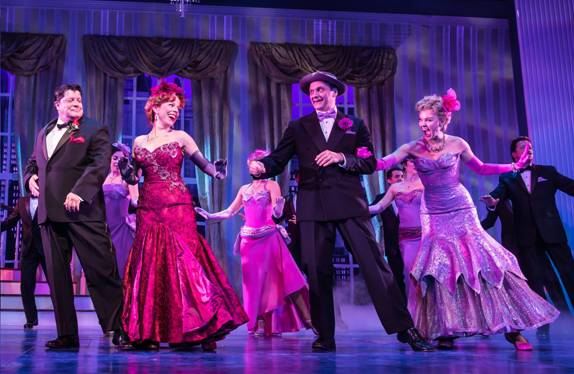 Photo by Evan Zimmerman
Costume design by Jess Goldstein approximates the look and style of the 1950's. The contrast of the dull workmanlike garb of Ralph and Alice in their daily lives, with Trixie's burlesque outfits is eye-popping. Set designer Beowulf Boritt keeps the memory of the Kramden's dreary flat with its iconic kitchen setting for all to remember. Other set pieces glide on replicating the ad agency offices and the famous Raccoon Lodge as well as that oh-so-famous vision of the Manhattan skyline and the immense moon hanging above.

For anyone under 50 or so, all the verbal imitations and physical pratfalls and double takes would seem to be an unknown quantity. Why are all those grey haired theatergoers laughing so hard? A passing familiarity with The Honeymooners and its characters would be helpful to get the full appreciation of the show. Still though, it sure is nice to go back in time and relive a much simpler, calmer era.
The Honeymooners
Playing at The Paper Mill Playhouse
22 Brookside Drive, Millburn, NJ
973-376-4343 PaperMill.org
Limited Engagement through October 29th