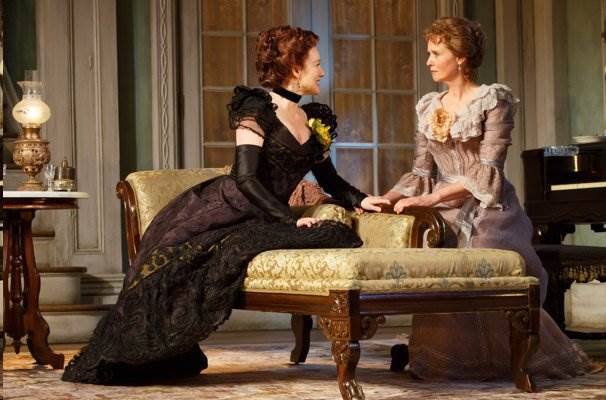 Laura Linney as Regina Giddens and Cynthia Nixon as Birdie Hubbard  photos by Joan Marcus
                                            By Ron Cohen
Two actresses of top-drawer talent – Laura Linney and Cynthia Nixon -- command the stage, share top billing and even share roles in the latest Broadway revival of the American classic, The Little Foxes, mounted by Manhattan Theatre Club.
But it's a third woman whose presence also dominates the proceedings, and that's playwright Lillian Hellman, whose political acuity and insights into the darkest pathways of greed and corruption, the culture of avarice, make this work so electrifying and – unfortunately – still so pertinent today, nearly 80 years after the play's 1939 debut.
Sure, The Little Foxes – with its battling siblings, rifled deposit box, stolen bonds and out-of-reach medicine bottle, everything but moustache-twirling -- is melodrama, but it's melodrama of a high order, and director Daniel Sullivan lets it all hang out. Hellman's writing and themes are more than strong enough to support such theatrics. The script indeed benefits from them. 
Hellman here writes from her own Southern background. Set in 1900 is a small Southern town, the play centers on the Hubbard siblings – the brothers Ben and Oscar and their sister Regina. Their father, from meagre beginnings, made "thousands" as a tradesman short-changing customers and other devious practices. It's a tradition carried on by the brothers, who have added cotton to their repertoire with Oscar's marriage to Birdie; her dowry was her family's deteriorated plantation. As for Regina, she was, as a woman, left out of the father's will: she has had to settle for marriage to a man she doesn't love, the self-made town banker, Horace Giddens.  Inherently brainier than her brothers, she is forced to become more cunning as well.
Richard Thomas as Horace Giddens, Michael McKean as Ben Hubbard, Darren Goldstein as Oscar Hubbard and Michael Benz as Leo Hubbard in The Little Foxes
Now, the Hubbards are on the verge of their biggest deal yet, one that can make them "millions." In partnership with a Chicago industrialist, they will bring a cotton mill to their town, benefiting from the hungry and pliant low-wage work force and political connections they can provide as well as the nearness of the raw material.
The two brothers have two-thirds of their necessary investment, and wanting to keep it in the family, they are waiting for Regina to contribute the rest, acquiring it from Horace. Regina sees the anticipated returns as her means to escape to a luxurious fulfilling life in Chicago. The problem is that the mild-mannered Horace is reluctant to participate, having no love for the Hubbard brothers. Desperately ill as well, he is also concerned about the scheming to have his beloved daughter, Alexandra, marry Oscar's wastrel son, Leo.
How Regina finally wrests the money, gains control over her brothers and at the same time destroys her relationship with Alexandra makes up the rest of Hellman's plotting.  Even with its familiar twists, a good production can keep you on the edge of your seat.
And this is a first-rate mounting. It's given further notoriety by the fact that Nixon and Linney are switching roles. For some performances, it's Linney playing Regina and Nixon portraying Birdie. For other performances, it's the opposite. (Check the performance schedule for who's playing who.)
At the performance reviewed (which featured the opening-night casting), Linney delivered a constantly riveting Regina, melding the woman's many dimensions into a galvanizing portrait of a charm-coated, unstoppable predator, made even more vicious by a society relegating her into subordination. While Regina's triumph over her brothers can be construed as a feminist victory, it's overshadowed by the moral cost.
In a celebrated but essentially supporting role, Nixon wonderfully lightens the victimization of Birdie with touches of humor and a few glimmers of courage coming through her beaten-down, gentle soul, drowning in sips of elderberry wine.
The production further benefits from a generally solid company throughout. Michael McKean's Ben is the epitome of civilized rapacity in his dominance over Oscar and Leo. Darren Goldstein effectively balances Oscar's haplessness with outbursts of brutality, while Michael Benz's Leo exudes youthful vacuity. Francesca Carpanini quietly finds Alexandra's underlying strength.
Particularly impressive is Richard Thomas' Horace, a compelling portrait of a dying man, dealing as well as he can with the hand fate had dealt him with an unloving wife and a daughter he has to protect from the depravity of his wife's family. When Horace's rage is finally forced out of him, it makes for a hair-raising finish to the play's second act. (Sullivan has wisely adhered to the script's three-act, two-intermission structure, a welcome reminder of a how gratifying a full-blown night at the theatre can be when playwrights didn't feel constrained by the presumed attention deficits of their audiences.)
There's also commendable work by Charles Turner and Caroline Stefanie Clay as the Giddens house servants, although Clay's easy familiarity with her bosses comes across as perhaps a bit too easy and sassy for the time. In a brief appearance, David Alford is all suavity as the Chicago industrialist.
Set designer Scott Pask's depiction of the Giddens living room is notable for its architectural detailing, including the long upstage center staircase which will figure so importantly in the plot. Jane Greenwood's costumes set the proceedings in the play's time period, even as the sharpness of Hellman's writing keeps jolting us into the present.
First off, though a bit obscure, there is the title, taken from a quote from the biblical Song of Solomon: "Take us the foxes, the little foxes, that spoil the vines, for our vines have tender grapes."
At the end of the play, the almost always unflappable Ben congratulates Regina on her victory over him, and we have Hellman at her most prescient. "I'm not discouraged," Ben says. "The century's turning, the world is open. Open for people like you and me…There are hundreds of Hubbards sitting in rooms like this throughout the country. All their names aren't Hubbard, but they are all Hubbards and they will own this country some day."
Makes you shiver, doesn't it? 
Broadway play
Playing at the Samuel J. Friedman Theatre
261 West 47th Street
Telecharge.com
212-239-6200
Playing until June 18