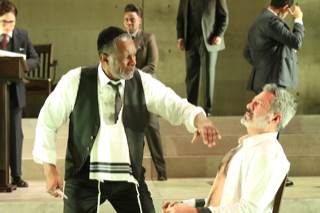 John Douglas Thompson and Alfredo Narciso
Photos by Gerry Goodstein
The Merchant of Venice
                               by Deirdre Donovan
Of all Shakespeare's plays, The Merchant of Venice is the most ambiguous. Is it an anti-Semitic tract? Comedy or tragedy? Portia or Shylock's play? Is it about the hypocrisy of Christians or the noble suffering of Shylock? Indeed, the jury is still out when it comes to deciding what The Merchant of Venice is—and isn't.
Theatre for a New Audience's (TFANA) inclusive new staging of William Shakespeare's The Merchant of Venice at The Polansky Shakespeare Center in Brooklyn brings new contemporary definition to the work, with John Douglas Thompson performing the money-grabbing Shylock. Co-produced with Washington D.C.'s Shakespeare Theatre Company, and directed by Arin Arbus, this original and striking interpretation of Shakespeare's drama makes it a must-see for serious theatergoers.
Indeed, Thompson becomes the first black actor to perform Shylock at a Professional Theatre in New York City. He follows in the illustrious footsteps of Ira Aldridge, who, in 1831, became the first black actor to play Shylock in Britain, Ireland, and Europe. No question that Thompson and Aldridge are kindred spirits when it comes to breaking the glass ceiling of allowing black actors to perform roles traditionally reserved for white actors.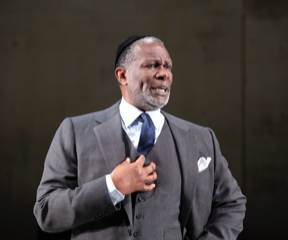 John Douglas Thompson
Before focusing on the particulars of the current production, here's the drift of The Merchant, a modern-day parable on the subjects of love, wealth, and justice.
Set in Venice and Belmont, the play brings before us the gold-digger Bassanio who asks his merchant friend (and lover in Arbus' production) Antonio to finance his voyage to Belmont, where the heiress Portia, in obedience to her late father's will, has set a challenge for would-be husbands to find her picture in one of three caskets made of gold, silver, and lead. Antonio agrees to Bassanio's request, but in turn, he asks the moneylender Shylock for a loan. The bargain? Antonio promises to pay Shylock back in three months when his merchant ships return. Shylock demands a pound of flesh from Antonio if he defaults.
Indeed, call it Antonio's masochism (or a sign of his willingness to die for Bassanio) or Shylock's sadism, the "pound of flesh" contract brings a do-or-die element into Shakespeare's romantic comedy.
The drama ratchets up Big Time when the rumors about Antonio's merchant vessels being lost at sea prove true—and Shylock the Jew transforms into Shylock the Butcher. But since this is a Shakespearean comedy, miraculous things can happen. Case in point. The resourceful Portia, cross-dressed as a lawyer's apprentice (named Balthazar), flattens Shylock with her wit and "quality of mercy" speech in the courtroom. Rounding off all is the ring trick that the disguised Portia devises as a test for whether Bassanio's love for her is stronger than for his friend Antonio.
The modern tendency is to treat the play as a critique on Christian hypocrisy, in which the punishment and forced conversion of Shylock to Venetian Christianity elicits our sympathy. Arbus at first appears to be taking this tack, at least to a certain degree. But there are new questions raised—and a fresh direction taken--by her production. For example, does she expect us to regard Thompson's nonconventional casting as Shylock as simply part of the new reality of colorblind productions (where actors of any race or color can potentially perform any principal part in a play's dramatis personae)? Or is she inviting us to contemplate the woes of the 16th century Shylock as similar to the indignities inflicted upon African Americans today? Well, it's never too late in the day to experiment with classic texts, and I applaud Arbus for daring to mount this production that suggests a commonality of experience between Jews and Blacks. After all, both Jews and Blacks have suffered from incessant prejudice and have ancestors who have lived as slaves (Remember that the celebration of Passover begins by remembering the Jewish people's enslavement by the Egyptians.)
In a talented cast, Thompson is the standout as Shylock. Thompson, who has been acclaimed by former chief drama critic Ben Brantley of the New York Times as "one of the most compelling classical stage actors of his generation," can add a new feather to his cap, or rather, yarmulke. Indeed, those who watched his astonishing Othello fin 2009 (at Theatre for a New Audience) won't be disappointed when they see him in this Merchant. Thompson renders Shylock's "Hath a Jew eyes" litany as if it was new-minted today. And, when Thompson re-enacts Shylock's forced conversion to Christianity in Act 4, the silence in the audience is palpable.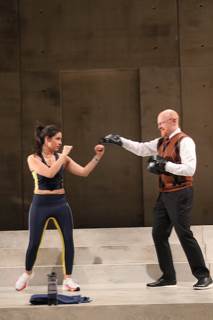 Isabel Arraiza, Jeff Biehl
Thompson isn't the only thespian who's watch able here. Arraiza is sublime as Portia, balancing muscular might with feminine grace. When Arraiza's Portia first appears in Act 1, she is practicing some boxing maneuvers with Balthazar (Jeff Biehl) that would make Mohammed Ali smile. Later on, she will give an encouraging "box" on the shoulder to Sanjit De Silva's Bassanio as he tries to discern in what casket her picture lies. And, in case you're wondering, Arraiza's rendering of the "quality of mercy" speech is spot-on, not too stagey and altogether natural.
There isn't a false note sounded by the creative team. Riccardo Hernandez' minimalist set design facilitates seamless transitions between Venice and Belmont, backed by Justin Ellington's original music and sound design. Marcus Doshi's crisp lighting allows each actor to be seen from any angle on stage. Emily Rebholz' modern-day costumes range from business casual . . .to health club chic . . .to haute couture. . . to Shylock's more traditional Jewish clothing.
What else is there to say? This Merchant, helmed by Arbus, revivifies both the moral ugliness afoot in Shakespeare's Venice and the undeniable charm of its heroine Portia. It also shows us, with Thompson's unforgettable performance as Shylock, that this Shakespearean character is extremely complex, and is going to go on to make us uncomfortable.
Through March 6th.
Theatre for a New Audience at the Polansky Shakespeare Center in Brooklyn.
For more information, visit www.tfana.org.
Running time: 2 hours; 30 minutes with one intermission.