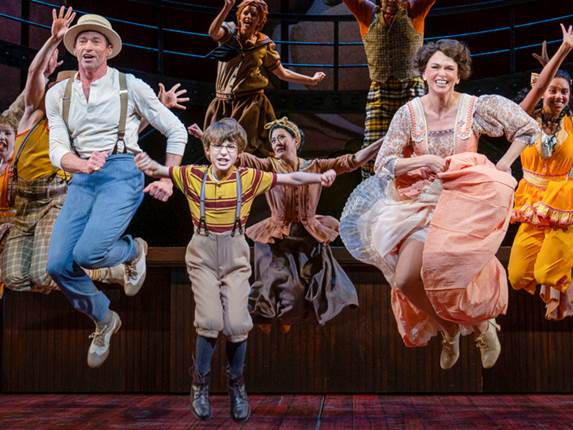 Hugh Jackman, Benjamin Pajak and Sutton Foster   photo credit: Julieta Cervantes
The Music Man
                                            By Fern Siegel
 "Seventy six trombones led the big parade. With a hundred and ten cornets close at hand." The opening lines are from one of the best-known numbers in Meredith Willson's The Music Man. And its big, brassy quality, bursting with pre-war American optimism, remains a crowd-pleaser. The musical's latest revival stars song-and-dance vet Hugh Jackman as the charming con man Harold Hill. And Jackman, well known as Wolverine in the "X-Men" movies, carries the show with charm and agility.
The Music Man, now at the Winter Garden Theater, debuted on Broadway in 1957, but is set in the summer of 1912, in River City, Iowa. Willson was responsible for the book, music and lyrics and considered it a tribute to his hometown: Mason City.
A traditional musical, it may seem dated, given its portrayal of a naïve America easily taken in by a grifter. That element, ironically, gives it a timeless quality. Hill wins over  small-town Americans by boosting their egos. He believes they can improve the quality of their lives in simple, artistic ways. Hill doesn't trash talk; his aim isn't discord but unity.
Jackman's Hill is a traveling salesman who hoodwinks the town into buying band uniforms and instruments, promising to train the members of the new band. Of course, Hill is only staying around long enough to collect his commission. He has no intention of teaching the boys music, since he isn't a musician!
In fact, we learn of his seasoned chicanery in the first number "Rock Island." Another salesman, Charlie Cowell (Remy Auberjonois) warns his fellow passengers of Hill's intentions. He bemoans the fact that Hill "doesn't understand the territory," neatly underscoring the value of salesmen and business in the American psyche, as well as the fear of anything that disturbs the pursuit of commerce.
Cowell has a point. While the mayor's wife Eulalie (Jayne Houdyshell) and her friends readily swoon at Hill's casual flattery, Mayor Shinn (Jefferson Mays) is less enamored. Shinn owns the pool hall Hill has railed against — better, he says, to promote a band than have a boy become a pool shark.
The blustered mayor, forever warning others to watch their "phraseology," isn't alone in his suspicions.
The librarian and piano teacher Marian Paroo (Sutton Foster) cottons on to Hill's smooth-talking nonsense and is resolute in refusing his gentle courting ("Marian the Librarian"), much to the consternation of her mother (Marie Mullen). Marian has been the subject of town gossip, which wrongfully claims she had an affair with an older, wealthier man, thereby securing her post. The gossips are equally alarmed by Marian's love of great literature ("Pick-a-Little, Talk-a-Little").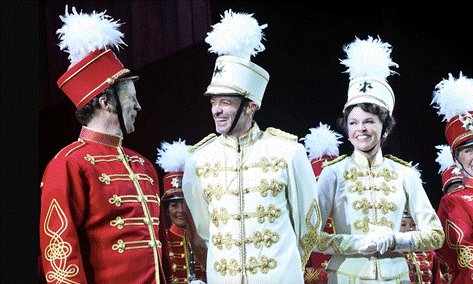 Shuler Hensley, Hugh Jackman and Sutton Foster
Marian can ignore their sniping, but she does worry about her brother Winthrop (Benjamin Pajak), who rarely speaks, given his stutter. And that's where Hill begins to work his magic. He may be a noted con artist, but he is sincere in his attempts to help Winthrop, believing that mastering the coronet will give the isolated boy confidence.
Slowly, despite her misgivings, Marian discovers she has feelings for Hill — and when Cowell returns to River City to denounce him, she resolutely defends the now-smitten Hill. In a subversive twist, she notes he did deliver on his promise: The boys are happy. They play badly, but they play together, to the delight of their parents. What Harold Hill sells, in the end, is hope — a message that never goes out of style.
Also, it doesn't hurt that Jackman is handsome and has a grin that stretches across the stage. He carries the show on personality, aided by some lovely melodies, including Marian's famous "Till There Was You," which Hill reprises.
At heart, The Music Man believes in the possibility of redemption. Such is the banality and aridity of Iowa life that starting a dance club or playing off-key in a rag-tag band can elicit joy. Santo Loquasto's set designs make excellent use of Grant Wood's paintings as backdrops — there's even a quick nod to his classic "American Gothic." (The scene with the Wells Fargo wagon is a winner.) Plus, "Music Man" is aided by Warren Carlyle's athletic choreography and a cast that, save for Sutton Foster's rare uneven moments, is spot on. So are the town elders (Eddie Korbich, Phillip Boykin, Daniel Torres and Nicholas Ward) who comprise the barbershop quartet.
Which is why, surprisingly, this traditional, feel-good musical in the cynical age of Covid, clicks. It's not deep or particularly dark, and there are no special effects in director Jerry Zaks' revival, which elicits Willson's larger message with humor and simplicity. Yes, Jackman has a built-in fan base. But judging from the audience reaction, The Music Man remains in tune.
The Music Man – Winter Garden Theatre, 1634 Broadway
Tickets: https://musicmanonbroadway.com/