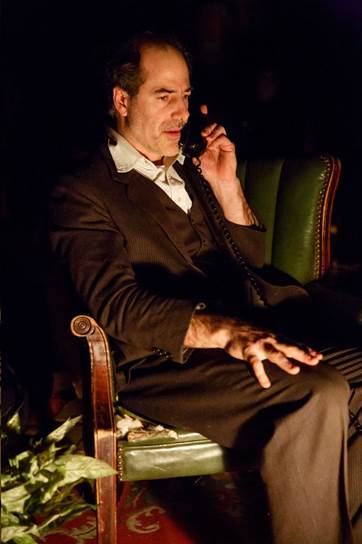 Geoff Sobelle in NYTW's THE OBJECT LESSON, Photoa… Joan Marcus.jpg
The Object Lesson
                                                By Ron Cohen
Piles of props and a nimble raconteur make for a telling journey through the debris of living.
"What the hell is going on here?" creator and performer Geoff Sobelle asks early on in his solo show The Object Lesson. The piece is a top Edinburgh Festival Fringe winner and has played around the country, including a short stay in 2014 at the Brooklyn Academy of Music, but if you haven't heard too much about it, you may well be asking a similar question.
For the production, New York Theater Workshop has been transformed into a cluttered warehouse, with packing boxes and piles of what appears to be random trash reaching in places up to the ceiling. Upon entering the space, audience members are handed, in lieu of programs, a sheet of paper advising them to examine the boxes, move around, sit where they like.
"Sit, stand, lie down… It doesn't really matter. Just be mindful of the people around you," the sheet says.
After Sobelle makes his appearance known, he takes over a section of the playing space, pulling out from some of the boxes and elsewhere a leather easy chair, some side tables and lamps, a turntable and Victrola, a telephone. It's a cozy, pleasantly lit corner, music plays, and Sobelle has an incoherent telephone conversation. In his engaging but rather laid back demeanor, he wonders what's happening.
In nimble fashion, Sobelle then climbs up to the top of one of the mountains of boxes and extracts what he tells us are mementos of trips to France and California: a baguette, a piece of cheese, a bottle of wine, stuff that gets passed around through the audience. There's also a gigantic traffic light, flashing red, yellow and green. It's amusing if not very compelling. But things become somewhat more coherent as a tale of romance – romance that blooms and then fades -- takes shape. With the help of a female volunteer from the audience, Sobelle enacts a dinner date. A dining table is pulled out of the clutter. Sobelle sets the table, opens a bottle of wine, and climbing atop the table, he slices up lettuce and carrots for a dinner salad, using the blades of the ice skates he has put on. He then entertains the lady with a tabletop tap dance done on the ice skates, and it ends in a shower of styrofoam, standing in for rose petals. It's a totally enchanting sequence, recalling the supremely playful artistry of such an iconic dinner scene as Charlie Chaplin munching on his shoe in The Gold Rush.
The sequence wins Sobelle a bounty of audience good will, enough to carry him through to the end of an overly extended finale, which has him moving to another corner of the theater and in semi-darkness pulling out of a small box a vast assortment of paraphernalia, climaxed by what appears to be a long, tough, thorny vine or telephone cord. It may well be his connection to the spark of life, for when he finally succeeds in getting it all out of the box, accompanied by music that swells in volume and urgency, the show ends in a blackout.
Even as the piece has us contemplate the meaning of the ephemera that life and living make us collect, it also impresses as performance art and installation, triumphant in the intricacy of the supposed disarray of its set, props, movement, lighting and sound. It's the work of a something like an army of artists creating in tandem with Sobelle. (Programs with full credits are distributed after the show.) Among them, David Neumann is the director, while Steven Dufala is credited with scenic installation design. Christopher Kuhl did the lighting, Nick Kourtides the sound, and David Parker is the dance choreographer. Others include Steve Cuiffo as illusion consultant and Jeff Larson, production technical director. Then, there are the assistant director Justin Rose and last but hardly least, the stage manager Lisa McGinn. Together, they all provide an object lesson in the collaboration it takes to make awesome theater, even a solo show.
Off-Broadway solo play
Playing at New York Theatre Workshop
79 East 4th Street
212-460-5475
nytw.org
Playing until March 19