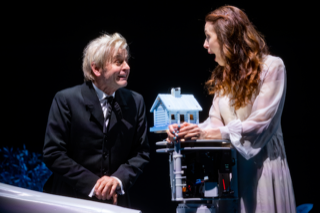 Mikhail Baryshnikov, Jessica Hecht in The Orchard at the Baryshnikov Arts Center
Photo: Maria Baranova

The Orchard

A Review by Deirdre Donovan


Robots rule in The Orchard, the fascinating new adaptation of Anton Chekhov's Cherry Orchard at the Baryshnikov Arts Center (BAC). This new take on Chekhov's masterpiece has the quality of soulfulness, not to mention a superb performance by Mikhail Baryshnikov as the old servant Firs.

Conceived, adapted, and directed by Ukrainian born theater artist Igor Golyak, this production surely reveals this director to be a bold risk-taker. After all, who else but Golyak would plunk down on center stage, a 12-foot robotic arm (robotic design by Tom Sepe)? Programmed to do domestic tasks like pour coffee and rake leaves, it also cleverly enters into an act of card games, magic tricks, and ventriloquism before play's end.

And that's not all! The robot serves as photographer extraordinaire with its implanted camera and even whips up mischief at times that bewilders characters. Case in point: In the final scene, it lifts a bench off the ground as if it were a mere feather. This stage business is more than eye-catching. It signals that the old world has been uprooted--and a very unsettling new one has arrived.

Surprises abound in this production. And, if one stays for the duration of this almost two-hour show, comic relief arrives in the form of an adorable cyberdog that scampers about the stage. This new-age canine adds some refreshing levity to the goings-on, and offers to the Russian characters on stage a brief respite from woe.

Anna Fedorova's monochromatic set, lit by Yuki Nakase, is a study in blue. There's a kind of generic detritus covering the stage floor that gets shuffled to and fro during the proceedings. And, beyond the aforementioned robotic arm, there's a toy rocking horse, a bookcase, a miniature doll house, and eight benches strategically placed about the stage. And, as if to underscore the play's title, a semi-abstract picture on the back wall visually conjures up the interlocking branches of cherry trees.

When it comes to elegance, Oana Botez rises to the occasion with a mixture of period dress and contemporary couture.



(L to R) Mark Nelson, Jessica Hecht, and Mikhail Baryshnikov in The Orchard at the Baryshnikov Arts Center
Photo: Pavel Antonov

Other creatives who deserve kudos are Alex Basco Koch for his impressive projection designs. His designs gave an additional dimension and rich texture to the live stage performance. These projected images offer the audience a kind of cinematic experience, allowing us to see a close-up of the actor's faces in real time.

This hybrid technique was particularly powerful in the final act when the character Ranevskaya had just learned that her estate had been sold at the auction—and that it was the former serf Lopakhin who had bought it. Although Ranevskaya's back was to the audience in this poignant scene, we simultaneously could see the heartbreak in her face, courtesy of the robotic camera that projected her frontal image on the scrim. Indeed, the robot truly served the dramatic moment here, and then some.

Will newbies to Chekhov's Cherry Orchard be able to fathom what's going on in this truncated version of the original? Well, it depends. Although The Orchard hews closely to Chekhov's text, it jettisons some of the minor characters who contribute a lot to the play's atmosphere. That said, if a theatergoer can key into Chekhov's poetry and the idiosyncrasies of his nine characters here, it's quite possible to piece together the story of this down-at-heels aristocratic family on the cusp of losing their ancestral home and their beloved cherry orchard.

Jessica Hecht, as Ranevskaya, is well-cast as the aristocratic woman in financial straits, impossibly attempting to reclaim her girlishness. Elise Kibler, as Ranevskaya's adopted daughter, Varya, who yearns for but misses a marriage to Lopakhin, is deeply moving. Mark Nelson makes a sympathetic portrait out of Ranevskaya's brother Gaev, and is at his best when imaginatively calculating his next move at billiards. Juliett Brett is suitably sweet as Anya, and Danya Denisova, as the governess Charlotta, is rightly quirky as she finesses her parlor tricks and ventriloquism.

John McGinty, as the eternal student Trofimov, puts his own signature on the character by using sign language (McGinty lost his hearing as a young child). It's unclear whether Golyak's casting of McGinty in the part is to underscore Trofimov's inability to communicate his high-minded aspirations to others in the play. But no question that McGinty delivers the dramatic goods here. Ilia Volok, as Passerby, is spot-on as he rudely enters into the play's world and wakes up the dreamy aristocrats.



Mikhail Baryshnikov in The Orchard at the Baryshnikov Arts Center
Photo: Maria Baranova

Baryshnikov, as the octogenarian Firs, is excellent. Not only do we get to glimpse his balletic grace in the opening scene when he supposedly gets blown around the stage from a wind gust, but we can savor his Russian accent that lends an authentic feel to every line of Chekhovian dialogue he intones.

All things considered, The Orchard is an unforgettable retooling of Chekhov's great classic. True, purists will complain that Golyak's insertion of robots into the play is a blemish--and that they should be banished altogether from the stage. But didn't Chekhov himself insist that his Cherry Orchard was "not a drama but a comedy, in places almost a farce". . .? So why shouldn't Golyak push the artistic envelope and toss in some robots to shake out some tired clichés and revivify the old story?

And what better time than now for Golyak to stage a new updated version of The Cherry Orchard? With the outbreak of war in Ukraine, he knows first-hand what it is to lose one's home.

Please note: Chekhov aficionados can experience The Orchard in two ways: Live and In-Person Onstage or Online in an Interactive Live Digital Experience. Those choosing the digital version will be sent a link to the performance on the day of the performance. Each production stands alone. However, there's no question that each is meant to complement the other.

The Orchard
Through July 3.
Baryshnikov Arts Center, 450 W. 37th St., New York, $39-$59 (in-person performance tickets), $29 (virtual performance tickets), $49-$99 (access to both versions).
For more information, phone 617-942-0022.
Running time: 1 hour; 50 minutes with no intermission.