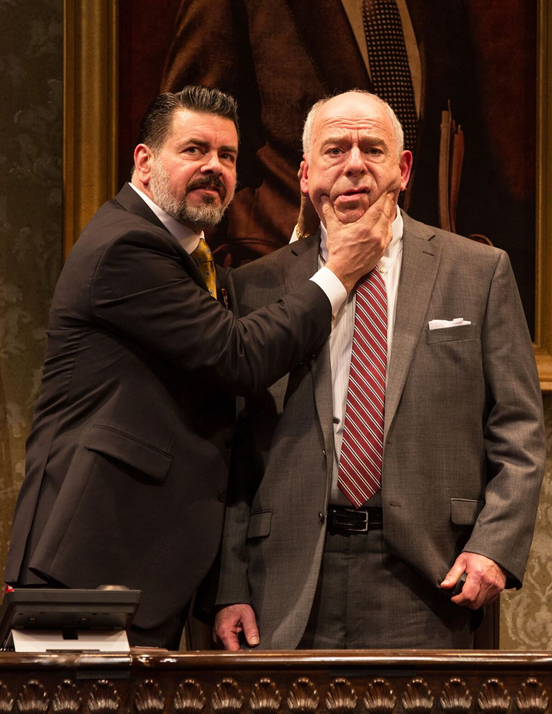 Burke Moses (Arthur Vance) and Lenny Wolpe (Ned Newley)
Photos by Matthew Murphy
By David Schultz
If you are currently feeling burnt out with the political insanity and circus that seems to be unraveling daily before our eyes…. turn off the cable news stations, at least for two and a half hours and sit through the current political comedy playing at The Paper Mill Playhouse. This amusing and timely tweak at the shenanigans of your government at work is not without its charms. Playwright Paul Slade Smith has much to say about our current political system in its current state of disarray. A scandal has just occurred in Vermont. The sitting governor has just been ousted, thrown out on his rear for his dalliance with a beauty pageant contestant. Ned Newley (Lenny Wolpe) is quickly lined up, since he is the lieutenant governor …it's a no brainer that he steps up to the newly appointed position. One slight problem, Ned is totally unequipped to take the reins and control the chaos that his precursor has left behind. Shy, reticent, nervous and mumbling under his breath, his newfound status seems way too public for his quivering sensitivities. At the outset, after a disastrous televised swearing-in ceremony that consisted of five minutes of jittery stage fright goes viral, help is needed…fast.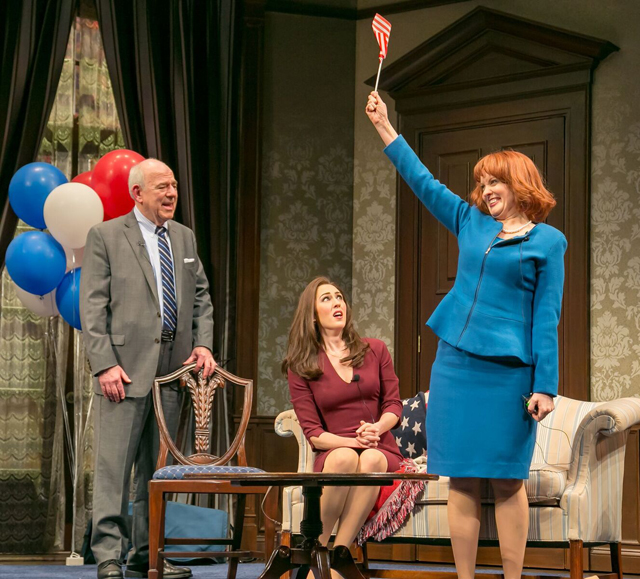 Lenny Wolpe (Ned Newley), Kelley Curran (Rachel Parsons) and Erin Noel Grennan (Louise Peakes).
Photo by Jerry Dalia
Ned's right-hand-man, and chief-of-staff Dave Riley (Manoel Felciano) has the Sisyphean task of making Ned a more public and confident governor. The man needs all the help he can get. A special election looms on the horizon, as the situation seems dire, and there seems to be nothing to snap Ned into a saleable seasoned politician worth attaining the new position at hand. In swoops a canny and sharp-tongued pollster to remake this jello mold of a man. In quick snappy repartee Paige Caldwell (Julia Duffy) makes an attempt to get Ned up to snuff. Needing more help, since Ned is totally unprepared for his new position a CNN political makeover dandy enters the fray…Arthur Vance (Burke Moses) reforms and makes Ned into an 'Everyman', with simple and filled folksy short sound bites. Both strategists attempt to carefully 'reshape' his relatability to the average voter aching for a different fresh take on the political machine. Perhaps someone with charisma and relatable traits can sway Ned's reticent manner into something worth electing. In a standout scene Ned is told to memorize a plethora of simplistic sound bites for television interviews: "I'm just an average guy", "It needs fixing", "We have to find an outsider", "It just takes common sense".
A daffy and totally incompetent secretary Louise Peakes (Erin Noel Grennan) is hired to answer the phones. That she has never kept a job more than a day or so is not questioned, since she is so perky and upbeat. Totally out of step, Louise seems to always be forgetting names of people on the telephone, and in person. Her malapropisms and total incomprehension of simple telephone technology only add to the chaos. This character is played for laughs but soon enough she unexpectedly without any calculation on her part becomes a political powder keg as she too is thrown (quite improbably) into the ring to enter the gubernatorial special election herself. Louise astoundingly, because of a few unrehearsed TV interviews that had her sitting next to flummoxed Ned on a couch has stumbled her way into the position of lieutenant governor on her first day of work. Her sweet as pie inanity is now being pitted against Ned's mumbling ineptness. Running against the man whom she just started working for seems insane, but her dear-in-the-headlights innocence seems to be what the public perhaps wants and craves. A mixture of Sarah Palin, Karen from "Will and Grace" and a dab of Gracie Allen comingle to create a formidable competitor. Throw in a snarky and leggy TV reporter Rachel Parsons (Kelley Curran) and her bearish videographer A.C. Peterson (Mike Houston) to interview the loony pair on their way to the coveted seat of Government, and all hell seems ready to break loose.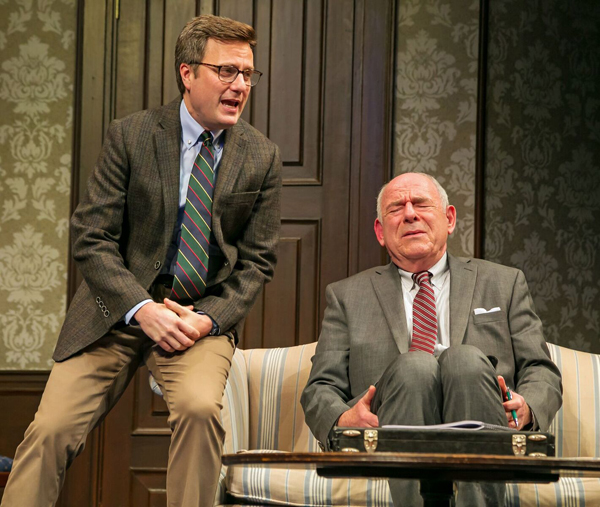 Manoel Felciano (Dave Riley) and Lenny Wolpe (Ned Newley)
Director David Esbjornson posits these strange bedfellows in Michael Schweikardt's setting of the governor's office. It resembles a faded dynasty on the verge of something new, with an almost 70's visual patina. The rather stark and sharply harsh lighting design (Ben Stanton) is unstinting in its glare. Playwright Smith sets the stage for what one assumes will be fireworks of a showdown at the finale, but he wears his heart on his sleeve. He has Ned deliver a sweet and stirring description of what "government" really means to him, and what propelled him to enter politics in the first place. The play seems sharp and quick witted on the outside, but with a soft emotional chewy center. With all the truly nasty political convolutions happening on a continuous gut-wrenching basis, it is nice to sit back and wish that Ned's aspirations could be possible right now. Now turn that television back on, tune into CNN and hold your breath.
The Outsider
Playing at The Paper Mill Playhouse
22 Brookside Drive, Millburn, NJ
973-376-4343
PaperMill.org
Playing Through February 18th