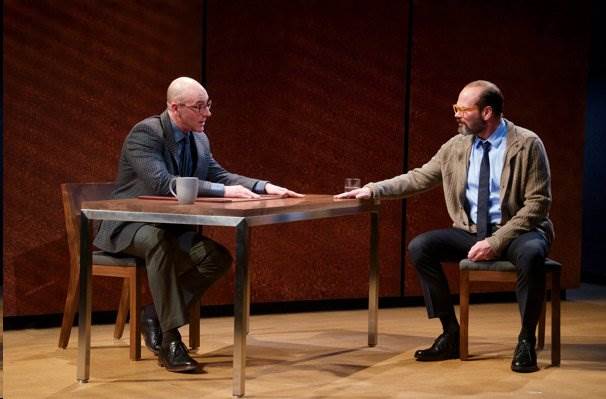 Jordan Lage as Richard and Chris Bauer as Charles         photos by Doug hamilton
                                        By Ron Cohen
Psychiatry, journalism, the law and the Old Testament all get knocked pretty hard in David Mamet's The Penitent. Summing up the play's general attitude early on, the protagonist declares, "Human nature is evil."
Mamet's misanthropic leanings can make crackling good drama, as witnessed in such plays as his Pulitzer Prize-winning Glengarry Glen Ross. Here, however, the effect is blunted, as the characters seem to be inhabiting a vacuum, existing only to debate or react to their views or feelings on the matter at hand. There is scant reference to any actual time or place.
The matter at hand concerns the accumulating woes of a psychoanalyst, Charles, stemming from his refusal to testify in defense of one of his patients, a young man being tried for murder. While the patient is never seen and circumstances are never fully revealed, we eventually learn he has fatally shot 10 people. The patient, a homosexual, has declared in a letter that Charles' refusal is homophobic, and a newspaper investigating the story, has found a scholarly treatise in which, the newspaper reports, Charles labeled homosexuality an "aberration." As the drama proceeds, public outrage mounts against him, his practice is wrecked, and his wife, Kath, becomes increasingly distraught, heading for a nervous breakdown. 
It turns out, though, that "aberration" was a typo. What Charles wrote was that homosexuality is an "adaptation." He's suing for libel.
However, Charles' lawyer, Richard, tells Charles that newspapers are too powerful to sue. The lawyer vainly argues that Charles should settle for a retraction, which would include his statement of acceptance. Richard further contends that Charles should testify and turn over his records dealing with the patient's treatment. This Charles also refuses to do on the basis of patient-doctor confidentiality and his deepened understanding of the Hippocratic oath. He has turned to religion to fortify his beliefs, and is consulting with a rabbi, who like the murderer, never appears on stage.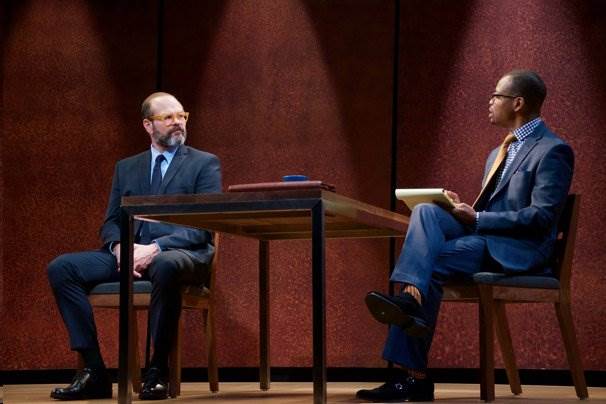 Chris Bauer as Charles and Lawrence Gilliard Jr. as The Attorney in The Penitent.
Charles's stance is further questioned in a deposition session with an attorney representing the murderer. The attorney – quoting the Old Testament's condemnation of homosexuality – contends that Charles' new-found religiosity has brought his homophobia to the fore. The attorney also bombards Charles' ethics with the fact that many times in the past he has testified in trials as an expert witness for pay, a practice the attorney criticizes as fraudulent. All this pummeling is further causing Charles to doubt his own profession as one that deals in diagnosis rather than cure.
If at this point you are still intrigued, be warned that there comes a spoiler in one of two last-minute revelations.
Mamet unwinds his story in a series of two- person conversations: Charles with his wife; Charles with Richard, and Charles with the defense attorney. As the arguments get chewed over and over, things begin to seem pretty repetitious, despite the play's running time of something less than 90 minutes, including an intermission. In this Atlantic Theater Company production, the formal staging by director Neil Pepe, Atlantic's artistic director, on Tim Mackabee's spare, angular set resembling an interrogation room, further heightens the sense of debate. Like debaters, actors sometimes cross to different spots on the stage for no apparent reason.
On the plus side, Mamet's dialogue – whatever you may feel about his theses – impresses with command of language and the ability to make clear his character's points of view, as circuitous as they may be. He's also writing without the oft-satirized reliance on the scatological that colors his earlier plays.  And the actors, for the most part, deliver the dialogue with the kind of conviction that makes you keep listening. Chris Bauer deepens Charles's dilemma with fitful surges of despair and anger, while Jordan Lage's Richard maintains a convincing and complimentary lawyer-like gravitas. Lawrence Gilliard Jr. imbues the defense attorney with an entertaining smidgen of sadism as he interrogates Charles.
Problematic, however, is Rebecca Pidgeon's take on Charles' wife. While she varies the volume, her lines are delivered almost uniformly in an urgent monotone, making her sound like she has been completely traumatized from the start. It seems aimed at deterring any emotional investment from the audience. However, Pidgeon, who is Mamet's wife, may be the cast member most in tune with what may be the author's intent: to prod us into thinking without cluttering the process up with emotion.
Off-Broadway play
Playing at the Atlantic Theater Company
336 West 20th Street
816-881-4111
Playing until March 26