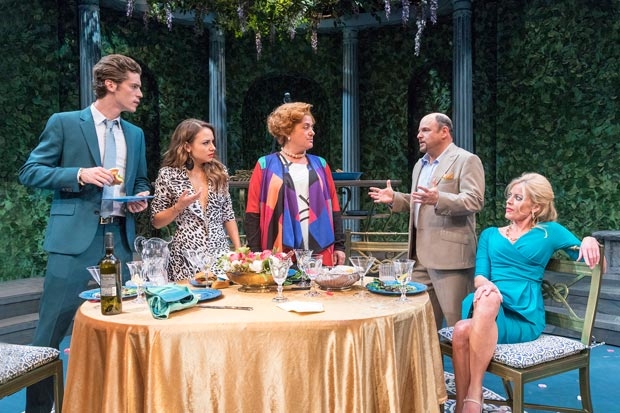 The cast of The Portuguese Kid, written and directed by John Patrick Shanley,
at New York City Center — Stage I.
(© Richard Termine)
By Eugene Paul
Multi-award winner playwright/director John Patrick Shanley, happily still plying his trades, has generated a new comedy for the now venerable Manhattan Theatre Club guaranteed to stimulate the arteries even in these overstimulated times, lower, louder, loucher than his usual coterie of characters, just what the doctor ordered.  In spite of hints at ancient literary pretensions, Shanley's territory is deepest TV Sitcom ten degrees grosser than you might find on the tube, coarser, cruder, greedier.  Sort of Sixteenth century French, wittily designed for a certain milieu of today by magicians John Lee Beatty and William Ivey Long, They nail these characters.
There's lawyer, faux fiftyish Barry Dragonetti (impossibly good Jason Alexander) immaculately tailored in bright blue double breasted  impress- the- hoi polloi garb, at smiling faux ease  in his genuine imitation ancient barrister office, shysterity pouring out the pores, flirting-fencing with still overly gorgeous Atalanta Lagana.(simply marvelous Sherie Rene Scott).  They have known each other a little too well for years.  She would like him to represent her in the sale of her house, acquired through a husband, it is presumed. Four percent commission. Ha ha ha, Barry NEVER gets less than six percent. Ha ha ha.  Four percent. The negotiation-flirtation would go on, even as it gets heated, were it not for Mama.
Mama, Mrs. Dragonetti (Mary Testa, who else?) keeps her eye – the evil one – on everything.  She knows what kind of girl – ha ha-- Atalanta is and Atalanta knows she knows and what's she gonna do about it, this is business.  And Mama knows what kind of business that is. Not with her boy. Which really doesn't seem to bother Atalanta at all because she knows what kind of boy Barry is and besides, she has a toy boy of her own, Freddie Imbrossi (hilariously outrageous Pico Alexander). As we discover in the next scene, her tastily-bad, that is - styled bedroom, with Freddie devoutly humping Atalanta in the delicate looking but damned sturdy bed. Of course, director Shanley exposes Freddie's wiry abs but keeps Freddie's pajama bottoms on, and somehow, delightfully tousled Atalanta is fully clothed, but who ever said this was a realistic show? Just low fun and low games.
Which Patti Dragonetti (totally luscious Aimee Carrero) does not play as well as she thinks she does but brains did not come with the package of gorgeousness her twentysomething bod – those legs! – generously provides. She thinks she has her Barry wound around her delightful little finger.  Mama Dragonetti isn't worried in the least.  Patty wants her name on the deed of their house.  Berry all but sneers at such dumbness. Then who's gonna look out after me, I deserve to be looked out for, she offers as deep thinking and proceeds to entwine herself with Freddie, who has similar problems and knows when he catches Barry's eye as he's kissing Patty that this might not be too smart.
It isn't. Especially since it's in Atalanta's  superdivinely gardenlike patio dining room where she's gotten together a calculated softening up feast for Barry. Patty is a nothing complication so she's there. And maybe there's an ulterior motive in having Freddie there, too. But not Mama. Who crashes the party anyway, of course. And of course, Barry is rolling up his sleeves in order to teach Freddie a lesson. And you know how lessons turn out, don't you . Or is that part of the calculus..?
Playwright /director Shanley spritzes topical Trump trumpery to contemporize if not spruce up the proceedings and darned if that doesn't almost work. When Barry, in his rage and hurt in the tug of war among the women pulling at him, blurts out he voted for the man, the moment of palpable horror stings.  He got them.   Almost immediately he denies he voted for the man. Are we always trying to have it both ways? Better to stick with the laughs.
The Portuguese Kid. At City Center Stage 1, 131 West 55th Street.  Tickets: $95-$112.50. 212-581-1212 1 hr, 40 min, Thru Dec 3