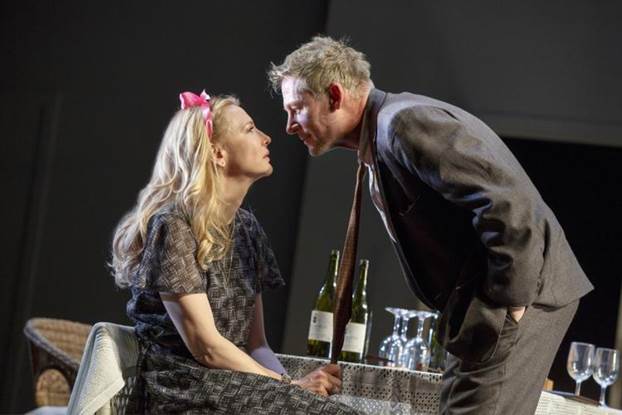 Cate Blanchett and Richard Roxburgh
(JOAN MARCUS/©2016 JOAN MARCUS)
                             By Ron Cohen
Libidos run amok, fueled by a flood tide of wine and vodka, in Sydney Theatre Company's luminous production of The Present. But before all that sexuality breaks loose, there's plenty of talk…talk that often grabs the intellect and plucks at the heart.  After all, this is a play by Anton Chekhov, so such talk is to be to expected, even though the play is one of the great Russian dramatist's earliest efforts and wasn't discovered – in still apparently unfinished form and without a title page -- until years after his death in 1904. Generally identified as Platonov, the Chekhov work has seen several incarnations; this time around the script has been given an inspired adaptation and updating by playwright Andrew Upton, the Australian company's former artistic director.
Upton also happens to be the husband of two-time Oscar winner Cate Blanchett, who stars in the production, giving it not only marquee power but superlative stage artistry as well. Along with co-star Richard Roxburgh, she creates an arresting centerpiece in this company of top-notch actors from down under, melded into a deliciously responsive ensemble under the well-honed direction of John Crowley.
The Present transports Chekhov's characters ahead some 100 years to the mid-1990s to a Russia that is moving shakily from the tyrannical communism of the Soviet Union to oligarchy. The spare but sleek settings and contemporary costumes by Alice Babidge, the evocative lighting by Nick Schlieper and the sound design by composer Stefan Gregory all help in defining the ambience.
All the uncertainties, ennui and emotional undercurrents that traditionally inform Chekhov's pre-revolutionary people seem perfectly apt here as well, even as the script includes mentions of such non-Chekhovian factors as airplanes, Scorsese (Martin, that is), Stalin and the pleasure of watching movies on video while sitting on a couch at home.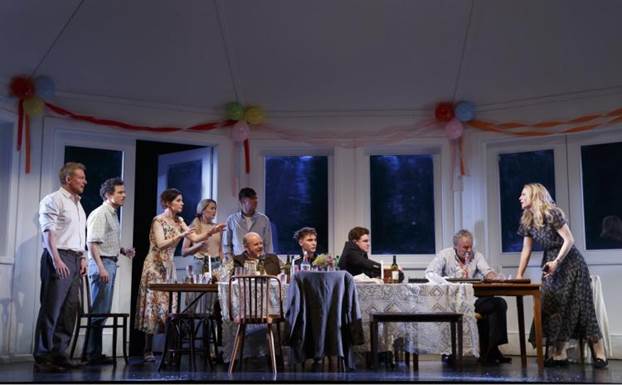 The setting is the country estate of a deceased and once-powerful general of the Soviet Army. It is there that his widow, Anna (Blanchett), who was the general's second and much younger second wife, is marking – with a mix of trepidation and celebration -- her 40th birthday. She has invited a group of old friends and locals to the party. Chief among them is Mikhail Platonov (Roxburgh), a schoolteacher, who as a younger man was the tutor to the general's son from his first marriage, Sergei (Chris Ryan), and Sergei's pal, Nikolai (Toby Schmitz), now a doctor. With his students not much younger than himself, Mikhail and his two charges formed a bond of lasting friendship that becomes a key element in the play.
Others on hand include Mikhail's wife and Nikolai's sister, Sasha (Susan Prior); Sergei's recently wedded wife, Sophia (Jacqueline McKenzie); Maria (Anna Bamford), Nikolai's student girlfriend; Ivan (Marshall Napier), the boisterous father of Sasha and Nikolai, and two other older gentlemen, the affluent Alexei (Martin Jacobs) and Yegor (David Downer,) who may both be suitors for Anna's hand. Anna needs such a marital liaison to secure her economically uncertain future.
Still more show up as well, and in the first act, as they gather outdoors to await the luncheon to be served in the estate's summer house, they discuss both the present and the past, the differences between young and old.  Intimations of former relationships, present attractions and enduring frictions become apparent if not particularly clear. Indeed this opening act, with its stew of characters and elliptical exposition -- not to mention the welter of Australian and English accents -- can be a challenge for American audiences. However, the wit and pungency of the dialog compensate. For example: the awe-filled relating by Sergei and Sophia of how they ate snails on their honeymoon in Paris. And the setups – as murky as they are – pay off in the literally explosive second act, after the partygoers have dined, the alcohol flows, frenzied dancing occurs and fireworks – and dynamite – cap the celebration. The two concluding acts follow with a series of engrossing morning-after resolutions and a heart-rending curtain. (Helpful hint: Upton's author's note in the Playbill provides some nicely readable backstory for his chief characters. It should aid in elucidating what's going on in that problematic first act.)
Central to the tale is the sexual electricity that flows from Mikhail to every woman on stage. Roxburgh is hardly a hunk but he makes this attraction real through sheer force of personality, delivering with grand vigor Mikhail's trenchant humor and observations on life and love, plus the urgency of his own erotic desires. Things sometimes border on unabashed bedroom farce, but the proceedings are given emotional weight by his deep and long-lasting connection with Anna, a love that for whatever reasons can never be completely fulfilled. It's a connection that Blanchett makes totally understandable. Seductively sinewy one moment, girlishly vivacious the next, she is a magnetic presence in a performance that masterfully hints at the desperation under the confidence and humor, and blends instinct with intelligence.
Lasting some three well-stuffed hours, The Present is a bountiful gift from Chekhov, by way of Australia, for Broadway audiences.
Broadway play
Playing at the Ethel Barrymore Theatre
243 West 47th Street
212 239 6200
Playing until March 19