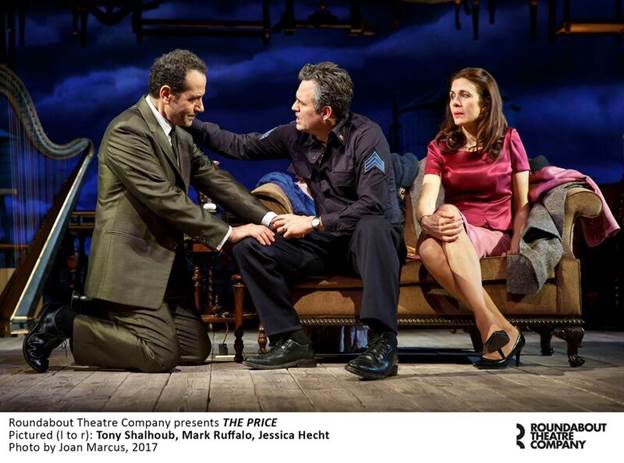 by Deirdre Donovan
Arthur Miller's popularity certainly isn't waning on Broadway. Just last season A View from the Bridge and The Crucible, both memorably directed by the Belgian director Ivo van Hove, were hot tickets on the Great White Way.  Now, The Price returns to Broadway at the American Airlines Theatre under Terry Kinney's even-handed direction.
If you need a quick refresher on the story, here it is.  Set in an attic of a Manhattan brownstone that's soon to be torn down, a police sergeant Victor returns to his childhood home to sell what's left of his parent's estate.  His wife Esther, his estranged brother Walter, and the cunning antique dealer who's appraising the furniture, all arrive on the scene later, each insisting that their voice be heard.  Although the play begins as Victor's solo reflection on his childhood home, it ends as an emotional battleground between the two brothers who took decidedly different paths in life:  Victor abandoned his dream of getting an education when his family went broke at the onset of the Great Depression and stayed home to keep the family financially solvent. In contrast, his brother Walter left the homestead and went on to become a successful doctor.  Sixteen years have now passed but two emphatic questions remain to haunt the brothers:  What personal price has each sibling paid for his chosen life?  And what does their future hold?
Kinney has lassoed a dream-team of actors for his Price. There's Mark Ruffalo playing the police sergeant Victor, whose natural-like acting becomes even more transparent here.  Ruffalo's Victor becomes that ordinary Joe whose self-sacrifice has slowly gnawed into his soul.  Ruffalo never over-reaches with his acting, but he nails his character's qualities, his willy-nilly indecisiveness and his smoldering anger for his brother Walter. 
Tony Shalhoub is well-cast as the urbane Walter.  From the moment he arrives in his expensive camel-colored overcoat, there is a sea-change in the play.  Shalhoub's Walter was impressive in his turn in The Band's Visit earlier this season.  But he seems born to play Walter, a man who's gained respect in the community and is influential in his chosen career of medicine.
Jessica Hecht, as Esther, is perfect as the wife who feels that life has passed her—and her husband--by.  One hears the quiet desperation in her voice a half hour in, when she says to her husband Victor:  "It's that everything was always temporary with us. It's like we never were anything, we were always about-to-be." Hecht's Esther exists in the pre-Gloria Steinhem era when women were still pretty much an appendage of their spouses.  That said, Hecht milks her role splendidly.  She balances her character's nagging and selfish qualities with a genuine sincerity. The only woman onstage, Hecht brings a soft femininity and tasteful fashion sense (her chic pink suit is a knockout) to the fore. Yes, her Esther has an Achilles' heel (her obsession with money), but she always remains true-blue to her man.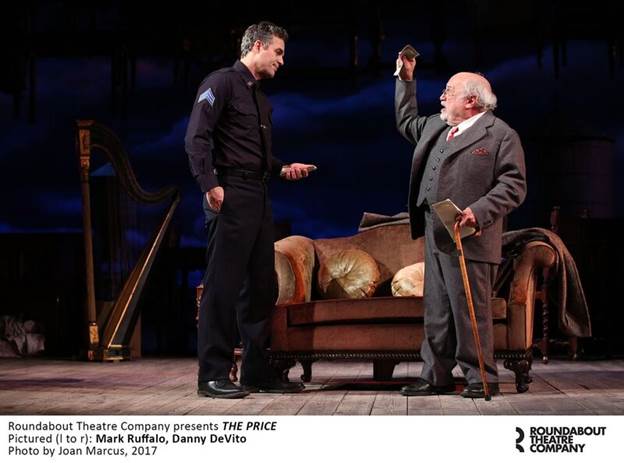 If these actors are at the top of their game, Danny DeVito is the real stage-taker here.  DeVito's Gregory is a hand-in-glove fit. DeVito's comic gifts have never been sharper as he impersonates the antique dealer who's eager to seal the deal.  Although DeVito exercises his comedic muscles to the hilt, he also brings dramatic contrast to the play.  His Gregory, in fact, has a bone-chilling story about his daughter who committed suicide long ago—a dark event that still fills him with a creeping remorse. DeVito's Gregory is definitely a man of flesh-and-blood.  And if he's bent on getting a good price for the estate's goods, can one really blame him at almost 90 for wanting his "last hurrah" as a businessman?
The staging throughout is well-managed.  Derek McLane's set, complemented by David Weiner's half-lighting, is rightfully cluttered with shabby furniture and knick-knacks.  One can practically smell the old musty attic and sometimes see a cloud of dust arise from a divan or settee that Victor uncovers for inspection.  Sarah J. Holden's costumes hit the mark, from Esther's cherry-blossom colored suit . . . to Victor's police uniform . . . to Walter's butter-smooth cashmere coat . . . to Gregory's frumpy clothes. 
Miller once said that all his plays were autobiographical.  Little wonder that The Price is so penetrating in its portraits of family members. It's the deep humanity that Miller invests in his dramatis personae that ultimately is moving and grabs you by the heartstrings.
Though the play would be better if it were trimmed down to 2 hours (it clocks in at approximately two and a half hours), it's hard to know just what could be eliminated.  Miller used the classic unities of time, place, and action in The Price, which lends it an integrated feel even though it is overly long.
If you are in the mood for a Miller play, this new iteration of The Price will put you on the edge of your seat.  Kinney doesn't cut any corners here, and the four-member cast go the dramatic distance—and then some.
Through May 7th.
At the American Airlines Theatre, 227 West 42nd Street, Manhattan.
For tickets and more information, phone 212.719.1300 or visit online at roundabouttheatre.org.
Running Time:  2 hours; 30 minutes with an intermission.