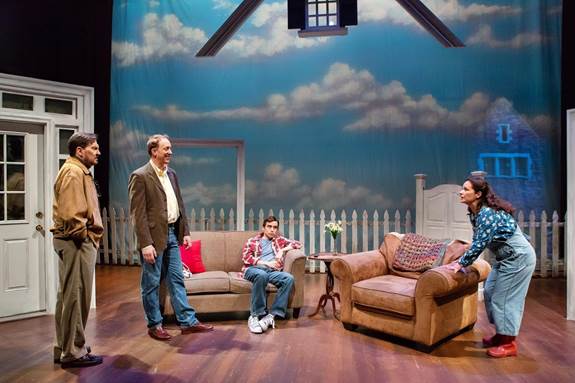 L-R: Warren Kelley, John Long, Phil Gillen, Rachel Botchan. Photo by Hunter Canning / @huntercanning.
                       By Eugene Paul
If you're a theatergoer who, some time ago,  discovered the cornucopia of offerings on Theatre Row, you've  probably use the internet to find out what's playing. I'm going to make you nervous. Even though there's not a clue as to why the play is called what it is, the lucidity and coherence of the blurb for The Property is its finest moment. The show, in person, is a shambles.
It's not as if we weren't warned from the first look. Caitlynn Barrett's  pretty setting, those hung pieces indicating attic here,  the endless projected picket fence across the stage  there,  those four varied working  doorways to nowhere, and no walls at all. Inevitably, we see our actors go on and off, to and from the void, to plonk in the middle space where a thick love seat and a thicker chair facing  us says living room. No matter the early security of the old Sinatra sound track, all this trumpets an artistic decision to turn a conventionally structured play into a "statement". It doesn't work.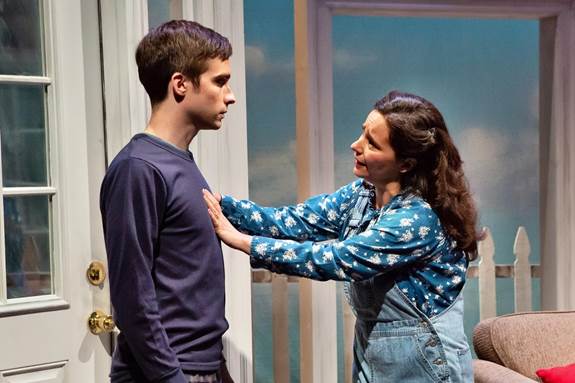 Phil Gillen and Rachen Botchan.
 Even though  veteran director Robert Kalfin pitches his actors right off the bat at high intensity: rebellious teen age son, Todd (splendid Phil Gillen),hapless mom, Irene (Rachel Botchan), it's confusion.  She wants him to meet his biological father, Vernon (fine Sam Tsoutsouvas) . Now?  After sixteen years of total absence? (Vernon and Irene? Vernon and Irene?  No, can't be.  What else is going on?)
Sam Tsoutsouvas, John Long
Present husband, Eddie (excellent Warren Kelley) marvelously annoying as an ineffectual Marxist, is not keen at all  about such a meeting between Todd and his capitalist father but Eddie's book store salary and Irene's back office bank salary barely keep them afloat which is why Irene is renting out the cottage in back of her house.  To Greg, (John Long) a sort of drifty  do-gooder teacher,  whose salary is so low the rent is a problem.  (Er-hold on a moment: Irene is a back office bank functionary?  In straggly hair, bib overalls and half-Wellies?   With never a single bank functionary question about security? Just how far back in the office? And just what is costume designer Gail Cooper-Hecht projecting about Irene?  Or is she?)
Things come to a head between Irene and her son, Todd,  when he finds his mother and the cottage tenant Greg, in a clinch, vile things are shouted and Todd goes off in high dudgeon. A year later, vital, verbal Vernon is a frequent presence, Eddie, having lost his book store job is now a uniformed security officer, Marxism is dead, drinking is rearing its ugly head and Greg has been an awkward tenant, moony about Irene. Irene ,now in a sun dress and flip flops and that hair is still a back office bank functionary making ends meet.  Sort of. And Todd?
Todd comes crawling back, a heroin addict, desperately in need of help. And so is playwright Josephson, whose bio indicates that he has a very successful day job so that he can keep on writing plays and soap operas, thus, this rewarding learning experience.. Already he has found out that while touching on Marxism, Capitalism,, Parenting,  Finance, Sex, Real Estate, all with no plot, walls or backing, it is more strategic not to have an intermission which can be an opportunity for audience members to decamp gracefully. (No such thing, gracefully.  Some try, anyway intermission or no intermission.)
By now, he also sees that the sparkling, magnetic, enchanting  leading lady he envisioned is indispensable to the life of his play. Director Kalfin's actors work valiantly in spite of  having to deal with the leading lady's uncomfortableness, which affects them all, she being the central focus.  Unfortunately – or fortunately  -- she is also frequently inaudible.
This is not to say there aren't gems when she is not present. Warren Kelley, as Eddie, racks up a marvelously spellbinding scene as speechlessly paralyzed drunk, stunned by the appearance of J.J. (Matthew VanFagna), Todd's  friend who has come to see him. We presume he's Todd's dealer. Yes, that, too.
The Property. At the Clurman Theatre, Theatre Row, 410 West 42nd Street.  Tickets: $40-$50. 212-239-6200.  100 min. thru July 14.