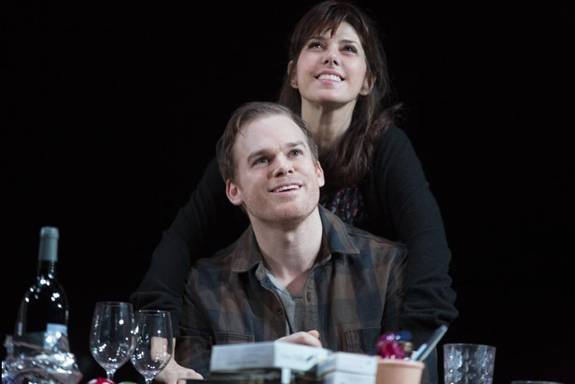 Marisa Tomei and Michael C Hall Photos by Joan Marcus
In spite of its misleading title, Will Eno's The Realistic Joneses is a charming new play that is bound to tickle your funny bone and make you think twice about the people who live next door. Directed by Sam Gold, and featuring a top-notch cast, Eno makes his Broadway debut with this quirky comedy and lands lightly on his theatrical feet.
Eno first came to the attention of the New York theater community when his one-man play Thom Pain (based on nothing) arrived at DR 2 Theatre in February 2005, following successful runs at Edinburgh and the Soho Theatre in London. Even those who might have found Thom Pain not to their theatrical liking had to agree that Eno is an artist with an original voice. Eno is no one-hit wonder either. His other plays— The Flu Season, Middletown, Title and Deed, and his short play collection Oh, the Humanity, and Other Good Intentions–have all made sizable dents in the theatrical landscape and demonstrated that Eno has a true gift for exploring the Big Questions with much humor and pathos.
The Realistic Joneses is essentially a love story that explores the lives of two married couples, both with the last name Jones. On the surface, nothing much happens. Bob and Jennifer Jones, who live in a small hamlet nestled in the mountains, discover one fine day that another couple, John and Pony Jones, have moved in next door. Oddly, the two couples make little ado about the fact that they both share the same last name. But it is an immediate nudge to viewers that Eno has tucked more than a few laughs into the lining of his play. And he has. While the dominant themes of his work are weighty ones—love and death, fidelity in marriage, ambition and career—humor ripples through it. No belly laughs, Eno tugs quiet grins from his audience, however, via his great one-liners, non sequitors, and off-beat observations about people at painful crossroads in their life.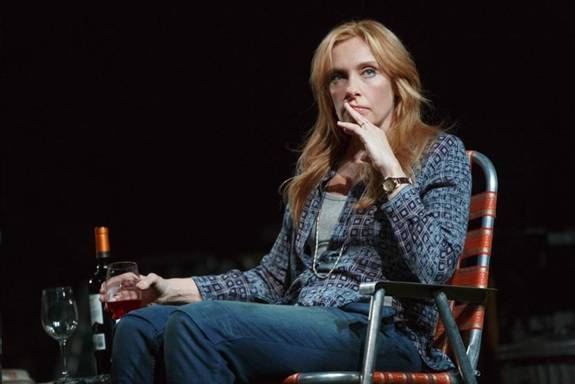 Toni Collette
True, many will argue that the characters who populate Eno's play are too outré for Broadway audiences. And, on closer scrutiny, the aforementioned couples are not your garden variety small-town denizens. There's middle-aged Bob (Tracy Letts) who's recently been diagnosed with a serious illness and is in denial over it, and his smart and beautiful wife Jennifer (Toni Collette) who has left work to take care of him and become his feminine factotum. His younger next-door neighbor John (Michael C Hall), a wizard at repairing damaged goods, frustratingly can't repair his own neurologically-damaged nervous system, which makes him prone to seizures. John's pretty wife Pony (Marisa Tomei) starts out as rather a ditz but ends up as a fledgling philosopher. This quartet of characters has their wild and wooly moments, but as the scenes unfold one learns that they are quite capable of observing and respecting boundary lines of all sort: personal, marital, territorial, spiritual.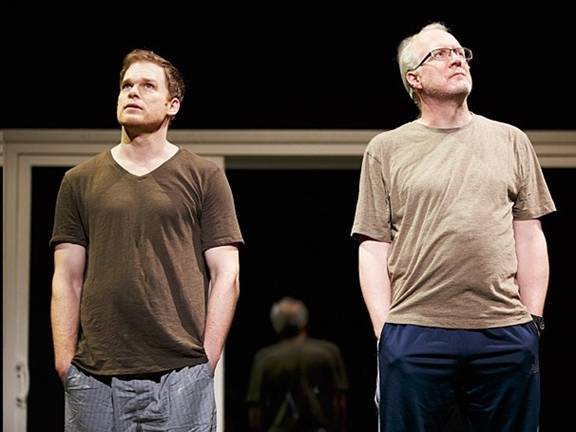 Michael C Hall and Tracy Letts
The Realistic Joneses, for all its quirkiness, is a story about four ordinary human beings. And it is also the story of everyman, every marriage, and every neighbor next door.
David Zinn's set is a credible rendering of a small mountain town, anywhere, in America. One sees nothing more than a plain back yard and patio, picnic benches, chairs, backyard accouterments and glimpses of their modest suburban homes and local grocery store. That adage of keeping up with the Jones takes on a more metaphysical and less materialistic, ring in Eno's new play. Ironically, this is less about the latest gadget and more about the latest medication that might keep one out of reach of the Grim Reaper's grip.
A dead squirrel is writ large in this play about human beings. And if that boggles your brain, it might help to recall Harold Pinter's famous remark about one of his play's meaning being, more or less, like the "weasel under the cocktail table." Similarly, the dead squirrel in Eno's play is the jarring thing that happens in the course of one evening, arresting the couples' trivial conversation, and forcing them all to live in the moment. While "living in the moment" has become a worn-out cliché, it gains new potency here in what is perhaps the play's most natural and realistic episode.
If the play is intriguing, the acting is excellent. The beautiful Australian-born actress Toni Collette, playing the compassionate Jennifer, is the most grounded character in the play. Letts, as Bob, is spot on as the seriously ill husband who's wrestling with the idea of dying at middle-age. The very attractive Marisa Tomei, as Pony, is well-cast as she can subtly demonstrate her character's shift from ditziness to becoming a more mature woman. Michael C. Hall is just right as John, who ultimately learns that his own home and wife are his true lasting treasures.
Far be it from Eno to be a sentimental playwright. Eno scores big by staying clear of mawkish sentiments and any hint of treacle. The Realistic Joneses might not be, as its name suggests, always realistic. But it is the right play to see on Broadway if you want a break from the splashy musicals, revived classics, or plays with urban themes. What's more, it is the best way to find out about those who live next door—and how much they are like one's self after all.
Lyceum Theatre, 149 West 45th Street, Manhattan
Open run.
For tickets, phone (212) 239-6200 or visit online www.telecharge
1 hour; 30 minutes with no intermission.