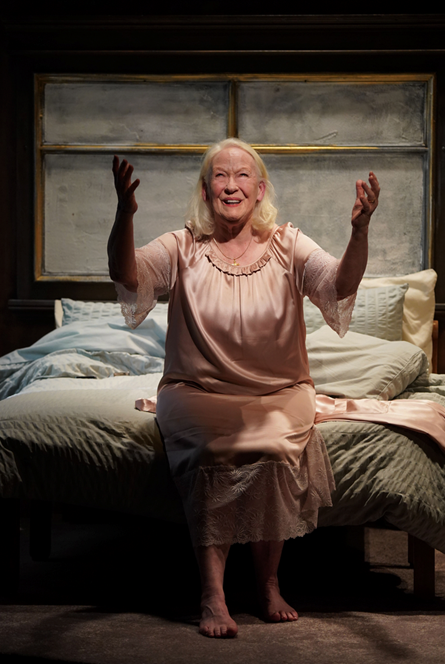 Marie Mullen (Photo: Carol Rosegg)
The Saviour

By Julia Polinsky

Who saves whom? And from what?
Mothers tend to say that there are some topics unsuitable for polite conversation. In The Saviour, Deirdre Kinahan's marvelous play currently running at the Irish Repertory Theater, the formidable Maire hits on most of them, chiefly religion and sex. And then things get complicated.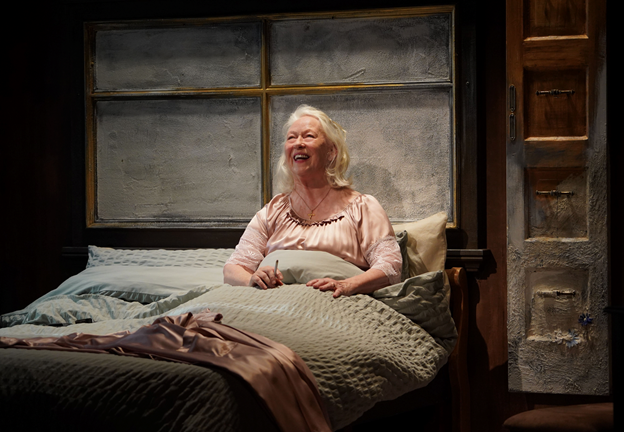 Marie Mullen (Photo: Carol Rosegg)
We meet Maire (Marie Mullen) on the morning of her 67th birthday, glowing in her satin nightie, and enjoying a cigarette in bed (the Irish slang is "fag,"). The previous night, she'd had sex for the first time in years, and enjoyed it mightily, for perhaps the first time ever.
We know this is so because tells us. Ok, she's talking to Jesus. Yes, *that* Jesus. Clearly, Maire's been in the habit of talking things over with Jesus The Saviour all her life, since her father placed her in an orphanage and disappeared. Kinahan's language describing that orphanage paints the place in colors that leave us cold, pained, grieving for Maire. After growing up in that hellish house of charity, no wonder Maire is pleased to love her Saviour; it's the only love she's ever really felt in her life. No husband nor children can touch it.
Until, that is, after the death of her husband, when she's living alone in the house that used to be full of children, life, and noise. She feels lonely and useless, which leaves her a perfect target for a man with a past.
We never meet this man, this Martin, who saves Maire from her loneliness. She speaks of him as a godly man, meets him praying in the church where she's cleaning after Mass. One thing leads to another, until after a night of sex, Maire's enjoying a cigarette and listening to the sounds of Martin downstairs, making her coffee. She thinks.
The person she actually does hear downstairs is her son, Mel (Jamie O'Neill), who's come to wish her a happy birthday, to bring her an emotionally fraught gift, and to save her from Martin.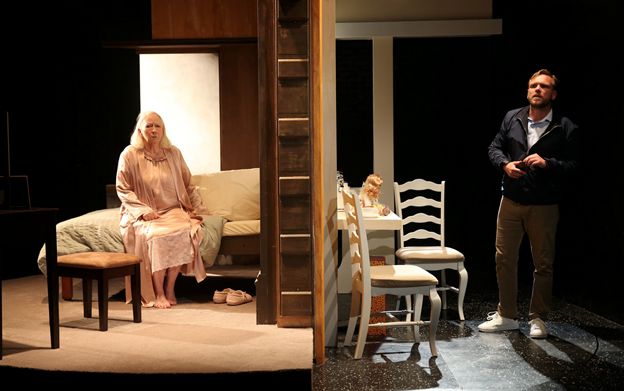 Marie Mullen, Jamie O'Neill (Photo: Carol Rosegg)
Director Louise Lowe makes good use of the Irish Rep's turntable set, moving her characters around it and making the walls between them real as well as emotional.
Ciaran Bagnall's moody, effective stage lighting, which sometimes gives Maire the face of a saint and other times, a demon, sometimes reflects the light of salvation, and also reflects the cold color of the eyes of a friend who dropped dead as nobody in the orphanage noticed.
Aiofe Kavanagh's superb sound design insinuates the desperate noise, the grinding fatigue, the horrible work, even the imposed silence of that orphanage, even though they exist only in Maire's mind, as well as scoring a mental landscape for Maire's memories of her children. Joan O'Clery's costume design beautifully pits the louche freedom of Maire's satin negligee against Mel's dull, ordinary street clothes.
Mel has learned that Martin has a past too horrible to be permitted around his mum and family. Maire won't hear it. The blood-curdling accusations and counter accusations between mother and son, their vicious verbal stabbing at each other and the deep meanness between them looks too terrible to be fixed. Nobody's saving anyone, here; after her son rocks the foundations of her world, Maire's plaintive calls to her long-time belief system returns nothing but echoes.
Marie Mullen, Jamie O'Neill (Photo: Carol Rosegg)
Religion has much to answer for, in The Saviour, as does family. As do lies and deception. And love. Were the performances any less stunning, The Saviour would be just another Irish family drama. Church establshment abuses? Yawn. Generations of family complications? Yawn again. Same old, same old.  However, Mullen makes Maire so human, so total, with such passionate intensity, it's breathtaking to watch. Jamie O'Neill is fine, but Mullen's performance is so stellar, it brings chills.
The Saviour
At the Irish Repertory Theater, 132 W. 22nd St.
Tues, Wed, Thurs, Sat, 7 pm; Friday 8 pm; Wednesday and Saturday at 2; Sunday at 3. Running time: 70 minutes, no intermission
Tickets: $50-90 https://irishrep.org/tickets/