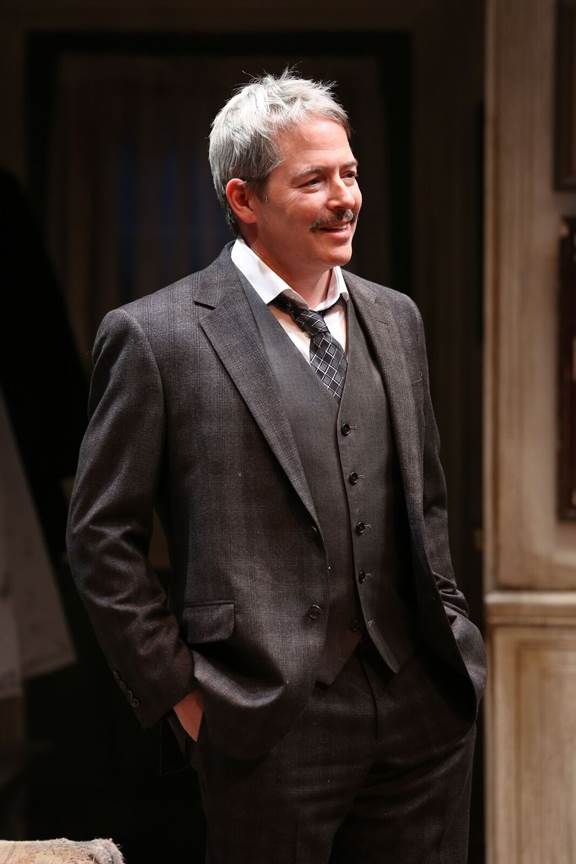 Matthew Broderick                                  Photos by Carol Rosegg
                                     By Ron Cohen
It's a thick, beefy Irish stew of a play, Conor McPherson's The Seafarer, saturated in alcohol and – as you might expect in a McPherson opus -- spookily seasoned with the supernatural. Originally produced in London in 2006 and then mounted on Broadway in 2007, it now is being served up with inexhaustible relish in a revival by the Irish Repertory Theatre, featuring a superlative cast led by Matthew Broderick and directed with moment-to-moment perfection by IRT's co-founder Ciarán O'Reilly.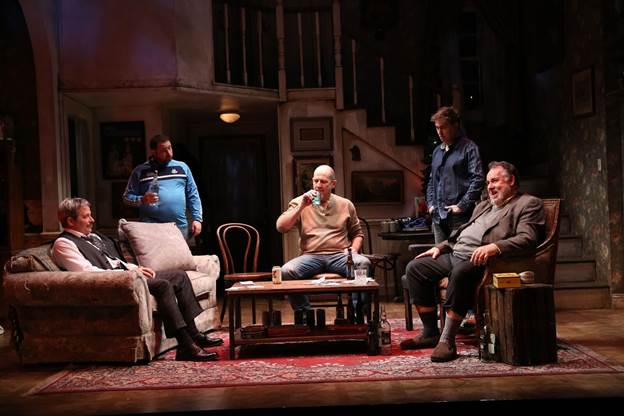 Matthew Broderick, Michael Mellamphy, Andy Murray, Tim Ruddy, Colin McPhillamy  
The play's characters are mainly irrepressible slobs, their middle-age years stalled in a sort of juvenile machismo, drinking their way through a Christmas Eve card game, but the magic of McPherson's writing – and the production as well -- is that they don't inspire revulsion. Quite the opposite, their outsized or harried personalities – the camaraderie or at least tolerance they show for one another despite the frequent flareups of temper and abuse – quickly grow on you, and yes, you even like them.
You may not want to spend your own Christmas Eve with them, but then again, why not? It's quite an eventful night in the house shared in the outskirts of Dublin by Richard Harkin, a big boisterous guy recently blinded when he fell into a dumpster and hit his head, and his younger brother James, known as Sharky.
Sharky is the seafarer of the title, and the title itself references an ancient Anglo-Saxon poem depicting the wretched loneliness of working at sea. Sharky once worked on fishing boats, but his temper and drinking put an end to that. Most recently he has been working in County Clare as a chauffeur, but now has returned to Dublin to care for his blind, demanding brother.
It's Christmas Eve morning as the play begins, and Sharky, a man attempting to stay sober, is cleaning up the mess left in the wake of a bout of drinking by Richard and his pal Ivan. As the day progresses, breakfast is consumed along with quite a bit of whiskey, Ivan worries about his wife's reactions, plans are made for the holiday celebration, including a Christmas Eve card game, and the three leave to do some grocery and liquor shopping.
Back from shopping, the three are joined by a fourth guy, Nicky Giblin, invited by Richard for the card game, much against Sharky's wishes. After all, Nicky stole Sharky's girlfriend and in the bargain, Nicky also got Sharky's car.
But the tensions are raised even higher by the new acquaintance Nicky has brought along for the card playing, a fellow he met earlier that day in a pub, a surprisingly well-turned-out, well-spoken gent by the name of Mr. Lockhart.
Comes a moment when Sharky and Mr. Lockhart are left alone, and we learn who Lockhart actually is. Yea, he's the devil himself, come to play poker for Sharky's soul. It's the final piece of a bargain struck twenty-five years earlier, when Sharky escaped punishment after a brawl in which a man was killed.
The card game takes up much of the play's second half, a mood of suspense rippling under the rich palaver of the players, three of them totally innocent of the high stakes being played for. The brogue is so thick you may need the proverbial knife to cut through it, but the great performances certainly communicate the drift of what's happening, and the rowdy lyricism of the speech makes for its own kind of beguiling music, whether you grasp every word or not.
Colin McPhillamy is a force of needy nature as Richard, whether he's bellowing at Sharky for instantaneous aid, banging blindly into a wall, expressing joy at the thought of more drink, or imitating a banshee to scare away the winos who have infiltrated his house's back lane. It's a persona engagingly counterpointed by Michael Mellamphy's Ivan, a sympathetic mild-mannered pal, who can't seem to escape Richard's thrall to get home to his wife and kids for Christmas. When he shares a poker hand with Richard – Ivan supplying the sight and Richard the money – it's a great piece of prolonged business.
Andy Murray compellingly communicates the inner turmoil of Sharky, a man whose life -- and now his soul as well – are being threatened from seemingly every direction, including County Clare, where it's hinted he may have had an affair with his boss's wife. Tim Ruddy makes Nicky a fairly affable fellow, brushing off Sharky's ire at least for awhile, and showing off his leather jacket, which he proudly proclaims is a Versace.
Matthew Broderick artfully sculpts Lockhart as a quietly foreboding and commanding overseer of Hell. The tempered, other-worldly persona which often marks Broderick's acting works wonderfully here, and there are a couple of hair-raising moments when he actually breaks through it to display a burst of blazing ferocity. 
 As he did in his acclaimed appearance two years ago at Irish Rep in McPherson's Shining City, Broderick flavors his speech with an Irish lilt that – in contrast to the heavy brogues elsewhere on stage – never sacrifices clarity. And one of the play's most mesmerizing moments comes when Lockhart gives Sharky a description of what hell is really like. It's not little devils running around with pitchforks. It's a lot more chilling.
Equally unsettling is the disparaging description by Lockhart of human beings as insects, the ramifications of divine-to-human transformation, another one of the play's brilliantly dark pieces of writing. 
The mood is sustained by the gloomy, rotting gentility of Richard and Sharky's domicile, as envisioned in Charlie Corcoran's clutter-filled set and Brian Nason's lighting, capturing the passing of the hours. From the mismatched pajamas worn by Sharky in the opening moments to the Versace jacket shown off with such pride by Nicky, Martha Hally's costumes add to our understanding of McPherson's not-too-easy-to-love characters.
But rest assured you're going to wind up caring for these sorry Irish rogues, and also breathing a little easier for Sharky as McPherson winds up his story with a twist that's happy but hardly happy-ever-after.
Off-Broadway play
Playing at the Irish Repertory Theatre
132 West 22nd Street
212-727-2737
Irishrep.org
Playing until May 24