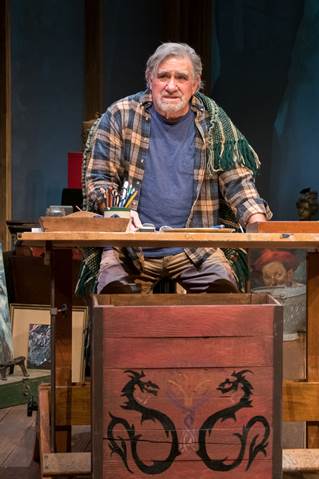 Dan Luria   photos by Russ Rowland
                            by Arney Rosenblat
Through a stunningly rendered production and compelling performances, The Stone Witch movingly explores the price of greatness
Simon Grindberg is a "great man" who is revered as one of the world's most illustrious children's writers and illustrators but his next anticipated masterpiece is now twelve years over due. His frustrated editor Clair Forlorni in a do-or-die effort to stoke his embers of creativity hires a young, hungry and ambitious author Peter Chandler to get the job done. She advises him that he'll have an uncredited role as "collaborator" to help them get a finished book from Simon by September 1st so they can release it along with a re-issue of Simon's first book by Christmas to mark his 50th Anniversary with them. If Peter succeeds, he'll receive $10,000 and the opportunity of having his own book in progress, The Stone Witch, reviewed What Peter's mentor, Claire, and eventually Simon observe is that Peter's work is "quite like Simon's" in its depth and breadth of talent. Over and above the money, the opportunity to connect with Simon excites him, "Grindberg's like a God to me," he shares with Claire.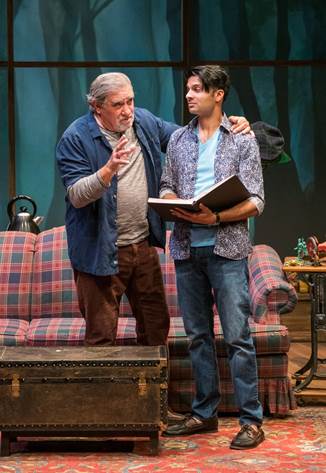 Dan Luria, Rupak Ginn
The tortured complexities of Simon Grindberg are brought to life by Dan Lauria, (his imprint from the iconic TV show "The Wonder Years" is still part of the American vernacular) who is a force of nature in the role. Rupak Ginn as Peter Chandler is the perfect foil to Simon as their roles of dominance begin to reverse. while their affection and understanding for one another grow, though the pair get off to a less than positive start when Simon at first appropriates the title of Peter's book, The Stone Witch, for his long-awaited new masterpiece while tossing the rest of the work in the trash. Carolyn McCormick as Clair Forlorni rounds out the trio with her nuanced portrayal of a corporate figure who has a responsibility to the bottom line but still refuses to shed all vestiges of her humanity despite Simon's characterization of her as a "barracuda in Armani"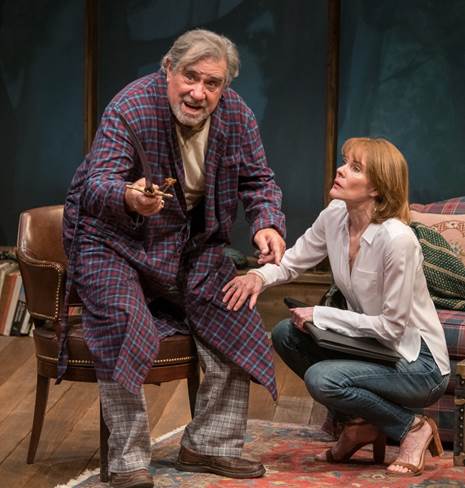 …with Carolyn McCormick
While Simon battles his ghosts and draining alcoholism, Peter and Carolyn are forced to do battle as well with their ethics and ambition to succeed at any cost.
Shem Bitterman's play is often touching and ultimately engaging. However, it is the collaboration among Yael Pardess who created the set and did the amazing drawings for Brad Peterson. the outstanding Projection Designer, which is then built upon by the sensitive Lighting Designer, Betsy Adams, and Sound Designer, Christopher Cronin, and ultimately tied together by Music Composer Roger Bellon and costume designer Mimi Maxmen that produces, with the careful guidance of the director, Steve Zuckerman, an experience so stunning, The Stone Witch is worth every moment committed to it by the audience.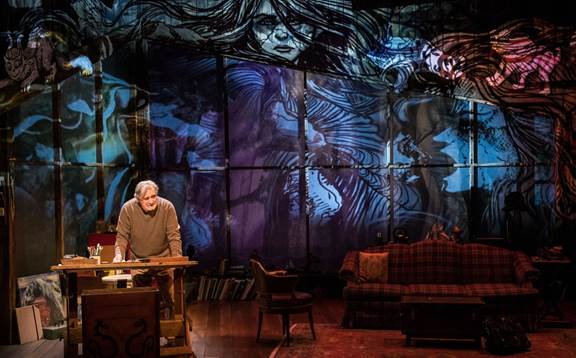 Particularly striking are the nightmare images that erupt from Simon's imagination on the screens behind him in his cabin as his creative process starts to ignite once more, perhaps helping him to begin to break free from the burdens of success which have terrified and paralyzed him for over a decade.
An interesting side-note to the Great Man's story can also be found when you look at the style of the huge animal cutouts decorating the set and Simon's irascible personality and family history which are echoes of the life of another great children's book author, Maurice Sendak of "Where the Wild Things Are" (although Sendak was gay).
In the end, The Stone Witch affectingly captures the special bond that develops between mentor and acolyte as well as the price art and fame exact on those who pursue its holy grail.
The Stone Witch
Westside Theater
407 West 43rd Street
212-239-6200
95 minutes with no intermission
Open Run