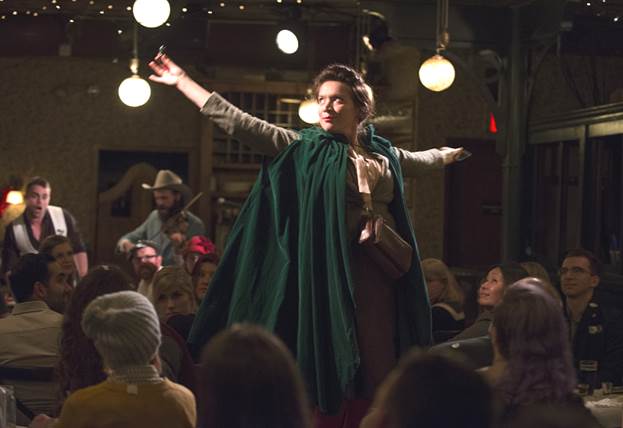 Melody Grove                                                                   (Photos by Jenny Anderson)
                                                By Ron Cohen
Is Hell really next door to a Costco parking lot?
Whether true or not, that intriguing factoid is put forth with a completely straight face in The Strange Undoing of Prudencia Hart. It's one of the many elements, both large and small, that make this show an enormously beguiling piece of story theater. It transforms The Heath, the restaurant in The McKittrick Hotel performance venue, into a riotous Scottish pub, a snow-covered Scottish country landscape and a room in the aforementioned Hell. 
The production, from the National Theatre of Scotland, is performed by a quintet of actors who without missing a beat switch from narrators to characters and also provide a bounty of musical interludes of richly harmonized singing and accompaniment and underscoring on a variety of instruments, such as guitar, ukulele, accordion and even breath blown into beer bottles. There is also some sort of contraption that manages to sound like a bagpipe. Under the unbridled imagination of director Wils Wilson, the actors move among the audience members, seated at tables. They climb up and down over chairs and platforms and gingerly produce props seemingly out of thin air. They're an amazing crew.
The script by David Greig (who also wrote the book for the Broadway-bound musical Charlie and the Chocolate Factory) is loaded with smarts and occasional snarkiness, much of it in verse, which adds to the humor, and it eventually rises to something approaching sublime poetry. The titular heroine, a staffer at the Edinburgh School of Scottish Studies, is an expert on the folk songs known as border ballads, an uptight lady who finds romance and fulfillment only in the world of the folk music she so cherishes. She has traveled to the small town of Kelso for a scholarly conference to deliver a paper on the "topography of Hell" as shown by depictions of the Devil in folk music. Also attending the conference is her colleague Colin Syme, whom she finds boorish and irritating in his assertion that such contemporary developments as rapping and reality TV are on the same level as folk music. Nevertheless, as the conference ends and blizzard has covered the roads with snow, Prudencia accepts Colin's invitation to dinner. They make it to a local pub, which eventually houses an uninhibited karaoke night threatening to turn into an orgy.
Prudencia flees into the night and eventually finds her way to a bed and breakfast, hosted by a compelling fellow with a mysterious glow. You guessed it, he is the Devil, and Prudencia finds herself locked in Hell, but a Hell loaded with multitudes of books and other material on folk music. And eventually, as the years pass, it's filled as well with love and passion for the Devil himself, a love that Prudencia, in newly found wisdom, fosters by turning prose into poetry. "In poetry," she says, in what might be the long-awaited explanation of the show's title. "it's not what lovers do that counts but what the lovers are undoing."
That's not quite the end of the story, though. Avoiding spoilers, let's just say it ends with Prudencia, a new outgoing woman, ready to grab a karaoke microphone and sing her heart out.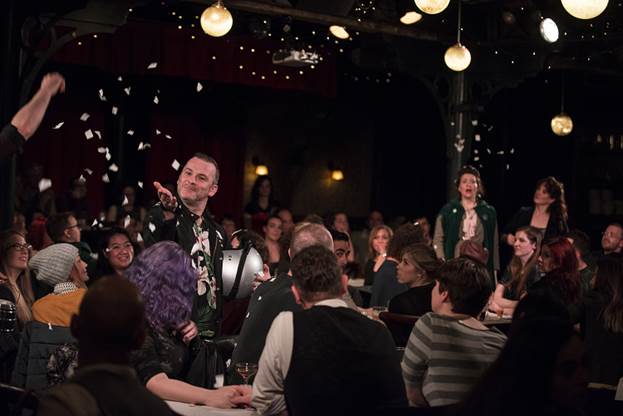 The superlative cast gives this fantastical tale grand emotional veracity as well as imbuing it with irresistible vivacity. Jessica Hardwick endows Prudencia with a transparency that just about lets you see through a guarded, sometimes sassy exterior deep into the woman's soul. Her climactic and wordless final love scene with the shape-shifting Devil is mesmerizing in its intensity. (Janice Parker is the show's movement director.)
As Colin Syme, Owen Whitelaw masterfully blends machismo with oafishness. Peter Hannah's Devil is both foreboding and seductive. Completing the cast with other indelible characterizations and exuberant music-making are Muireann Bird and George Drennan. (Alasdair Macrae is the music director.) Except for Hannah, these cast members are all replacements for the cast that started the New York run in December. Still, it's hard to imagine any ensemble being any better.
And if all this isn't enough to entice you, there are the shots of ultra-smooth whiskey that await the arriving audience at the bar, and the slim and tasty ham and cheese sandwiches served during intermission. These Scots know how to win over an audience.
Off-Broadway play with music
Playing at The McKittrick Hotel
542 West 27th Street
Playing until February 28