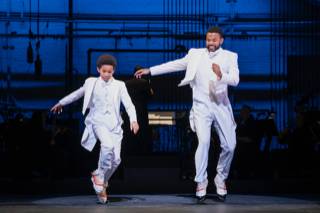 The Tap Dance Kid

                           by Deirdre Donovan


Very often when New York City Center's Encores! concert series revives a rarely-heard musical gem, it grabs us by our lapels and instantly transports us into musical theater heaven. Its latest offering, The Tap Dance Kid, lacked that electricity, even though it had a sterling cast and creative team.

Helmed by Tony Award winner Kenny Leon (Remember his flawless Broadway staging of A Raisin in the Sun and his equally amazing A Soldier's Play?), it seemed that this Encores! project had fallen into the perfect
hands. So why didn't this Tap Dance Kid catch fire? It's tough to say why--but the original, which opened at the Broadhurst Theatre in December 1983, was hardly a smash hit. Loosely based on Louise Fitzhugh's novel Nobody's Family is Going to Change, the musical's book (by Charles Blackwell) had significant structural problems, with its central plot and two subplots becoming more of a hodge-podge than a fully-realized musical (more later on this).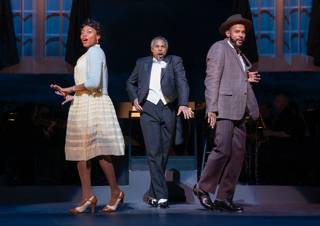 (from left) Adrienne Walker, DeWitt Fleming Jr., Trevor Jackson in Encores! Tap Dance Kid
Photo: Joan Marcus

Okay, here's the convoluted story-line in a nut-shell. A 10 year-old boy named Willie Sheridan (Alexander Bello) dreams of following in the footsteps of Fred Astaire and Bill Robinson (nicknamed ""Bojangles"), whose pictures grace his bedroom walls. However, his father William Sheridan (Joshua Henry), a successful black lawyer living on Roosevelt Island, New York, is dead-set against his namesake going into showbiz. And why? William believes that his son should become a lawyer, pointedly telling him that his future is not in his feet. Ironically, Willie's 14 year-old sister Emma (Shahadi Wright Joseph) is deeply passionate on becoming a lawyer, although her dad fails to notice that she has real potential for a legal career. Unsurprisingly, Ginnie Sheridan (Adrienne Walker), the mother, is caught between a rock and hard place, as she struggles between being William's devoted wife and a nurturing mother to her two growing children.

The big problem with the musical is that its two sub-plots pull focus away from the central drama, gradually diluting its power. The first sub-plot revolves around "Uncle Dipsey" (Trevor Jackson), an aspiring dancer-choreographer who's currently rehearsing his dancers, including his girlfriend Carole (Tracee Beazer), for an industrial show for a shoe buyers' convention, where some Broadway producers will be in the audience. The second sub-plot centers on the mother Ginnie and how she struggles to find her voice, something she desperately needs to stop her husband's bullying of her and their children. In truth, each of the subsidiary plots has merits of its own. But when added to the main plot, they create dramatic static and the musical-at-large loses its center.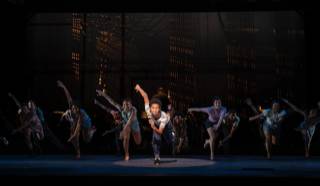 Cast
That said, The Tap Dance Kid showcases the talents of an energetic cast, comprised of 8 principals and a 14-strong ensemble. The adorable Alexander Bello, in the title role, is a budding triple-threat who's sure to surface in the future on a New York stage. Shahadi Wright Joseph, as the feisty 14 year-old Emma, has pipes that can easily reach the last row of City Center's auditorium.

But why stop the accolades with these pint-sized performers when the entire cast was on their toes? Tracee Beazer's Carole, Uncle Dipsey's girlfriend, was the soul of spunkiness throughout. Joshua Henry's William nailed his part as a flinty paterfamilias, most notably when he admonished his son Willie with the words: "We didn't get off the plantation until we stopped dancing and started doing." Trevor Jackson's "Uncle Dipsey" pointed up the dilemma of an aspiring dancer-choreographer waiting for his big break to happen. And let's not forget Adrienne Walker's Ginnie, who embodied wifely obedience until she doesn't. And, oh yes, a shout out to DeWitt Fleming, Jr.'s Daddy Bates, who insinuated himself into a tap dancing ghost with verve.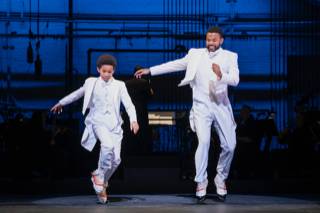 (from left) Alexander Bello, Trevor Jackson
Photo: Joan Marcus

There was good work in Derek McLane's set that smoothly dropped down from the flies to suggest the Sheridan family's upper middle-class status. Allen Lee Hughes's simple lighting washed the stage evenly and, at strategic moments, spotlighted a principal hankering to speak his, or her, mind. Nothing wrong with Jared Grimes' choreography, except that there wasn't enough of it in this overly-talky musical. Yes, the onstage Encores! orchestra was, as always, terrific and snappily delivered the musical goods.

It may be worth mentioning that Encores! productions are brought to birth after only 10 days of rehearsal time. So all those on board The Tap Dance Kid merit kudos, if not for their most polished artistic effort, for their nerve.

Outstanding moment in the production? No question it was "Fabulous Feet" as Jackson's Uncle Dipsey led the ensemble in a scintillating tap dance number.

There is, however, a larger question at stake here than who is the most watchable actor in this revival of The Tap Dance Kid. It is whether it should have been revived at all. With so many Broadway musicals that are still buried in the dust heap, why choose a work with a book that doesn't knit together all of its narrative threads?

At New York City Center, 131 W. 55th. Street, Midtown.
For more information on future programs at New York City Center, visit www.nycitycenter.org or phone (212) 581-1212.
Running time: 2 hours, 30 minutes with one intermission.
Closed.