Matthew Fairlee as Dromio of Syracuse and Josh Walden as Antipholus of Syracuse in a scene from "The Boys from Syracuse" (Photo credit: Milliron Studios Photography)
                    By Eugene Paul
Raffish. Rambunctious. Ridiculous. Deliberately. Gay. Very. Enjoyable. Very. A totally pro shambles.  But if you think this the first drag take on Richard Rodgers', Lorenz Hart's, George Abbott's amiable  1938 – only eighty years? -- send-up of Shakespeare's "A Comedy of Errors", think again. The Great Will did it first: all the women's roles were played by men in his day. So there. But not like this, not by a long shot.
Adam B. Shapiro as Luce, Darrell Morris, Jr. as Luciana, and Jonathan Hoover as Adriana in a scene from "The Boys from Syracuse" (Photo credit: Milliron Studios Photography)
For its 20th season , the producing entity, Musicals Tonight!, has lured a motley  assemblage of shockingly shambolic talents into giving their all in the Bard of Avon's silliest play of mistaken identities with a hodge podge of no holds barred casting, race, gender, fatness, skininess, shortness, tallness, long as you got that drive, personality, sing, dance and perform up a storm, anything goes. Well, believe it or not, it seems like anything but there isn't a bared private, a blue word, and miracle of miracles, you don't even care.
Under Jonathan Cerullo's exultant, exhausting direction and choreography, everybody's in on the joke, everybody's giving 110 percent from the very start, the joke being let's make believe we believe this unbelievable mashup of situations by making it more unbelievably giddy referentially, everybody not only being a guy, everjybody also a doll.  Except of course, for one singular sensation who wears a tight tee shirt blazoned with the legend:  THE FUTURE IS FEMALE  right across the real thing. I think. Sweet Madeline Hamlet who wears glasses, and you know what they say about girls who wear glasses. The drolleries abound.
In case you forgot, herewith story time: Ageon (over the top good Jody Cook) lives with his family in Syracuse.  He and his wife and their twin sons and their twin male  servants, on a voyage to Ephesus, are tempest tossed.  Father and one twin and one servant survive; mother and the other twin and other servant are lost at sea. Several years later, the still bereft Ageon, son Antipholus,  servant Dromio,  embark for Ephesus. Maybe, maybe their missing dear ones survived?  At least they can but ask. 
No.  They cannot .  Ephesus now hates Syracusans and if they are not departed by sundown they will be hanged. Ouch. Of course, unbeknownst to Father , his other twin son, also Antipholus – don't ask – and his other twin servant, Dromio --  ditto – did wash up on the other side of Ephesus after that terrible tempest and are settled Ephesians, thinking they are alone in this world. Not quite.  Antipholus of Ephesus  is married to Adriana (Jonathan Hoover) and Dromio of Ephesus  is married to their maid, Luce (Adam B.  Shapiro). You see where this is going. How could you not.
And just to make sure you get the confusion, both Antipholus of Ephesus (Matt Dengler) and Antipholus of Syracuse (smashing Josh Walden) are wearing identical pale blue suits (courtesy of  costume designer Hope Salvan who knows her onions) and , yes, both Dromios are identically bedizened, clothes and face paint (and better yet, are actually TWINS! Ian and Matthew Fairlee). And if you think you've got that straight – ha ha – there's Elliott Mattox who plays a tough sergeant when he is not being an adorable courtesan.  And Sam Given is not only  an outrageous courtesan but also the Tailor. (A plot point). But Shavey Brown is the Duke, he is a Maid, a Courtesan and , oh, a merchant. I could go on.  The Lion stage can hardly contain this company, Joshua Warner's scenery and the  Cupid and the Arrows Band.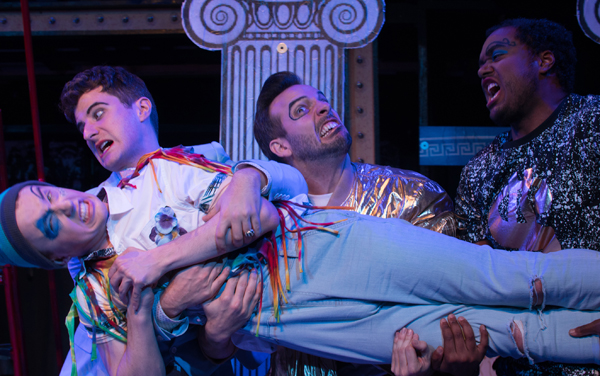 Ian Fairlee as Dromio of Ephesus and Matt Dengler as Antipholus of Syracuse with members of the ensemble in a scene from "The Boys from Syracuse" (Photo credit: Milliron Studios Photography)
But it would be really ridiculous, even a sin not to mention the songs, under the loving care of musical director Evan Rees, every one a performance gem:"Falling in Love with Love", "This Can't Be Love", "You have Cast Your Shadow on the Sea", and that absolutely show stopper, "Sing For your Supper", sung in perfect harmony by those three adorables, Adriana, Luce and Luciana ( terrific Jonathan Hoover, Adam B. Shapiro and Darrell Morris, Jr.) That Shakespeare… Will we ever catch up?                       
The Boys from Syracuse. At the Lion, Theatre Row, 410 West 42nd Street.  Tickets:$45. 212-239-6200. 2hrs 15 min.  Thru Feb 25.