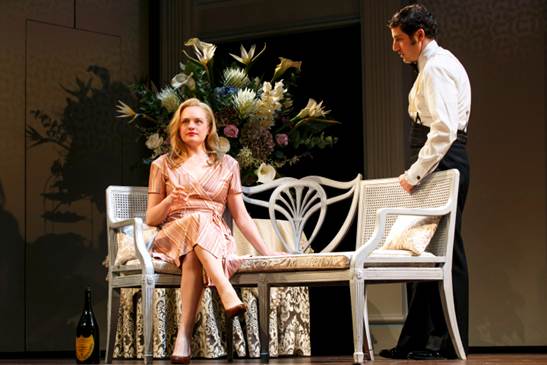 Elisabeth Moss and Jason Biggs                                       Photos by: Joan Marcus
                                  by David Schultz
Wendy Wasserstein's award-winning play still packs a punch, but is more muted and wistful than it needs to be.
Beginning in 1989 in a stuffy lecture hall, this wide-ranging play moves in episodic moments, both large and small. It attempts to show the audience the emotional upheavals, the triumphs and disappointments of the baby boomer generation. The 1970's women's movement, standing and fighting for equal pay, equal rights in a male dominated society are covered with wide brush strokes in this witty and verbose treatise. The constantly shifting political climate and trends are detailed in the 13 sharply etched scenes in this tantalizing work. So many years are covered with various degrees of success. Heidi Holland (Elisabeth Moss) starts out as a shy, intellectual student in college; she is a bright and eager art historian detailing her sharp knowledge of women's perspective in art history, both as painters and as the subject within the work itself. The profession that Heidi chooses to work within; the context of seeing and observing, without the act of actually participating and connecting with the outside world fits neatly in her life. Early on she attends a political rally for Eugene McCarthy and meets one of the men that will continue to remain in her orbit for the rest of her life, but not in the way she thinks. It's hate at first sight for the two of them. So naturally Scoop Rosenbaum (Jason Biggs) sees a challenge and jumps on it with gusto.  ("I'm arrogant and difficult. But I'm very smart. So you'll put up with me"). Later on in another swiftly moving scene she meets the second most important man that will float in and out of her life for decades to come. At a dreadful dance/mixer Heidi meets a fellow male wallflower, Peter Patrone (Bryce Pinkham) sitting on the sidelines. They entertain each other with faux Noel Coward-ish dialogue. They both are innocent and flirting, sensing that a good friendship can come of this verbal repartee. Heidi even begins to think that a romantic relationship can come to fruition. But a few scenes later Peter confesses to Heidi that he is gay, so his sly retort that ("If we can't get married, lets be friends") reaches a bittersweet truce between the two of them.       

Tracee Chimo, Jason Biggs, Elisabeth Moss and Bryce Pinkham
 Consciousness raising rap groups, political rallies and protests demanding woman's voices to be heard and seen in the art museums that cater to men only artists, the Vietnam era, radical feminism, the promise that women could get it all, the burgeoning gay rights movement, are given short bristling scenes filled with pithy commentary throughout. These are quite heady topics that almost, but not quite weigh the production down with the immensity of its themes. A few other women swirl within this orbit. Taking no less than four separate characters and giving them vibrant life actress Tracee Chimo portrays a lesbian that partakes in a woman's emancipation 1970's group session, and an exceedingly shallow television hostess with equal aplomb. These portraits attain a characterized patina at times, but still are amusing to watch. Fellow actress's Leighton Bryan and Elise Kibler portray four and three characters respectively each. Andy Truschinski plays the male counterparts with four swiftly etched portraits. Rounding out the cast Ali Ahn portrays best friend Susan Johnston with an eye to climbing the corporate ladder at any cost. That she is shallow and calculating only helps in her steely-eyed goals.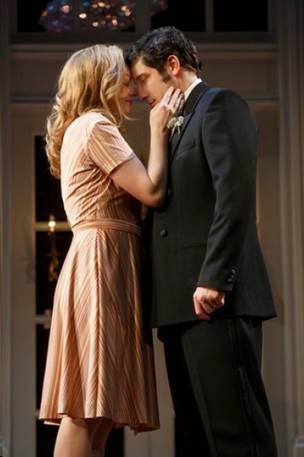 Elizabeth Mass and Jason Biggs
Director Pam Mackinnon marshals all her actors on the stage with ease. Though at times the production seems to sag under its own weight with the sheer volume of history that it attempts to traverse. Costume designer Jessica Pabst runs wild and has a field day with the accurate and sometimes garish clothes of these intervening decades. Set designer John Lee Beatty comments on each decade with his usual panache, each brief scene has just the right amount of accurate, telling details. Visual projections occasionally fill the rear walls with photos, and short newsreel clips that highlight the political climate at the time. This pithy time capsule in short hand helps the younger generation attending get a grip on the galvanizing timeframes displayed.  The most telling and moving highlight of the long evening comes near the end of the play as Heidi attends a gathering of her high school alumni. It is here that Ms. Wasserstein crystallizes her entire play with a mesmerizing monologue. Heidi has her notes and speech prepared, but upon looking out at the sea of young women in front of her, she goes 'off book' and starts to unravel with a moving tale that catapults her into revealing her sense of alienation towards other people, of women, of her unfulfilled generation as a whole. This genuinely moving and organic self-revelation with all the inherent internal minefields that it opens up in her is the open bleeding heart of this work. The choices she has made in her life, or chose not to make shake her to the core; basically this is her mental breakdown, she needs to grow and heal to move forward. The final scenes in this work seem to be inevitable and end on a wistful grace note. The performers grow with each successive scene…the progression from young, naïve college age people into middle age adulthood is moving and mysterious…. Not unlike in the real world. As the play reaches its wistful conclusion, the characters have grown and find themselves in uncharted territory facing the future. 
Playing at The Music Box Theater
239 West 45th Street
(212) 239-6200    Running time 2:45
telecharge.com
Running through August 9th