photos by Joan Marcus
                                                 By David Schultz
If you like neat, tidy plays that lay out everything in an easy to digest manner, with a comfortable resolution, don't go to this play. If you relish seeing a play that strikes out for unknown territories, that disturbs and provokes in equal measure then make a beeline to the play in question. This wide-ranging work starts out in the usual vein of displaying a typical family in the throes of celebrating a Thanksgiving dinner. The familial anxieties of this iconic yearly gathering seem familiar and comforting, but playwright Karam has created a haunting, disquieting treatise that packs a wallop by evening's end.
Erik Blake (Reed Birney) and wife Deirdre (Jayne Houdyshell) have traveled from Scranton, Pennsylvania to visit their daughter Brigid (Sarah Steele) and her boyfriend Richard (Arian Moayed) in their new apartment on the lower East Side of Manhattan. Rounding out the group is daughter Aimee (Cassie Beck), a lawyer also living in New York; feisty, and licking her wounds as she deals with the breakup of her long time girlfriend. Freshly moved in, Brigid and Richard are still waiting for the bulk of their belongings and furniture to arrive. Since it is Thanksgiving Day, the truck has been held up in traffic, but they make due with the barest essentials at hand. Also brought along for the holiday is Fiona "Momo" Blake, Erik's mother in the last stages of what appears to be Alzheimer's disease. 
Set designer David Zinn has created a large yet claustrophobic apartment setting; a slightly decaying duplex with a spiral staircase, very little sunlight pierces the apartment since it is a ground floor/basement apartment, very few windows, with  spotty electrical outages that unnerve everyone. Adding to the discomfort, loud erratic banging and shuffling sounds from the neighbor above causes much dismay. All of these elements add to the unease that pervades the family in various ways. The in-real-time progression of the evening gives the work a propulsive energy. The sheer pleasure of this dissection of a typical American family is in the minute details that are revealed slowly and at times cryptically. The Humans needs, no, demands that one pay extreme close attention to the subtle nuances of each character. Each has a back-story that coalesces and feeds off each other as the evening progresses. 

Brigid, snarky and frustrated, trying her hand at becoming a musician, is forced to toil as a bartender to make ends meet. Her boyfriend Richard is working on his Master's in social work, but with the knowledge that his trust fund will kick in shortly, on his 40th birthday, he floats through his potential occupation with a soupcon of ennui.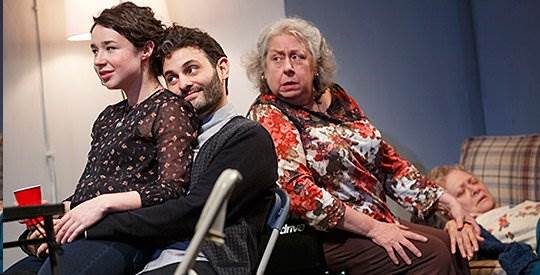 Sarah Steele, Arian Moayed and Jayne Houdyshell
Deirdre seems upbeat with an overriding obsessive's drive to delve into her two daughter's lifestyles with harrowing missives sent via email to potentially give guidance and nurturing assistance. Erik seems distracted with unease nipping at his heart, since he has some very upsetting news to tell his girls that night. All of this sounds like a dreary downer. But it is anything but that in this extraordinary production. Director Joe Mantello has an unerring eye and ear for the innumerable details within this work. At times he posits various members of the family on both the upper and lower levels of the apartment. In craftily nuanced ways he creates a chorographic swirl of activity that forces you to look in two, sometimes three places at once. The family dynamic shifts and alters constantly within the brief 90 minutes onstage. The perfectly calibrated conversations within the family are filled with hope, despair, humor, as this amazing cast deftly channels innumerable revelations.     
 
Reed Birney      
The complexity reaches its apotheosis in the conclusion of the play. Continually morphing to unusual heights as the evening nears its close, the last ten minutes are truly harrowing, and mysterious. An unexpected patina of the supernatural rears its head suddenly…. A palpable sense of wonder mixed with sensing an unknown presence within the bowels of the apartment is chillingly present. It's been there all along; right under the noses of the characters in the play, and in full view of the audience as well. It's as if the entire apartment has been an intellectual conduit, keeping tabs on its inhabitants' emotional vibrations, and sending out electrical blackout missives and loud pounding from the apartment above as a warning, or perhaps as a wake-up call to its inhabitants. The cathartic moments within the family have been played out, yet the silence of the eerie apartment seems to have its own say, as this haunting work draws to a close.
The Humans
Playing at The Harold and Miriam Steinberg Center for Theatre/ Laura Pels Theatre
111 West 46th Street
90 minutes    No Intermission
212- 719-1300
roundabouttheatre.org