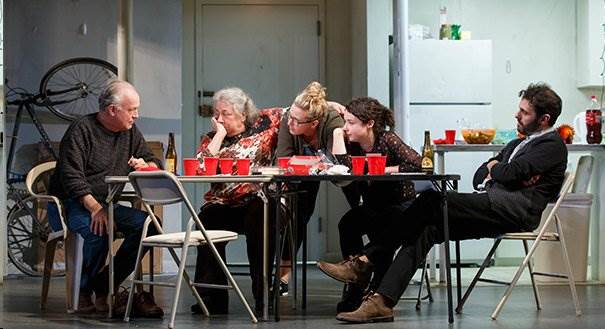 Reed Birney, Jayne Houdyshell, Cassie Beck, Sarah Steele and Arian Moayed in The Humans.
Photos by Joan Marcus
                                             by Deirdre Donovan
Stephen Karam's new play, which originated at the Laurel Pels Theater in 2015, has settled in snugly at Broadway's Helen Hayes.  And if you haven't seen this gem, put it on your must-see list.  Superbly directed by Joe Mantello, it is a fascinating portrait of a contemporary American family, warts and all.
The scenario:  It revolves around the Blake family who are gathering for their Thanksgiving meal at their daughter Brigid's new duplex apartment in Manhattan.   Eric and his wife Deirdre, both in their early 60s, have traveled from their home in Scranton, Pennsylvania, to the Big Apple for the traditional feast—and they have Erik's elderly mother "Momo," suffering from dementia, in tow.  The rest of the family is less conventional:  Their 36-year-old daughter Aimee is a lesbian-lawyer living in Philadelphia, who has just broken off a long-time relationship with her partner.  Their younger daughter Brigid is a struggling composer and bartender in her mid 20s who is living with her 38-year-old boyfriend Richard.  Richard is a graduate student who's studying to be a social worker, and in two years, will inherit a trust fund left for him.  Over the course of the meal, they all talk about their hopes and disappointments.  And, as the meal progresses, some dark secrets are shared, and deep lessons about love and forgiveness are learned.
Karam cements his reputation with this current play.  Tightly-written, and with dialogue that rings true to life, he holds the proverbial mirror up to nature-- and to American culture and its mores today.  His six middle-class characters span three generations and deal, as best as they can, with those most human issues:  love, health, money, and work.
There's no question Karam has a real gift for domestic dramas.  His award-winning comedy about a Lebanese-American family, Sons of the Prophet, was staged at the Laura Pels Theater in 2011 and became a finalist for the 2012 Pulitzer-Prize.  Of course, The Humans weighs in as his first Broadway venture.  And judging from the notices following its February 18th opening, it's a darling of the critics and warmly received by the public.
Mantello recruits some very fine actors to inhabit Karam's characters.  Jayne Houdyshell, as Deirdre Blake, couldn't be more down-to-earth as Eric's wife who works as an office manager.  Reed Birney, as Erik Blake, conveys all the psychological layers demanded of his complex part as the father, husband, and equipment manager at a private Catholic school.  Lauren Klein, as "Momo," proves that one's speech doesn't have to be intelligible to turn in a very effective performance.  There's equally fine work from Sarah Steele as Brigid, the struggling composer and bartender who hosts the Thanksgiving dinner.  And other strong performances are given by Cassie Beck as the older sister Aimee, and Arian Moayed as Brigid's boyfriend Richard.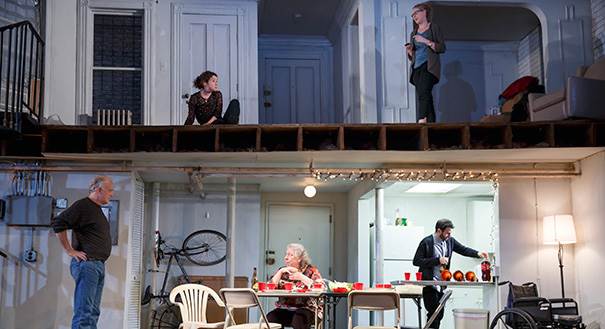 Reed Birney, Sarah Steele, Jayne Houdyshell, Cassie Beck and Arian Moayed
Don't expect fancy looking set, designer clothes or any spectacular special effects on stage.  David Zinn's realistic set, along with Justin Townsend's natural lighting, underscores the middle-class values of the Blake family.  Zinn creates a modest look for the Thanksgiving dinner at Brigid's new duplex apartment, complete with a plain table and folding chairs (most of Brigit's furniture and belongings are still in transit).  The fanciest prop in sight, in fact, is the recliner on the upstairs level.  Beyond the humble set, Sarah Laux's costumes are just ordinary-looking clothes that you can see everyday on New York streets.  Indeed, function trumps style at every turn in this show.
There's no glitz or glamour in this comedy.  But what gives the play its ping is its ability to point up the real difficulties and rewards of family life--and how each generation makes its own rules.   Although the characters sound almost corny as they express their feelings here, you can't help but recognize that they are in the midst of defining—or redefining—the relationships that greatly matter to them.
 The round of toasts at the dinner table is one of the play's best scenes.  Brigid's boyfriend Richard sets the tone by raising his (plastic) cup of champagne and saying: "This year I'm most thankful for falling in love with Brigid...and for...getting a new family."  Hardly eloquent—but its heart-felt quality is palpable.   The rest of the family's toasts don't match Richard's rosy-colored one.  But it's evident that each member of the Blake family is deeply invested in each other's well-being and future.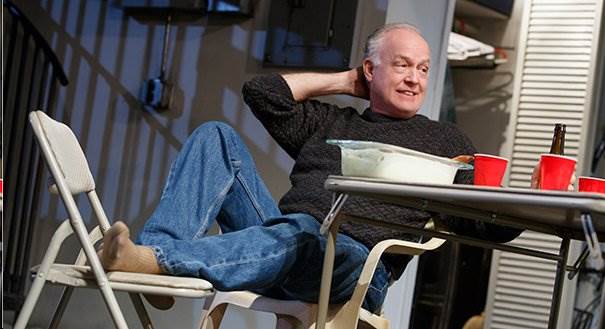 Reed Burney
This play is bound to be tapped for more than a few Tony nominations this spring.  So don't procrastinate in getting your tickets for this new play.  The lines at the box office will likely be getting longer and longer as the fair weather arrives, and the numbers of tourists increase in the city.
A caveat:  The Humans is a dark comedy that might not be right for everybody, especially if one's looking for light fare.  But that said, it is one of Broadway's hottest tickets, featuring an ace cast and a playwright whose star is still rising.
Open run.
At the Helen Hayes Theatre, 240 W. 44th Street, Manhattan.
For tickets, phone 212-239-6200 or 800-447-7400 or online www.telecharge.com.
Running Time:  approximately 95 minutes with no intermission.