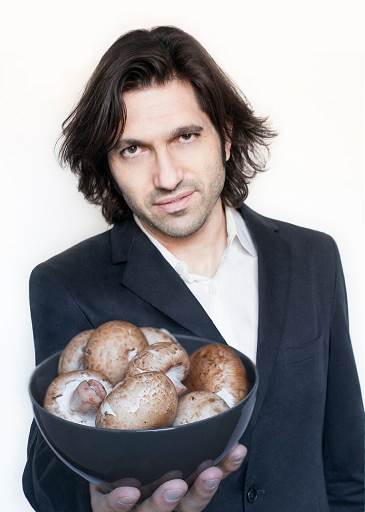 by Nicholas Linnehan
"I love you but I hate your mental illness!" The harsh stigma around mental illness still plagues us today.
How often have we heard someone say "I'm a little OCD when it comes to that? But for people suffering from Obsessive Compulsive Disorder, it's a very different beast all together. Adam Strauss has the courage to let us into his world riddled with OCD in his new autobiographical play, The Mushroom Cure. With a very simple set, Strauss delvers his story with conviction and sincerity making it an enjoyably heartfelt night at the theater.
The play opens rather strangely with Strauss "obsessing" over the I-phone or the I-river and we are confused momentarily until we realize that this is one of his OCD induced episodes. As the play continues, we learn about the origin of his battle with his disease. Strauss frankly admits to trying every type of treatment out there, but finds no relief. One day, in his search for anything that can help him, he finds an article that claims that use of psychedelics found in mushrooms have had great effect on people suffering from OCD. Determined to give anything a try, he finally gets a hold of the illegal substance and gives it a try. What happens next is both hysterical and frightening. Along his life path he has also found out about a 12 step fellowship for people with OCD. Will it be the hallucinogenics or the 12 steps that will save him?
But this is only one part of the story. Intermingled is Grace, Strauss' new love interest. The love story is palpable and its refreshing to see someone fighting for love despite his obstacles. Unfortunately,  despite Grace and Adams' love for each other, Grace is unable to cope with Adam's OCD. Grace poignantly says " I love you, but hate your mental illness", as the two part ways. The pain he feels about losing Grace, we feel along side of him. Strauss allows us to see his vulnerable side, which is a great strength of his and adds sincerity to the piece.
The director, Jonathan Libman works well with Strauss and the two find comedy in this disease, which is often hard to talk about. The ability that this actor has to laugh at himself is remarkable, and, in return, allows us to laugh at ourselves. I wish Libman did not put so many black outs in the play, which is only 90 minutes. The numerous black outs seem to say that Strauss is unable to make the transitions from moment to moment on his own, but Strauss is strong enough to take us on his journey without any technical help. Additionally, there is one long intentional black out that works well. This makes all the other shorter ones detract from the impact of the special one.
But, putting that aside, this is a powerful one man show. The proceeds go to the Multidisciplinary Association of Psychedelic Studies, which adds to the message of why we should should all go see this show. More theater needs to be created that gives voice to these often "taboo" subjects. One can learn a lot from seeing this show (without it ever becoming boring or didactic) and be entertained as well. Simply put, you get the best of both worlds!
The Mushroom Cure plays now through Aug, 7, 2016 at The Cherry Lane Theater, 38 Commerce Street. NY, NY www.themushroomcure.com