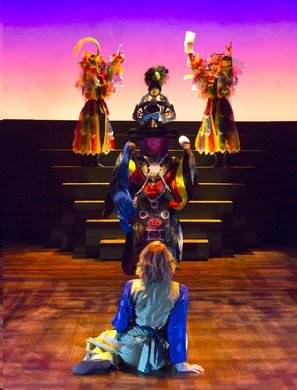 by Eugene Paul
Sarah Ruhl, whose bewitching, off-beat plays, The Clean House and In The Next Room both produced by Lincoln Center, resulted in the commissioning of a new play by Ruhl, has responded at last despite a spate of other works that have taken her precious time. The Oldest Boy is that curious result, with its shaky focus on Tibetan Buddhism.  Lincoln Center has mounted an extraordinarily elaborate production – in concept – for the raw, simple story that has the effect of turning it into a modern fairy tale, an exotic fable whose emotional impact has been stolen by the telling.  Yet – how else to tell?  Things like this don't happen in America.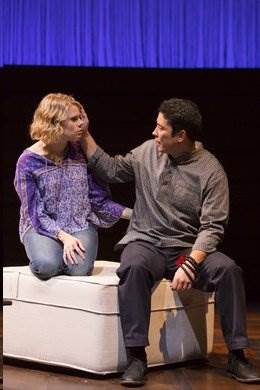 (L to R) Celia Keenan-Bolger and James Yaegashi
Somewhere, in a largish, American city, young, fey, school girlish Mother
(enchanting Celia Keenan-Bolger), barefoot, begins a lotus, meditating Yoga posture on the floor of her living room, then, with a don't- bother- me look at us, the audience, which instantly sweeps us into beguiled attention, turns her back and faces the back wall. She starts over. Visionary set designer Mimi Lien has given us a long, veiled window stretching across that back wall from one side of the stage to the other, high above the large circle of the floor on which young Mother sits.  Why?, we briefly wonder.
But two monks, (Jon Norman Schneider and James Saito) in red, Tibetan robes, have come to the door.  Mother is puzzled but welcoming; she is married to young, sturdily handsome Father (fine James Yaegashi), a Tibetan. They met cute, fell in love, eloped.  They have a little boy, Tenzin.  He's three years old.  The monks know.  That is why they're here.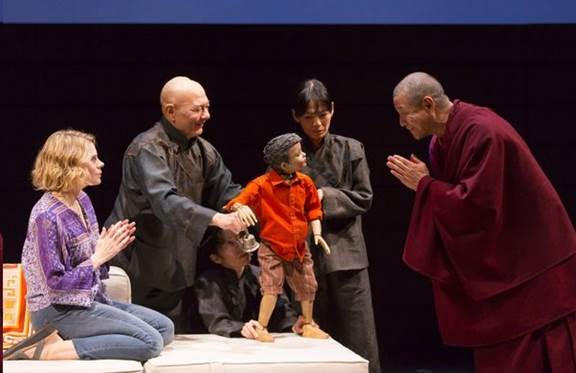 Celia Keenan-Bolger, James Saito, and the company                     photos by T.Charles  Erickson
Father, a devout Buddhist, comes home from his small, successful Tibetan restaurant, in awe of the guests in his house.  Who wish to see his son. Father, honored, brings the boy to them. And it is at this point that Art yields to artifice.  The three year old boy is a well dressed marionette manipulated by two black robed puppeteers, Nami Yamamoto and Takemi Kitamura. The boy's voice and presence is performed by elderly Ernest Abuba, in high ranking Buddhist monk's garb.  As splendidly graceful as the three of them are in conveying the boy, we have crossed the line from everyday, unusual reality to everyday, usual fairy tale.  Now, the story telling becomes masterful.  Or not.
Mother is thrilled but leery. This is far out of her American experience.  The older monk, actually a lama, explains in kindly, authoritative tones, that they believe that boy is the reincarnation of his, the lama's, great teacher, a Rinpoche, a "precious one".  The child recognizes him and blesses him.  Father is overcome with awe.  Mother is desperately skeptical. The monks wish to take the boy to Dharamsala in India to train him, educate him. Mother should be thrilled.  She has been trying to learn the path to Buddhahood.  For the boy, however, it means eighteen years of study, All those 227 rules.  All those 84,000 teachings.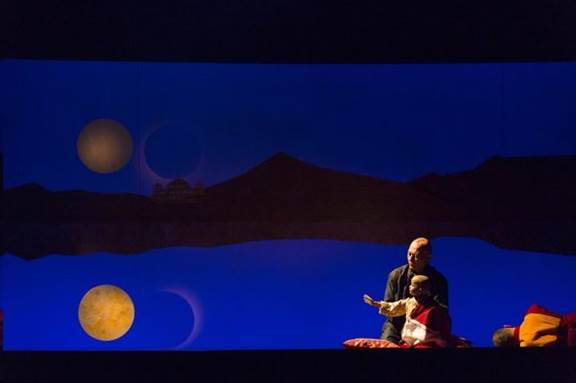 But is he, indeed, the reincarnation of the beloved Rinpoche?  They must test him. Mother, already torn, reluctantly agrees to their tests. Which the boy unfailingly passes.  Father and the monks bow to the boy. Mother faints.
Director Rebecca Taichman has her work cut out for her.  She draws on all her resources.  Playwright Ruhl does not follow the rules, she tells her story and it's up to the magicians in the theater to make it happen.  Such challenges become electrifying if they succeed.  Taichman opens wide the great, long window in the back wall. It becomes a shadow box stage.  It fills with designer Tien's fifty foot impression of the landscape of Dharamsala, painted with light by designer Japhy Weideman.  Taichman offers us the music of Dharamsala, performed by Tsering Doree, on his high  stage.  He sweeps into fantastic costume for the ceremony of the installation of the boy, Tenzin, on the throne of the Rinpoche.  A great staircase unfolds.  Dancers appear. Down below, Mother, pregnant with her second child, waits, unhappily.  What will happen to this child?
You admire, you enjoy fairy tales, remembering how you used to want so much to believe in them. With Celia Keen-Bolger in the story you believe in her so much you want all the rest to be believable as it is for her, the marvelous one, the true center of our tale.  She and James Yaegashi, Father, must create belief.  He is her counterpart.  It is his belief in the boy that's  necessary.  Ernest Abuba as the voice and the spirit of the boy is a pure fairy tale character; no child speaks with his gravitas and that's the way it should be.  I was quite taken with James Saito's conviction and sweetness as a Lama.
  Costume designer Anita Yavich stretches beautifully to hit all the right notes in dressing her company, from the everyday to the fantastical.  Everyone has risen to the challenge of bringing playwright Sarah Ruhl's work before us in spite of – or because of? – its shortcomings. Fairy tales don't all have to live happily ever after. Lastly: why does no one ask about the title?
The Oldest Boy. At Lincoln Center's Mitzi E. Newhouse Theater. Tickets: $87. 212-239-6200. 2hrs 15 min. Thru Dec 28.