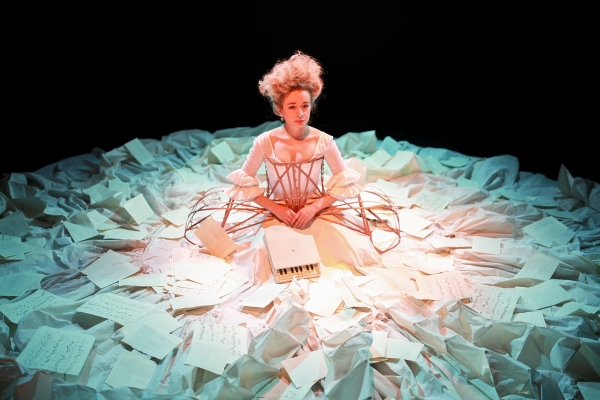 Sylvia Milo wrote and stars in The Other Mozart, directed by Isaac Byrne, at HERE Arts Center.
(© Charlotte Dobre)
                                         By: Eric Grunin
The setup is simple and familiar: an actor presents herself as an historical figure, and tells us her life story. In this case, it's author-performer Sylvia Milo as Maria Anna Mozart, sister of Wolfgang Amadeus Mozart, known to friends and family as Nannerl.
Her story is interesting beyond the light it sheds on her brother's achievements. Older by four years, Nannerl preceded Wolfgang as a famous child prodigy. She concertized on the harpsichord for the amusement of the aristocracy, received glowing notices, and when her brother's talent manifested they performed together, like Yehudi and Hepzibah Menuhin--or Karen and Richard Carpenter.
Alas, Nannerl's parents halted her public appearances when she reached the age of eighteen, feeling that to continue would have risked her reputation, and thus the possibility of a good marriage. An old story, and one that you almost assume will slip into cliché; yet the beautiful and unusual thing about how Milo conveys it is her refusal of anachronism. She doesn't agree with Nannerl's parents, but she doesn't fault them for their concerns. (They did manage to match her up with a Baron, after all.) More importantly, while giving full weight to Nannerl's frustration, Milo pointedly refuses to suggest that Nannerl would have been a composer whose talent matched her brother. Instead the point is quietly but firmly made that even if she had been a very minor talent--a Michael Haydn, rather than a Franz Joseph Haydn--she still deserved the opportunity, and we are the lesser for the lack.
In any case, what we get instead of empty speculation is much more interesting, a lively portrait of an 18th Century family from the Austrian provinces. (Salzburg was tiny, maybe 14,000 people, which is small enough that everyone would know everyone, more or less.) And we watch this family, the Mozarts, struggling to make the most of a rare chance at social mobility, always running the risk that a single small mistake--the wrong word to the wrong royal, or a cold left unattended--could lead to ruin, not just for you but for your entire family.
Father Leopold, violinist and composer, is the risk-taker, while mother Anna Maria is cautious, always reminding Nannerl that all her future happiness depends on finding a good husband. Nannerl, stuck at home after being forced into early retirement, viewing her brother's burgeoning success only through the keyhole of their correspondence. And finally Wolfgang Amadeus himself, presented here as we have met him in his letters (or in Peter Shaffer's Amadeus), a preternaturally gifted and somewhat potty-mouthed exhibitionist, who eventually becomes a mature and occasionally successful composer, with a wife and a child and too little attention to spare for his sister.
The storyteller holds it all together with virtues exactly those of a Mozart sonata: more than merely poise and elegance, there is also a sharp intellect, with enough surprising and witty digression to keep it from routine. And not only is there a deliberate lack of sturm und drang, the essence, the beating heart of this script is the author's absolute trust that the truth of these people's lives does not need exaggeration. To this she adds compassion for all the people whose story she is telling, even when they make mistakes. All this goes a long way towards keeping us engaged.
There may be a missed opportunity here, in that no reference is made to other women performers of Nannerl's generation. Josepha Auernhammer and Barbara Ployer both studied with Wolfgang Amadeus, and he wrote concerti for Ployer, Victoire Jenamy, and Maria Therese von Paradis. Nannerl knew of these women, they concertized much as she had, and some were even published composers, but they were not shunted off the stage prematurely. Did Nannerl leave us her reaction?
A little too much weight is given to Wolfgang's early efforts at composition, as if he was turning out masterpieces from birth. It's a common misconception, but actually his first piece of lasting significance was composed when he was twenty-one, the Piano Concerto in E-flat K.271, written for the aforementioned Jenamy. (In comparison, Mendelssohn was doing immortal work at sixteen, and Schubert wrote Erlkönig and Heidenröslein at eighteen.)
As a performer, Milo benefits hugely from her deep insight into the material, she moved well, and it was a pleasure for once to hear Nannerl pronounced correctly (it's an Austrian thing). But director Isaac Byrne has not solved some technical problems. Milo is very self-contained as an actor, and Nannerl's strong feelings, whether of joy or despair, seldom come over the footlights. The opening minute or two was delivered very slowly, as if she needed time to warm up. She was not helped by her high coiffure loosening a bit too much too soon, or by the enormous dress. This gorgeous construction by Magdalena Dabrowska spans the whole playing space, more a set piece than a garment. It was impressive to look at, but after a while there was nothing more to see, and you had an hour to wonder how it would look when worn. Then once she had finally got it on, Milo's limited ability to move was apparently a metaphor for Nannerl's limited choices; but then the actor did not convey how Nannerl felt about it.
The incidental music by Nathan Davis and Phyllis Chen was functional but cold, and unfortunately included a recurring harpsichord cue that sounded exactly like five seconds from Ligeti's Continuum.
Still, these are quibbles. Anyone with even a modest liking for the music of Wolfgang Amadeus Mozart will enjoy this sweet but thoughtful piece, and all but the most jaded musicologist will find it worth their while. Playwrights should see it too, as an example of how political and social points can be set into place clearly, lovingly, and without mallets.
The Other Mozart (through July 12, 2014)
HERE Arts Center, 145 Sixth Avenue (at Dominick St.), Manhattan
For tickets, call (866) 811-4111 or visit ovationtix.com
Running time: One hour and 15 minutes, no intermission.