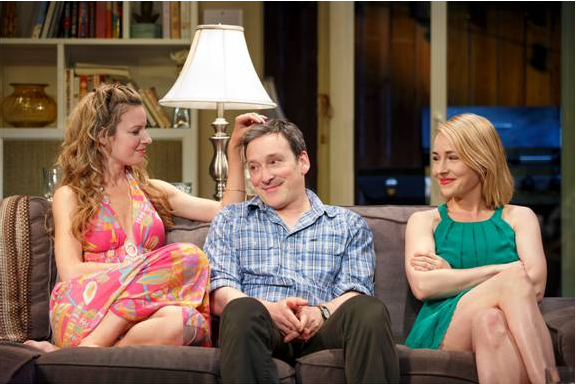 by Eugene Paul
Well, it's like this: those qualms playwright Bruce Norris is suggesting are not just yours after seeing the Playbill cover but the quaking anxieties that palpitate through Chris (absolutely wonderful Jeremy Shamos) in an award worthy performance as he and his new bride Kristy (stunning Sarah Goldberg) begin their leery explorations with the happy group of swingers they've been lured into embraces of at their regular monthly get together, this time at the beach house (Todd Rosenthal's keenly perceptive setting) of aging, eternal hippie Gary (so sly John Procaccino) and Teri (captivating Kate Arrington) his beautiful, tired ditz of a wife. And their intimate, intimate friends. It's blatantly clear from the start that this is not about ars erotica.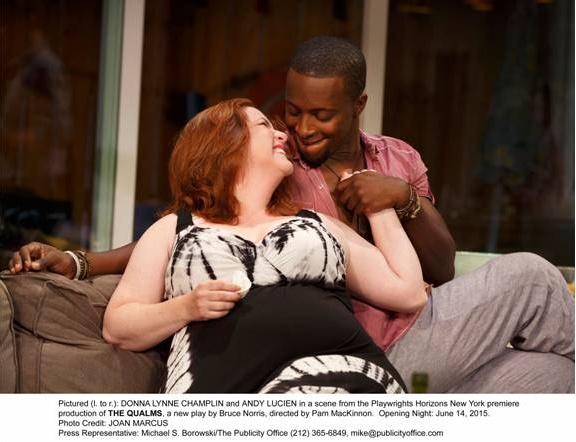 There's large, very ample Deb (wicked Donna Lynne Champlin) who doth protest too happily too much, and too much not enough gay not gay Ken (so clever Andy Lucien) her lover.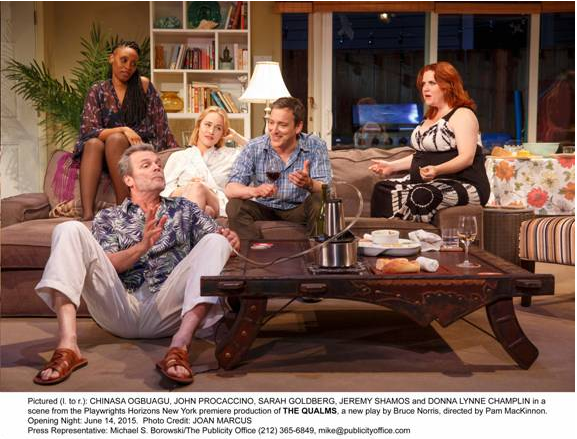 There's would-be French tigress Regine (vivid Chinosa Ogbuagu) and her ex-military machoman Roger (perfect Noah Emmerich). Just plain folks. Well, who else are these arbiters of the "Lifestyle"? We don't call them swingers any more. Too derogatory. They're just folks who enjoy sharing pot luck you might say. Everybody brings a dish or a bottle as well as their eager parts, delighting in thus keeping their parts eager, facile, lubricious and friendly. Playwright Norris makes that all clear even as he does not make it at all clear why. What's missing is a cheering section. We don't quite know who to root for. Only to root. And – there's Chris and Kristy. Fresh meat.
Maybe.
Kristy is quickly and easily lured out of her party dress (marvelously good costumes by Jessica Pabst) and into a sheer bathrobe but Kristy's history, what little we've been able to glean, hasn't been unveiled by playwright Norris. In fact, Norris seems much more interested in the here and now than in the there and whenever. Which leads to clever, fun moments, seamlessly, effortlessly conjured up by director Pam MacKinnon in apparent total partnership with supple playwright Norris and her superlative cast. But (–ain't there always a "but"? --) they are not putting their money where their mouth is. Is this Show-and-Tell in "Lifestyle" sexology? Or talk? Talk veers from sex to consumerism, sex to war, sex to money, to philosophy, to wine, to cheese, to banana pudding. Easily, wittily, inevitably. Sex is the root of all. To hear tell. And tell.
What hampers the telling is the lack of connectivity, audience to actors. MacKinnon and Norris have so deftly displayed the shallow, seamy side of the discussion with sexual conjugation no more, no less than that: discussion. Or are Chris's qualms rooted in something more? And why does it have to come from Chris, this irritating spoilsport, this linkage that makes us watchers finally connect? Because he wants sex to be more than the animal in us, he wants a spiritual, emotive connection as well or it's all –sad. And, somehow, so do we, the watchers, want something more. We have connected. The play has finally taken us to old territories we want to be new: true caring, connection, not just hook up. At which point, with an arbitrary smartass, juvenile fillip, Norris breaches the fourth wall and everything goes splat as director and company do his bidding, for a laugh. Not new insight, not new exploration, not even sex, the root of all.
Qualms? Yeah, I've got qualms. They all, every one of them up there know better, especially Norris. Anyone with his credits can add up the damage. Without that crass maneuver, the play has made its point, true, in vaguely blurry fashion as if it had been through a blender and all you need is a spoon and banana pudding. As supplied. I detect one last, wistful joke.
The Qualms. At Playwrights Horizons, 416 West 42nd Street. Tickets: $75-$90. 95 min. Thru July 12.