Jesse Eisenberg, Kunal Nayyar, Annapurna Sriram, Erin Darke and Michael Zegen
Photo credit: Monique Carboni
By David Schultz
Actor Jesse Eisenberg makes it easy to detest his character onstage in his latest play at The New Group. This talented, intense actor seems to be drawn to essay unsavory people that in real life you would go out of your way to avoid. This familiar theatrical persona has been given various shadings in the past with his other plays (The Revisionist, Asuncion). But those works only hinted at the deplorable monster that Mr. Eisenberg has brought to his newest work. The complex play works on many levels at once. The intricacies of plot are woven with equal amounts of subtext to create a compelling evening of theater. It is only in the last twenty minutes of the play…when all hell breaks loose on stage, that sadly Mr. Eisenberg loses his nerve and gives the ending a sentimental coda that is at odds with the entire play.
Having been kicked out of filmmaking school Ben (Jesse Eisenberg) seems on the face of it to be a successful Young Turk. Living in a high-end apartment on the West Side in Manhattan, all is good…it seems. His relatively plush lifestyle is helped immeasurably by his father's largesse, footing the rent and bills. Ben, lonely and bored has a roommate, a Nepalese buddy named Kalyan (Kunal Nayyar). Kalyan, an MBA graduate, seems eager to fit into the mainstream of America, and wants to get ahead in the corporate world. So too does his attractive Indian-American girlfriend Reshma, a medical intern (Annapurna Sriram). These two lovebirds seem to be heading into a more serious clinch, which does seem to disturb and irritate Ben, who doesn't shirk away from being a tad caustic when the two are together. Ben has a compulsive, smothering feeling of ownership towards Kalyan…never spoken of directly, but in incisive telling moments you sense that Ben feels his connection to his inner circle slowly slipping away. This is only the tip of the iceberg for this sad loner.
Accidently bumping into an old school chum on the street Ben finds his past crashing in on top of himself. Childhood pal Ted (Michael Zegen) is now a respectable banker on Wall Street. On a whim Ben invites Ted to his apartment to chat, reminisce, and introduce him to Kalyan. It is in this initial awkward meeting that the wheels of the plot really get going. Ted mentions in passing that he is engaged to his long-time girlfriend Sarah (Erin Darke). This bit of information puts Ben into a psychotic tailspin of emotional distress. How could the one and only true love of his pitiable life, also from his high school days be engaged to Ted? This is totally unacceptable to Ben. The rest of the evening revolves around Ben's resolute conviction and desire to win Sarah back and claim his ownership of her.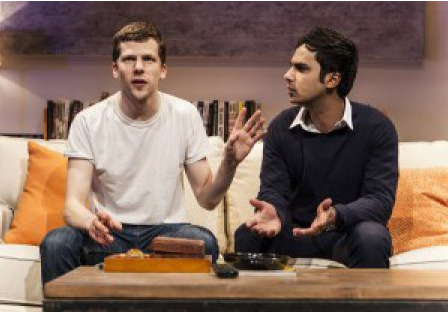 Jesse Eisenberg and Kunal Nayyar (Photo credit: Monique Carboni)
Midway through this coruscating work Ben confesses a rather bizarre scatological dream that he had to roommate Kalya about his teenage crush with Sarah many years ago. Thie creepy, stomach-churning revelation seems to be proof, in Ben's adolescent mindset that these two are soul mates.
In a perfectly calibrated, and wonderfully performed dinner scene, all these characters are onstage, having a reunion of sorts. As the dinner progresses the atmosphere is supercharged with a completely naturalistic ebb and flow. Almost like a chess game, all the pieces are set and these young people are about to make their intricate moves mostly with disastrous results.
The chic apartment set design by Derek McLane perfectly captures the tone-y setting with expensive furniture and accoutrement and an even more expensive high-rise view of Central Park. The characters are clothed in perfect unison with their personas, casual and expensive and nonchalant, by costume designer Susan Hilferty. Expert direction by Scott Elliott gives the evening illuminating momentum with his typical panache. The main focus is on Ben and what he does to the people that he cares for that is so painful to watch onstage. His almost pathological craving to hurt and destroy this inner group, and himself as well is documented with precision. Mr. Eisenberg's ease with complex, rapidly spoken dialogue only heightens the emotional pitch of this drama. If only that the final dénouement felt as real as what transpired throughout the evening. Giving Ben a final moment of redemption and unearned grace seems a copout; instead of the "hurtling towards the gates of hell" ending that seemed to be all but inevitable.
The New Group at The Pershing Square Signature Center
480 W. 42nd Street
TicketCentral.com
212-279-4200
THENEWGROUP.ORG
Playing through June 28th