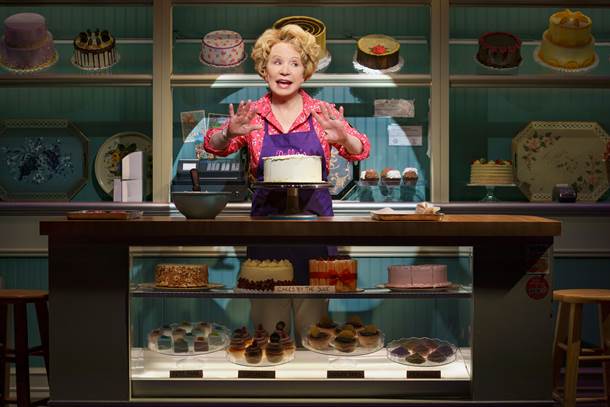 Debra Jo Rupp                              photos by Joan Marcus
The Cake
                     By Ron Cohen
When a Colorado baker refused to bake a wedding cake for a same-sex couple, the
controversy went all the way to the Supreme Court. In her play The Cake, being given its New York premiere Off-Broadway by Manhattan Theatre Club, Bekah Brunsetter, presumably inspired by that incident, avoids the political and legal ramifications of such a stance. Rather she explores the personal repercussions, along with a paean to cake-baking that rivals the obsession of the musical The Waitress with pie-making. And in doing so, it wraps a highly charged topic -- LGBT discrimination – into a pleasant but sometimes gooey confection.
Brunstetter, whose credits include producing on the acclaimed dramatic TV series This Is Us, places her story in her hometown of Winston-Salem, NC, and her affection for the more cozy and gracious traditions of Southern living are apparent. It's there that Della (Debra Jo Rupp) has her bakery, where she turns out cakes that are delectable works of art. Della herself is even sweeter than her cakes, good-natured, funny and secure in her belief in the Bible and the rightness of its teachings.
Those beliefs are challenged, though, by the homecoming of Jen (Genevieve Angelson), the daughter of Della's deceased best friend.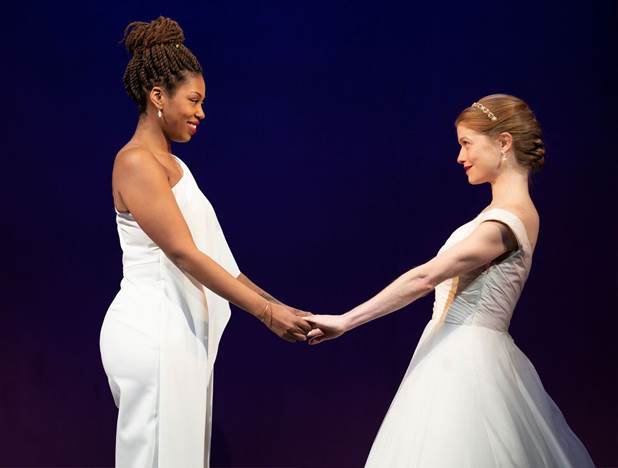 Marinda Anderson and Genevieve Angelson
Jen, who has been living in New York, has returned to Winston-Salem for her wedding, a wedding she hopes will have all the trappings of her Southern upbringing. The big hitch is that she's marrying a woman.
Jen, of course, wants Della to bake her wedding cake, and Della, of course, despite her total love for Jen, cannot bring herself to do it. She cannot defy the teachings of the Gospel. Her refusal creates all kinds of chaos. Macy (Marinda Anderson), who is Jen's bride-to-be, is a writer, and when she posts an article on the Internet about Della's refusal, Della is disqualified from her eagerly anticipated appearance on a network TV baking show.
Furthermore, the passion that Della perceives in Macy and Jen's relationship reawakens Della's own sexual longings, longings that have been pretty dormant in recent years in her marriage with her husband, the loving but passionless plumber Tim (Dan Daily).
Download ▾
And finally, the situation, including Jen's own doubts about her same-sex feelings for Macy, cause the couple to break up, Macy taking off. Things are further complicated by the fact that Macy is African-American. Racism doesn't seem to play a part in Della's no-bake decision; "You know I don't see color," she says when telling Tim about the pair. However, racism has certainly strengthened the militancy of Macy's outloo  k on the world. In fact, the play's most gripping moments come when Macy relates the experiences of her youth as a gay black woman.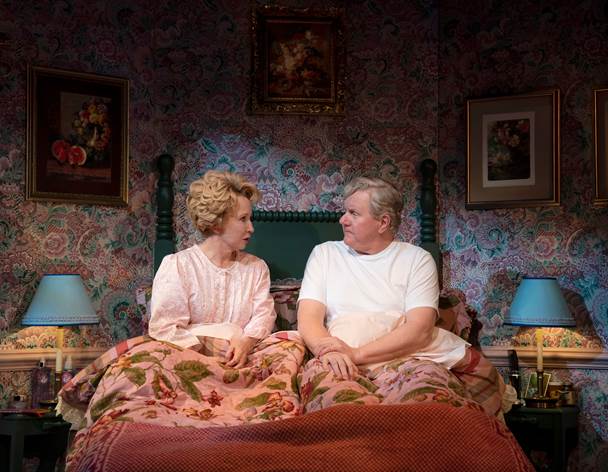 Debra Jo Rupp  and Dan Daily
On the other end of the scale, there's one awkward sequence in which Della attempts to lure a reluctant Tim into having sex.  It plays like Tennessee Williams had been hired to write an episode for I Love Lucy. Hopefully, Lucy would have rejected it.
For the most part, though, Brunstetter's writing has a soft-focus grace, with easy-to-take jokes and likable characters. And despite the upsets that occur during the course of the play, she wraps everything up in a happy ending. It may not be entirely credible and the sweetness may get a little sticky, but the good intentions are evident. It's as if rose-colored glasses were being forced onto the eyes of the audience.
Lynne Meadow, Manhattan Theatre Club's long-time artistic director, has directed with an effortless panache and guided her quartet of actors into appealing performances. Rupp makes Della completely endearing, with just enough edge to keep her overflowing sweetness from turning saccharine. Her opening monologue on how baking a cake requires following the time-tested recipe with no short cuts is guaranteed to immediately win you over. You just can't call a good-natured, dedicated woman like Della a bigot.
Anderson and Angelson also convincingly demonstrate the love and frictions between Macy and Jen, and Daily gives Tim a winning aura of aging machismo.
The production also has the deliciousness of John Lee Beatty's set designs. The assortment of cakes on display in Della's bakery glow on occasion from within. Philip S. Rosenberg is the lighting designer. The costumes by Tom Broecker reach their zenith in the glamorous wedding garb that appears near the play's end.
The Cake offers more than some tasty morsels. But at the same time, in trying to give us both a thorny problem play and a feel-good entertainment, Brunstetter may be proving the old adage that you can't have your cake and eat it, too.
Review posted March 2019
Playing at Manhattan Theatre Club, New York City Center Stage 1
131 West 55th Street
212-581-1212
NYCityCenter.org
Playing until March 31