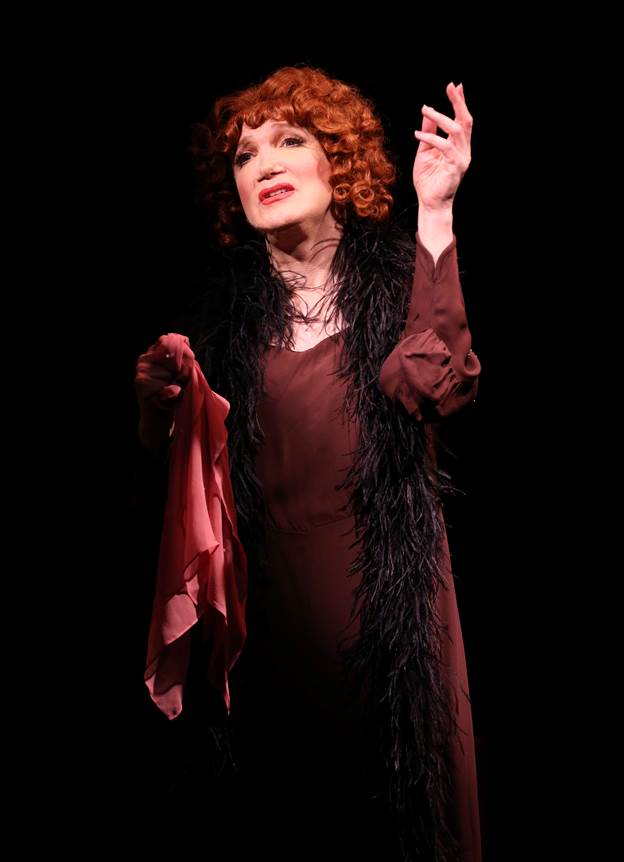 Charles Busch               photos by Carol Rosegg
The Confession of Lily Dare
                             by Marc Miller
Ruth Chatterton may be an unfamiliar name to a lot of latter-day theatergoers; so, for that matter, may be Wynne Gibson, and even Helen Hayes and Claudette Colbert. But they're the guardian angels watching over The Confession of Lily Dare, Charles Busch's latest, a Primary Stages production at the Cherry Lane. All starred in a pre-Production Code film genre that may register as small in number, but evidently loomed large in Busch's imagination. Chatterton earns pride of place for helming three such titles, Madame X, Sarah and Son, and Frisco Jenny (which Lily Dare most resembles); then there's Gibson in The Strange Case of Clara Deane, Hayes in The Sin of Madelon Claudet, and Colbert in Torch Singer (in which, incidentally, she does her own singing, and she's damn good).
There's no particular name for this pre-Code subgenre, but let's call it the mother-love weepie. The leading lady, though probably too old for it (Chatterton sure was), starts out as a fresh-faced virginal young thing; meets a charming but frequently no-good guy; bears his child, likely out of wedlock, a very big deal in that era; is parted from the child and probably the guy; and suffers, suffers, suffers, concealing her identity from the child and committing some sort of sacrifice to ensure that that identity is never revealed to the now grown-up, successful offspring. Pre-Code audiences ate these up, especially the ladies, and mother-love weepies extended into the post-Code era; do check out Barbara Stanwyck in Stella Dallas, if you get a chance.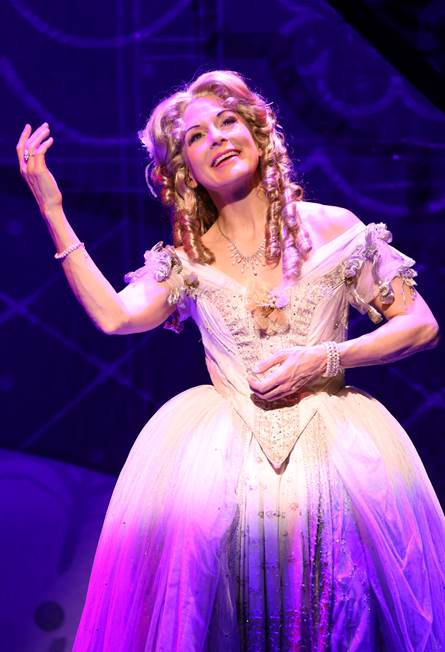 Jennifer Van Dyck
It's fertile terrain for Busch—with his love of outmoded morality, uncomplicated heroines and villains, and frilly dresses—to exploit. Like Chatterton, he's a bit long in the tooth to be a dewy-eyed innocent, but that only adds to the fun. Lily Dare, orphaned and fresh from some convent school in Europe, turns up in San Francisco, seeking her only living relative, Aunt Rosalie (Jennifer Van Dyck), a successful bordello madam whose latest recruit, Emmy Lou (Nancy Anderson), will become Lily's lifelong best pal. Aunt Rosalie takes Lily in and tries to shield her from the seamy surroundings, but Lily's wised up by Emmy; the whorehouse pianist Mickey (Kendal Sparks), who's also, in pre-Code parlance, a "pansy," though Busch surprisingly doesn't make anything of that; and Louis (Christopher Borg), the goodhearted handyman who knocks Lily up and dies, along with Rosalie, in the Frisco quake.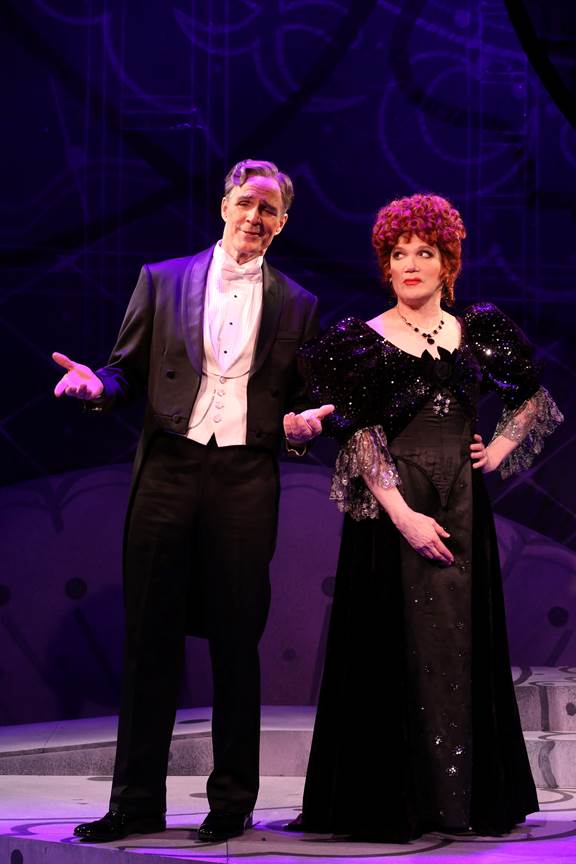 Howard McGillin and Charles Busch
If you know the genre, you know where this is headed. Lily, to support her bastard daughter, Louise, becomes a cabaret superstar in the gilded nitery of the reprehensible Blackie Lambert (Howard McGillin). In trouble with the law, Blackie frames Lily, who's sent up the river; Emmy and Mickey, unable to raise Louise, have her adopted. Lily, after five years in the slammer, reinvents herself as Treasure Jones, madam extraordinaire, with a successful chain of bawdy houses she co-runs with Blackie. He threatens to blackmail her, bad things happen, she faces the gallows. Will Louise, now a celebrated coloratura (Van Dyck), find out who her real mother is? Does redemption await Lily? What do you think?
So, Lily takes a journey from Pollyanna innocent to Dietrich-esque chanteuse (Tom Judson has written her an elegant Kurt Weill pastiche, "Pirate Joe") to hardened con to cynical businesswoman to chanteuse again (she's wiped out by the Crash) to ennobled maternal martyr, all the while donning a gobsmacking array of costumes (Jessica Jahn's; the other actors' costumes are by Rachel Townsend) and wigs (Katherine Carr's). Busch knows the landscape, and if his dialogue's less than riveting, he and his colleagues give it a lively spin. He's wonderful lampooning the clipped diction of early talkies, even among the lower classes ("Go on and lawwwwwfff at me!"); and what seems to fascinate him, more than anything, is the 1930s morality that insisted that a) out-of-wedlock motherhood, whatever the circumstances, was a really awful deed, and b) the limited choices available to such women forced them into suffering and sacrifice, which were seen as cathartic. He's dotted the script with some cheap laughs, notably by inserting terminology that never would have made it past even pre-Code censorship. But there's also deft parody of what passed for epigrams in those days: "Triumph often leads to melancholy," laments the on-top-of-the-world Louise. "Ask the Caesars of Rome."
The cast has a blast. Van Dyck transitions from hard-bitten madam to society lady to opera legend on a dime; a still-suave McGillin embodies early-talkie villainy with the panache of, oh, John Miljan or Henry Stephenson; and Nancy Anderson, wherever you've been, you haven't aged a day and you've been missed. Sparks hasn't much to do as Mickey, but Borg gets to be not only Lily's lost love but a phony Viennese baron, a stiffly noble aristocrat, Louise's S.Z. Sakall-esque manager, and an Irish priest out of central casting. Carl Andress directs them briskly, and let's give a special shout-out to musical consultant Judson, who not only gives Busch that Dietrich ditty, but provides Max Steiner-like background bombast throughout.
By Busch standards, it's a relatively mild evening, and B.T. Whitehall's set design, with the proscenium framed by red plastic plates and cutlery, is rather scrawny. Though there's not a lot of laugh-out-loud, The Confession of Lily Dare is a wall-to-wall grin. But the more familiar you are with Frisco Jenny and its ilk, the more you'll enjoy it. The Sin of Madelon Claudet is on TCM this week; go study it.
Review posted February 2020
Off-Broadway play
Playing at the Cherry Lane Theatre
38 Commerce Street
https://web.ovationtix.com/trs/cal/34639?sitePreference=normal
Playing through March 5
Running time: 2 hours