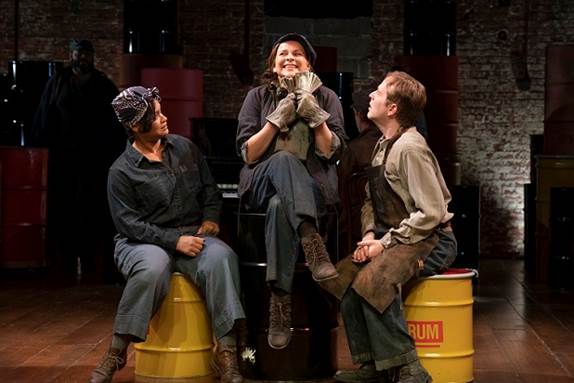 Photo by Joan Marcus
The Cradle Will Rock
By Eugene Paul
The Cool, attractive, more an homage than a fiery presentation of Blitzstein's original fury.
There's a story that, in 1937, when Kurt Weill saw The Cradle Will Rock, he is rumored to have said to a friend, "Have you seen my new show?" Which wasn't far off the mark.  Or Marc.  The creator of the show, Marc Blitzstein was a devoted student of Weill's, completely absorbing Weill's notorious agitprop style and in his talented rage at the ills and inequities of American society, Blitzstein blasted through the creation of his show, book, lyrics, music,in five weeks of passionate composition.
 Only to be thwarted by his producers, the United States federal government's Works Progress Administration. They had allowed Blitzstein's  director, 21 year old Orson Welles, and his producer, John Houseman, to amass a company of 27 performers, 32 chorus members and a 32 piece orchestra, sets, costumes,, lights, all for the WPA mission to help unemployed theater people in  the depth of the Great Depression. Almost twenty percent of the country was out of work. No pensions. No safety nets. Only fear and hunger. Disturbed by the show's content excoriating Capitalism's corruptions, the WPA shut the show down on its opening night.
Six hundred people were left standing in the street outside the Maxine Elliott Theatre.  Furious yet delighted by the opportunity to make his big splash, Welles hastily rented a much larger auditorium and  a piano—all the musical instruments were locked away, too –marched his audience nineteen blocks confusing traffic, invited others along the way to join in free. A thousand people saw Blitzstein alone on the stage with a rented piano.  All the performers, forbidden by their union to perform on the stage, were scattered throughout the audience, to perform from there. And the show went on.  To make unforgettable  showbiz history.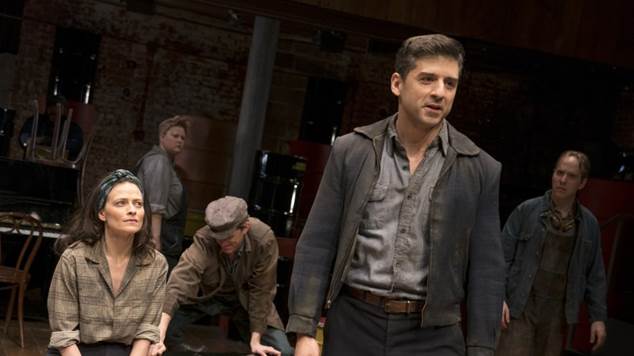 Lara Pulver, Kara Mikula, Benjamin Eakeley, Tony Yazbeck, and Ian Lowe
Photo by Joan Marcus
The basic story of Blitzstein's musical work is simple: Larry Foreman, a union organizer, wants to bring unions to Steeltown.  But Mr. Mister has corrupted every facet of Steeltown society.  He subverts the newspaper, he corrupts the church, he has the courts in his pocket, he runs the police, he dictates the very college curriculum. He intimidates and buys everyone.  Except Larry Foreman.  When Foreman inspires others to stand up to Mr. Mister and they all singspiel "The cradle will rock!" at the show's forceful ending, we begin to see that Mr. Mister's power can be and is broken. Blitzstein, a serious musician since childhood, has fashioned a score which is full of every sound that does not have "classical" overtones, as if the music came out of common everyday people. It frontally challenged accepted Broadway musical comedy. (And in 1937, it came to be the first cast album ever.)
Nevertheless artistic director John Doyle cannot compete with history, chiefly because the times have radically changed and Doyle's hard working company of actors, reduced from 27 to 10 with several playing several roles, does not project the fire-n-the-belly fervor that propelled Welles's original company inspired by playwright/composer Blitzstein's own authentic rage. Without that inner conviction and turmoil, Blitzstein's stereotypical caricatures lose their power to shock, to convince, to persuade, making them uncomfortable to perform with conviction. Further, Doyle's piano (at least four members of the cast take turns playing the score) does not sing.  Its tone is small, muted, entirely suitable, yes, for supporting singers, many of them powerful, the piano too thin in presenting Blitzstein's powerful music. Doyle's own musical history has to have informed him of the problem; he has not provided a solution.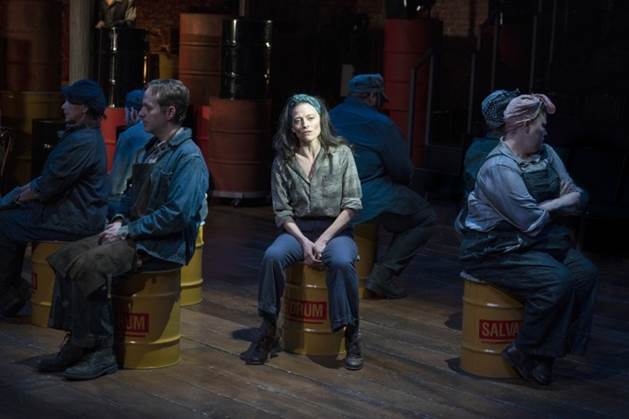 His  black and yellow gleaming  assemblage of steel drums  as an overall single setting allows his cast members to deploy the drums in multiple configurations for the show's  several scenes, a highly clever series of procedures, worthy of our admiration but fatal to Blitzstein's  cause. We admire what is going on but remain at a cool Brechtian remove. If that is in Doyle's design, it is a miscalculation. We want to, we need to be fired up, reject Mr. Mister. Ann Hould-Ward's costumes , all working stiffish, run together. Jane Cox and Tess James provide standardish lighting. It's all very college little theatre.
                                                          *
Cradle Will Rock. At Classic Stage Company, 136 East 13th Street.  Tickets: $82-$127. 212-677-4210. 90 min. Thru May 19.