Photo Joan Marcus
 By Eugene Paul
Not very long ago if Jez Butterworth's deeply enthralling, sold out hit play were to have arrived on these shores we might have looked at it as a trenchant, troubling example of  the sins of hatreds handed down Irish generations,  an aching chronicle  foreign to this American soil. Now, it's absolutely frightening, spellbinding, a warning of doom. These warm, lovely people, from that delicious baby to wheelchair bound Granny, the whole of stalwart, struggling Quinn Carney's extended family, full of joy and juice and spirits and sorrows, the vigorous generations under one roof are in peril and they suspect nothing. We know more than they do. In a raw, swift, dour opening scene, we have seen a priest blackmailed into betraying his trust.
It's 1981 in Northern Ireland, late summer, time for the Carney clan to get the harvest in and  survive another day. The great, rural Armagh farmhouse kitchen,, the living center of their home given us by designer Rob Howell is  chock- a -block  family , family , family strewn, from  wall mounted childrens' drawings to massive, ancient Aga stove, to draft curtains at doorways, all kinds of clutter and ever present, eau de vie, bottles of it. The children learn early though samplings what keeps their grand parents chipper.  And parents, for that matter.   Fortyish Quinn (Paddy Considine) is wildly jitterbugging to a blast of juke box music and whirling Caitlin (Laura Donnelly) around away from her kitchen chores.  There's a closeness there you can't miss.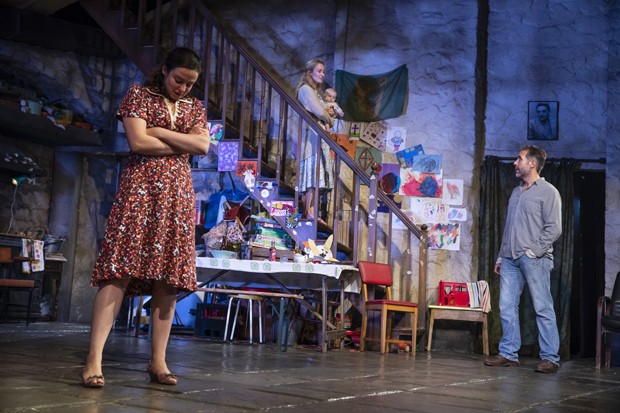 LauraDonnelly,GenevieveO'Reilly,andPaddyConsidine (© Joan Marcus)
And when acerb Aunt Pat (Dearbhla Molloy) makes her late morning appearance, her cigarette already hanging from her lip, her tight , white curls a dead giveaway of her tight bound nature, her acid comments about the Carney hangers on sets Caitlin back on her heels and drives Oisin (Rob Malone) Catlin's son, out of the room. Seamus Carney, Quinn's brother, Caitlin's husband, disappeared ten years ago. Nobody knew what happened. Caitlin and her six year old son expected to wait a few days, a week, a month for his return.  They've been there ten years.  And Seamus's body has been found, a bullet in the back of his skull.
It's the Troubles, as the long bitter  Irish-British conflict has been called in Northern Ireland,  savage echo of the Troubles of sixty years ago in the South, the bullet holes down in Dublin now a tourist attraction. But playwright Butterworth's Troubles are unmistakably an ongoing curse and now, the Carney household is threatened by the Muldoon (Stuart Graham), head of the rebel faction who demands obeisance or suffer the consequences. And now we know why Father Horrigan (Charles Dale) bent.  Mary Carney (Genevieve Reilly) the wan, tired, exquisite wife of Quinn, mother of the lovely  Carney brood, is his sister. Hostages. The Muldoon has come to confront Quinn.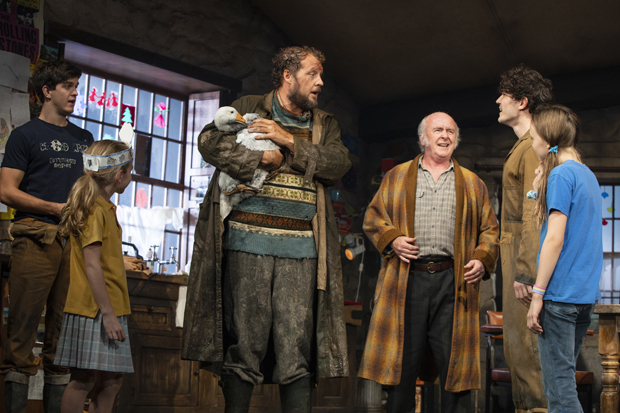 Justin Edwards and Peggy the Goose (center) in a scene from The Ferryman.
(© Joan Marcus)
This family of performers is invested in their story, steeped in their characters,  The three hour and fifteen minute play flies by.  Director Sam Mendes lures superb performances throughout the large cast, each  individual character polished brimstone bright. Fionnula Flanagan, lost in the past as Aunt Maggie Far Away, Tom Glynn-Carney as Shane Corcoran, ferociously young, seduced by the Muldoon, brainlessly amoral, Mark Lambert making a feast out of whiskied Uncle Patrick Carney, huge Justin Edwards creating a heart breaking highlight wooing  a confounded Caitlin.  And his magic  with apples!  And his comity with  rabbits and an enormous goose!
Tiny, delightful Matilda Lawler as precocious Honor Carney. Fra Fee, Niall Wright, Quinn's older sons, farmers, salt of the earth, and Quinn's and Mary's other daughters, the leggy young winners Brooklyn Shuck and Willow McCarthy and I don't know which utterly charming six month old actor of the four who take turns to play the baby Bobby but he captured me. And Carla Langley, and Conor MacNeill and Michael Quinton McArthur, pearls all. You end up cheering them every one, even with pain in your heart, ready to pay the Ferryman to cross the river Styx. And when the Muldoon and his goons arrive at the Carney house, the payment is in horror for them all. What a stab of a play.
The Ferryman. At The Bernard B. Jacobs Theatre, 242 West 45th Street.  Tickets: $59-$175. 3hrs, 15 min. 212-239-6200. Thru Feb 17, 2019.