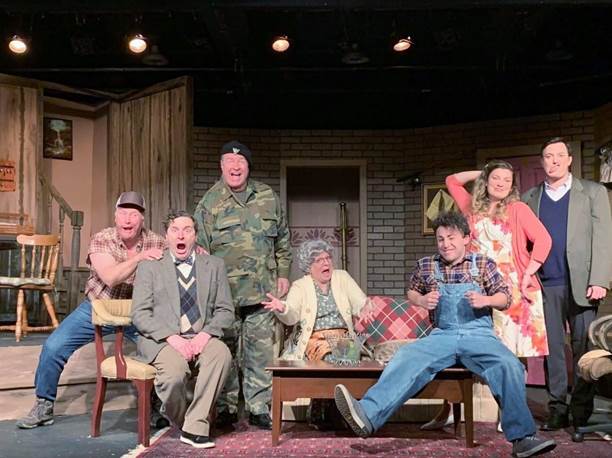 By Edward and Jeanne Lieberman
The Armonk Players' current production of The Foreigner features an outstanding cast in a madcap comedy that is arguably more timely today than when it was first written in 1984. 
The play was written by Larry Shue and won Outer Critics Circle Awards for Best Off-Broadway Play and Outstanding Playwriting for Mr. Shue in 1985 (unfortunately Mr. Shue died in a plane crash the following year).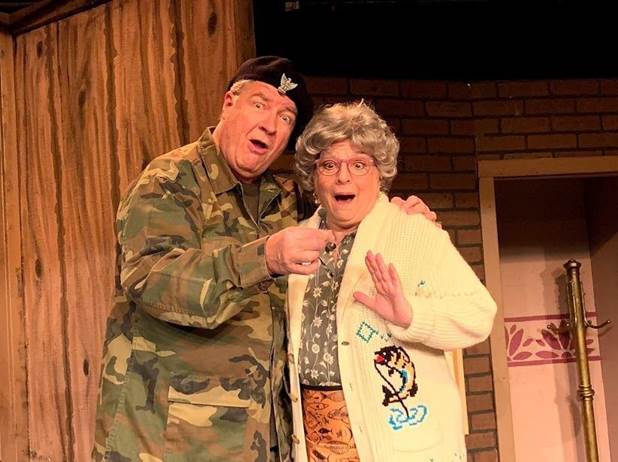 Jeff Schlotman as Froggy and Chris Jamison as Betty
Without giving too much away, the show is set in rural Georgia, where Charlie, a British proofreader, is brought by his friend, a British Army officer, "Froggy" LeSueur, who knows Betty Meeks, the proprietress of a failing fishing lodge that is threatened with foreclosure. Charlie, who is painfully shy to begin with, is further wracked with guilt because Froggy has spirited him away from his wife, who is in the hospital. Charlie feels that his place is to be with her, despite the fact that she told him that she has cheated on him with some 23 other men.  When Charlie is told that there would be other guests at the lodge, he tells Froggy that he is in no condition to speak with other people, so Froggy concocts a cover story that Charlie is from a foreign country and speaks no English! This delights Betty, the proprietress of the lodge, who has never traveled and is delighted to cater to a stranger who "is as foreign as the day is long."  At first, the other guests, a young couple engaged to be married (heiress Catherine Simms and her fiancé, Rev. David Lee), and Catherine's intellectually challenged brother, Ellard, together with David's friend, the racist town Building Inspector, Owen Musser, make fun of Charlie, thinking he doesn't understand what they are saying.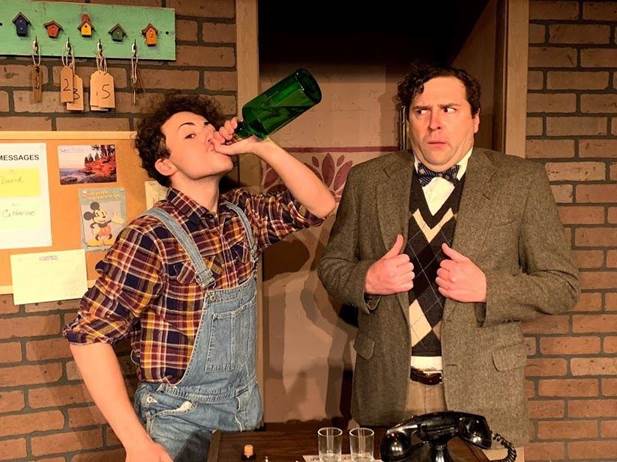 Richie Lauria as Ellard and Keith Young as Charlie
Gradually, however, Charlie "allows" Ellard to "teach" him English. The amazing rapidity with which he "learns" from Ellard, gives Ellard more confidence and respect from his sister, who has to decide if Ellard is competent to inherit half of their parents' considerable estate. The exercise gradually draws Charlie out of his depression, and, maintaining his pose, he is ultimately able to defeat a plot between David and Owen to take ownership of the lodge from Betty and use it as a base of operations for the "Invisible Empire" -- another name for the KKK.
What keeps this all together is the maniacally comic performance of Keith Young, as Charlie. His evolution from a suppressed bundle of neuroses, cringing with fear at the thought of interacting with strangers, to a decisive social animal capable of intimidating the racist Owen, had the audience roaring with laughter, quite the accomplishment considering the somewhat serious underlying theme of xenophobia.  He accomplishes this through use of an improvised language that would make Robin Williams proud, and physical mannerisms that draw inspiration from Steve Martin. 
Jeff Schlotman, who describes himself as "White Plains' Dentist to the Stars," does an admirable job portraying Froggy (the role originated by playwright Shue in the original New York production). Utilizing a passable British accent, Mr. Schlotman bookends the production by introducing Charlie in the beginning; looking after him periodically during the show; and ultimately delivering the coup de gras at the end.
There isn't a weak link in the cast, which also includes Chris Jamison, as Betty (the proprietress of the lodge); Cassie White, as Catherine; Richard Lauria, as her brother Ellard; and Zachary Curtin and Scott Brannon, as the villains David and Owen, respectively.
In a play such as this, involving a dash of slapstick and a large dollop of improvisation and physical comedy, timing is key. And direction is the key to timing, so kudos must go to Pia Haas and her assistant Chris Rudy for keeping the pace brisk and coherent. Although the play starts out slowly in the first act, introducing the characters' back stories to the audience, once Charlie and Ellard begin Charlie's "education" with an imitative glass hat routine reminiscent of the mirror game of Groucho and Harpo Marx in Duck Soup, the play picks up steam and increases its velocity through Charlie's made-up language patter, interspersing English with nonsense words. The fact that this play works so well is a tribute to the talent of the cast, especially Mr. Young, and Ms. Haas' direction.
Other kudos go out to Lighting Designer Rodd Berro and Set Designer David Morabito and his collaborators Bill Barish, Rodd Berro, Richie Lauria, Chris Rudy and Michael Weitzner, for their wonderful set, which enabled Mr. Lauria, as Ellard, to pull off a disappearing act late in the show reminiscent of that of the Wicked Witch in Wizard of Oz.  
In the end, this is a comedy that addresses a serious issue that, unfortunately, is perhaps more timely today than it was when it was written: xenophobia. The program notes recount that playwright Shue felt that "the only way to deal with xenophobia is to mock it, laugh at it." This production certainly does that, in a way that is, perhaps not P.C. One doubts that this production would do well south of the Mason-Dixon Line.
The Foreigner continues at the Whippoorwill Hall, 19 Whippoorwill Road East, Armonk, NY 10504 December 4-6 at 8:00 pm. Ticket info at www.Armonkplayers.org.