(l-r) Eileen Atkins, Jonathan Pryce Photo credit © Joan Marcus
The Height Of The Storm
By Ron Cohen
Majestic performances illuminate the interplay of love, death and memory
French playwright Florian Zeller creates compelling characters in mental disarray. In his plays previously mounted in New York, The Father took us with breathtaking jolts inside the dementia of the title character and won a Tony Award for the lead actor Frank Langella.
In the less satisfying The Mother, the great French actress Isabelle Huppert suffered with galvanizing ferocity through depression, relentlessly living over and over again incidents with her unfaithful husband and her disinterested son.
Now, with The Height of the Storm, in a production imported from London by Manhattan Theatre Club, Zeller adds the trauma of death to his repertoire. He deals with it from both sides of the event: the deceased and those in mourning. It's a tricky proposition, made trickier by lots of deliberate ambiguities in the storytelling.
In the long run, however, it's a poetically affecting meditation on the fear of loss as a long and interdependent relationship nears its end and the possibility of love enduring beyond mortality. And it's enacted with glistening polish and even greater heart by two pillars of the London stage, Jonathan Pryce and Eileen Atkins.
At the start of the play, the violent weather has already passed over the capacious country house of André (Pryce), a successful and highly respected writer, and his devoted wife of many years, Madeleine (Atkins). But inside things are still quite unsettled. Their two daughters, Anne (Amanda Drew) and Ėlise (Lisa O'Hare), have arrived to help take care of a certain "situation." What that situation is is never precisely defined. We learn that Anne is going through André's diaries with the thought of possible publication. There is talk about a possible need to sell the house. Flowers are delivered to the door, a possible bereavement bouquet, and various other hints come and go that someone has died.
But who has passed on?
Is it André, perhaps? Maybe, even though he's quite visible there in the kitchen, sometimes seemingly lost in thought and sometimes given to outbursts of emotion, while Anne talks to him. Is he a lingering figment in Anne's memory? Or, given Zeller's other work, is the whole scene just an enactment within the mind of the dementia-infected André.
Or maybe it's Madeleine who's died. But then, Madeleine appears, together with Ėlise, just back from shopping. And there's a lot of happy talk about the mushroom dish to be prepared for lunch.

And so it goes through the day and into the next morning, with ominous feelings interwoven into the familial conversations. Anne notes things aren't going well with her marriage. We hear about Ėlise's series of lovers. And there's more about mushrooms. Madeleine relates that André used to go out picking them, but stopped after a neighbor mysteriously disappeared on a mushroom-gathering jaunt.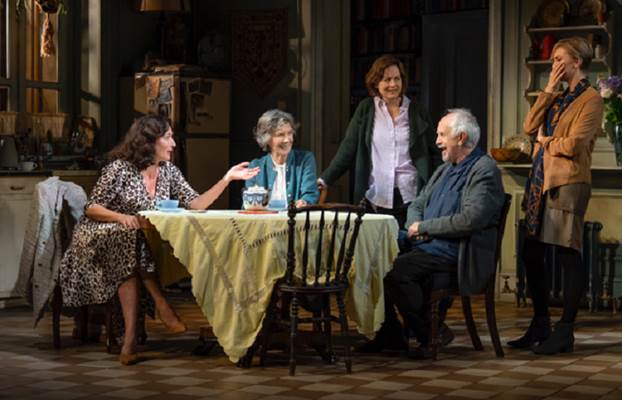 (l-r) Lucy Cohu, Eileen Atkins, Amanda Drew, Jonathan Pryce, Lisa O'Hare Photo credit © Joan Marcus
The ambiguities are heightened with the arrival of two other characters. The cast list calls them simply The Woman (Lucy Cohu) and The Man (James Hillier).
The Woman is first identified as an "old friend" of André, from a time before he met Madeleine. Madeleine has just met her while shopping, and now she has stopped by for tea. There are indications that The Woman (Madeleine is unsure of her name, which is something like Mrs. Schwartz) may have had an affair with André, but the hints end when she says the affair was with a mutual friend. And as her visit nears the end, The Woman morphs into an apparent representative from the "Blue House," an assisted living facility that it's suggested André visit.
The second character is initially presented as Paul, Ėlise's current lover, who has come to pay his respects. But André sees him as the real estate agent Anne has called in to talk about selling the house. And eventually he morphs into a sort of Pinteresque menace talking on the phone about urgent unclear pieces of business that have to be taken care of.
So, be forewarned: if ambiguous playwriting annoys you, you're probably going to be annoyed by The Height of the Storm. But at the same time, you may well admire Zeller's boldness of narrative and the crisply articulate dialogue of Christopher Hampton's translation. And most importantly, there is the impeccable cast, with all but O'Hare having appeared in the London production. They flawlessly demonstrate the twists and turns of family affection, love and irritation, guided by Jonathan Kent's sensitive direction and comfortably ensconced in the wondrously detailed set by Anthony Ward, who also did the costumes.
Also deserving kudos is the lighting of Hugh Vanstone, which not only marks the various times of day but the mental states of the characters living through them, and in the play's final moments, the lighting becomes a key part of a shattering conclusion. It's a conclusion when the gorgeous performances of Pryce and Atkins seem to merge into one organism, only to be torn asunder by fate, failing memory, death or just sheer darkness -- or whatever you want to call it.

Review posted October 2019
Broadway play
Playing at the Samuel J. Friedman Theatre
261 West 47th Street
212 239 6200
Telecharge.com
Playing until November 24