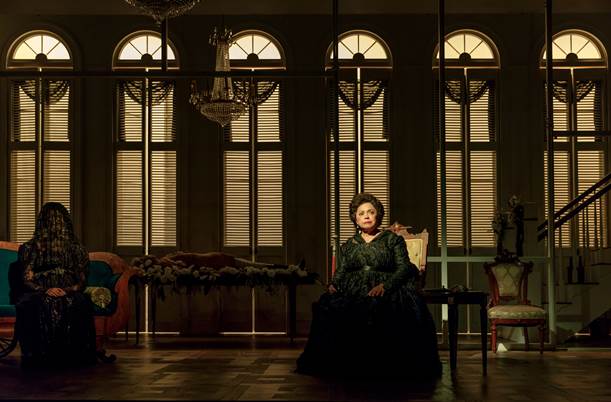 By Ron Cohen
In The House that Will Not Stand, Marcus Gardley delves into one of the many perverse chapters in the insidious annals of slavery: the sale by France of the Louisiana Territory to the United States in the early 19th Century. It meant that the African-Americans living in New Orleans and elsewhere in the territory as free people were suddenly faced with the prospect of slavery. It makes for a stunning piece of theater.
The program for the terrific New York Theatre Workshop production tells us that Gardley was inspired by the stories told him by his great-grandmothers about New Orleans and Creole culture. His play centers on the custom of plaçage where black women in New Orleans and other French and Spanish slave colonies in the Caribbean, while not recognized as wives, could be contractually recognized as concubines of white men and hold property and have other rights of free citizens. It was a custom ripped apart by the Louisiana Purchase.
Gardley's writing pulsates with affection for these women, but what's more astounding is the deep understanding he shows of their predicament, where, as his leading character, Beatrice, says, she can lead a life of physical comfort "just as long as I opened my legs and kept my mouth shut."
Also inspired by The House of Bernarda Alba by Federico Garcia Lorca, Gardley borrows plot points from that masterwork of Spanish drama. Lorca's play is primarily a study of female yearning and suppression with its tale of a tyrannical matriarch controlling her houseful of daughters. Gardley, however, whips up a galvanizing storm of sexism and racism with a similar skeleton of story, revving it up with grand melodrama – lightning, thunder, murders and ghosts.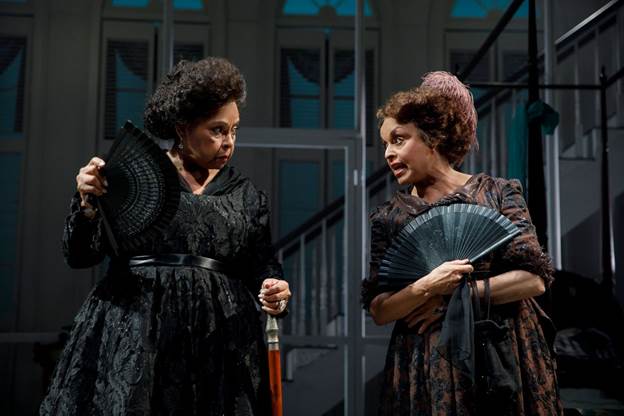 Lynda Gravatt and Marie Thomas           photos by Joan Marcus
 Yet under the fierce and knowing direction of Lileana Blain-Cruz, it all seems entirely organic to the passions he is portraying. Similarly, the humor Gardley weaves generously through his storytelling seems equally truthful.
The aforementioned Beatrice is the mistress of Lazare Albans, whose dead 72-year-old body lies stiff on a parlor table throughout the play.  The cause of Albans' death is questionable. Did he really die from choking on a fish bone? Whatever, Beatrice is fairly assured that his will is going to leave her as a free woman of color secure with the ownership of their house. It's a domain, she further believes, that will protect her three daughters from the degradation of plaçage.
Circumstances, however, prove daunting. Beatrice's oldest daughter. Agnês, defying her mother's dictates to observe mourning and not leave the house, has already made the start of an alliance with a rich white fellow and plans to further things with him at the masked ball that evening, where plaçage connections are officially made. She will take with her youngest sister, Odette, to pose as her mother. Things at the ball do not go as hoped, as we learn when the sisters return home.
Further throwing Beatrice's plans into disarray is the appearance at her home of La Veuve, her archenemy dating back to a contretemps years ago. La Veuve has come to mourn Lazare and more to the point, question Beatrice's long-time devoted servant, Makeda, about the details of Lazare's death. As for Makeda, she has her own agenda, yearning for the freedom promised her by Beatrice once Lazare's will is settled.
Another fly in Beatrice's ointment is her deranged sister, Marie Josephine, who occupies the upper level of the house and now fears the presence of Lazare's ghost. She convinces Makeda to use her conjure-woman powers – yes, things get complicated – to call up Lazare's spirit into her (Makeda's) body so she can talk with him.
All of this happens while a storm rages outside, and the thunder and lightning augment the whirlwind within. And the changing conditions coming with the Louisiana Purchase add the final cap, as the story moves to its bitter conclusion, qu
estioning the very nature of freedom in an oppressive society.
The cast of seven women delivers a gallery of indelible portraits. Lynda Gravatt elevates Beatrice's earthiness with a sense of damaged nobility, while Harriett D. Foy's mix of spikiness and dedication as Makeda makes for a compassionate presence.
Marie Thomas embodies La Veuve as a likeable schemer, and Michelle Wilson brings a touching sensitivity to Marie Josephine's madness. 
Each of Beatrice's daughters is sharply drawn as a young woman caught up in a maelstrom of passions and desire: Nedra McClyde as the tenuously self-assured Agnés; Juliana Canfield as the hysterically pious middle sister Maude Lynn, and Joniece Abbott-Pratt as the callow but winning young Odette.
Perhaps no scene in the play is as devastating as when the light-complexioned Agnés methodically explains to Odette that her dark skin makes her much less desirable to white men. But it is certainly matched in power with the furious incantations of Foy's Makeda conjuring up a drum-pounding invocation of black woman power, reuniting Marie Josephine with a long-lost love. It grows into a fantasia of dance and rhythm that threatens to rip the ceiling off the theater.  Raja Feather Kelly is credited with movement, and Justin Ellington created sound design and original music.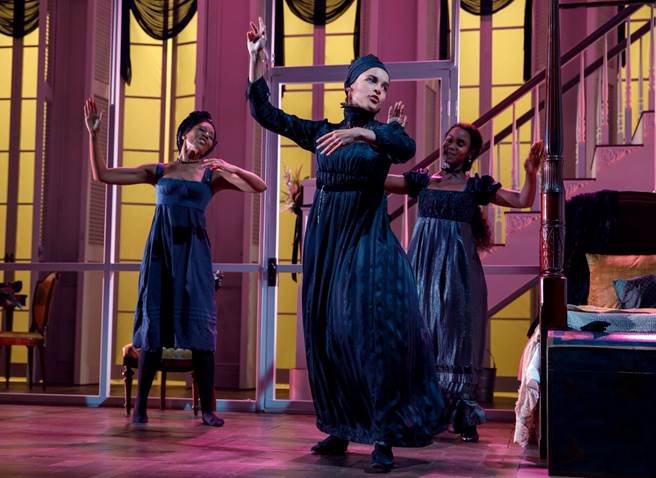 Nedra McClyde, Juliana Canfield, and Joniece Abbot
Other production assets include Adam Rigg's set showing a cross-section of Beatrice's stately home; Yi Zhao's lighting which makes palpable the sweltering New Orleans summer, and Montana Levi Blanco's rich era-defining costumes.
It probably should be noted that the deep South intonations utilized by the cast may at times for some in the audience bury the gritty poetry of Gardley's writing. But the desire to hear every word will only add to the attention this imposing and important play deserves.
Review posted August 2018
Off-Broadway play
Playing at New York Theatre Workshop
79 East 4th Street
212-460-5475
Playing until August 19