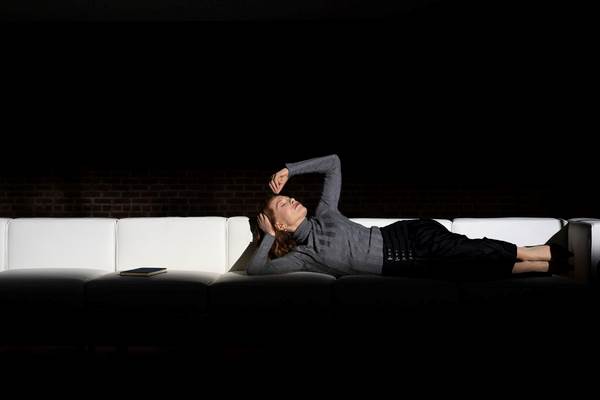 Isabelle Huppert
The Mother
                                                                    By David Schultz
French playwright Florian Zeller (The Father, The Mother, and forthcoming The Son) has attempted the same magic that made The Father such a heart wrenching theatrical experience a few seasons ago. Frank Langella perfectly captured the emotional disarray of a man on the precipice of losing his grip on reality as he slid into Alzheimer's. His memory, taste, sounds all fading away incrementally. The construction of the play was like a ticking time bomb, as the audience experienced his loss of memory with shifting scenes of perspective.  
Now playwright Zeller aims his sights on the Mother aspect. No relation to his previous play here…no, this new play attempts to do the same thing again. But this time the plot revolves around a woman of a certain age on the precipice of losing her grip on reality. Hmm…why that sounds familiar.
The advertising to pique the interest of the potential theatergoer is short and sweet. (Quote) "Can one love one's son too much? Anne has given everything to the family she's built. Now the years have gone by, and her children have grown up and have lives of their own, leaving her alone in a world that is crumbling around her." (Unquote). A woman, unmoored, slowly losing her grip and going mad, her vision of reality slowly refracted into shards of discordant memories. Sounds like a fun-filled evening. Don't worry it isn't, by a long shot. The saving grace in this production is the woman in question. Isabelle Hubbert's impassioned portrait is compelling and feverish with a growing intensity during the 90-minute intermission less production.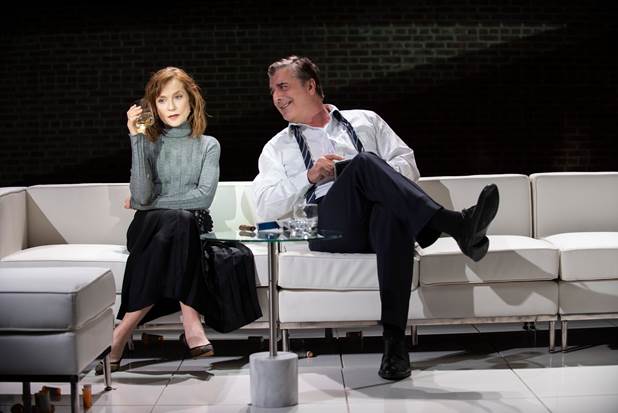 Hubbert & Chris Noth                                     photos by Ahron Foster
The tone is set on the outset, with Ms. Hubbert sitting on an extraordinarily long white couch. As she lazily reads a book onstage, she looks up and scans the audience slyly. This is even before the play begins, as the audience settles into their seats, Ms. Hubbert sizes them up cryptically. The eerie mood is set. She is just biding her time…waiting for her husband to arrive home. Her distant and cool as ice husband of 25 years is going away on a conference in Buffalo. Peter (Chris Noth) is distracted and asks her how her day was. The strain of their marriage is palatable, as she testily accuses him of having an affair…no proof, just feminine instinct. As she repeats back at him with increasing venom "How about you?  How was your day?" This short staccato back and forth is then repeated with slight variation akin to an endless loop. Black out scenes segue into the same scenario again and again. This verbal jibber-jabber replays in duplicate, then triplicate. Playwright Edward Albee had his share of fun with recapitulation, so it seems this too is going down that well-worn road.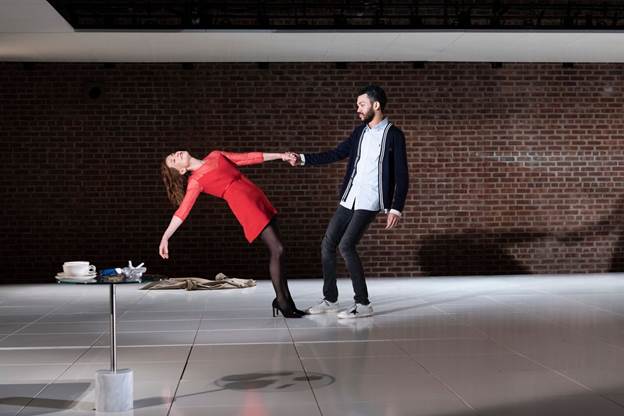 Hebbert & Justice Smith
Anne's aching need to connect with her son Nicolas (Justice Smith) is taking its toll. He has not been in touch for a long time. His current girlfriend Emily (Odessa Young) has occupied all of his time. But wait…Anne discovers that her son has returned, in the middle of the night. A bitter fight has transpired between the couple; hence the son has come home to roost and heal his wounds with Mommy. Anne takes advantage of her opportunity and tries to pursue her way through  his emotions to recharge their relationship and heal old wounds. More than a whiff of Oedipal stirrings are in the air. Husband Peter goes off to his conference, and his lover in waiting…. perhaps.
As the evening wears on, Anne goes into increasingly higher emotional states, clinging to her son. Naturally Emily does show up looking for Nicolas, with Anne coming between them. The emotional frenzy, well-orchestrated by director Trip Cullman goes into crazy, loopy overtime. It may dawn on some viewers that this entire experience with husband, son, girlfriend is actually going on in her mind, and that none of this is happening in real time.
The odd logic of the play and the fractured visual and aural design of the evening is definitely disorienting. The lighting design by Ben Stanton becomes harsher and white hot as the evening commences. The surreal distorted evening is given even more heft and mystery as for example girlfriend Emily shows up in a slinky red dress when looking for Nicolas, then finding Anne whirling about like a dervish in the same aforementioned red dress. Coincidence? Competing for son/lover? The two women melding into a doppelganger? This scintillating visual is left to each viewer to ponder, not unlike a Rorschach test. Internal monologues clash with insanely odd verbal arias as Anne spirals downward into madness. This French…very French treatise is gripping but in the light of day, doesn't really shed any new light on this sad woman's coping, rather badly, and losing her mind with empty nest syndrome. A life that has lost its purpose, presuming she had any to begin with is writ large in this play. Nothing overtly original within its hemmed in confines is to be gleaned. Nope. The electrical current that beats in ever rapidly alarming beats per minute is created by Ms. Hubbert's revelatory performance. She is pitiable, and bone chilling in equal parts, sometimes simultaneously. That and that alone make this rather predictable Mondo drama worthwhile.     
Atlantic Theater Company
Linda Gross Theater
336 West 20th Street
Atlantictheater.org
866-811-4111
Runs thru April 11th
Sold Out Run
Waiting List at Box Office