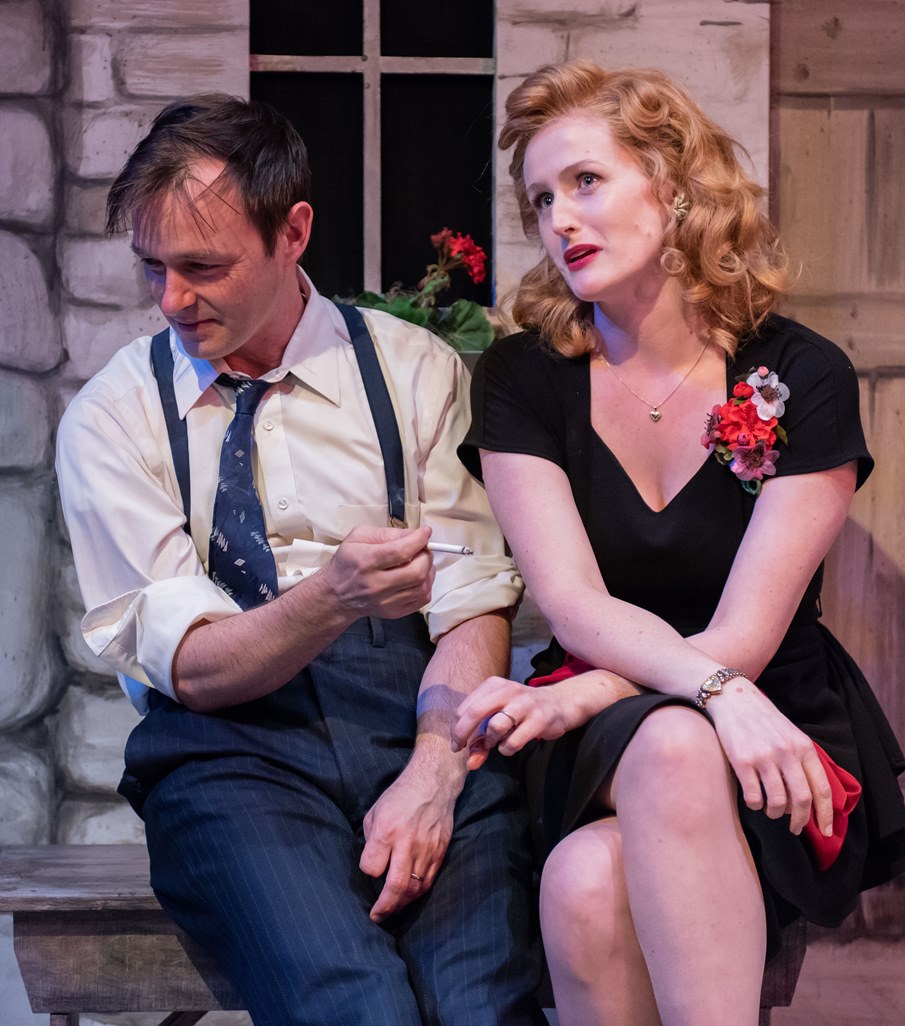 Jesse Pennington and Brenda Meaney                    Photo by Todd Cerveris.
The Mountains Look Different
                               By Marc Miller
.
If there's one thing the Mint Theater Company excels at, it's polishing—dusting off old, forgotten properties, and getting them to gleam. And if there's another thing, it's rediscovering playwrights we may not know about, but who surely don't deserve being conscribed to the ash heap of theatrical history. You may never have heard of The Mountains Look Different, nor of its author, Micheal mac Liammoir, a very Irish name concealing a more complicated identity (it's all in the program notes, and you're advised to read them). But it's a splendid play, and a splendid production. The Mint is at the top of its considerable game.


What mountains, and why do they look different? We're outside Connemara, after the war, a rocky, rural area in the west of Ireland. Vicki R. Davis's set is monochromatic, and that's probably because so are the existences of most of the inhabitants around these parts. It's the exterior, and, eventually, interior, of the farmhouse of Martin Grealish (Con Horgan), a severe, sour old coot whose brusque ways conceal a more complicated psychological makeup that will be revealed in subtle stages. Mac Liammoir clearly had read up on his O'Neill, and his O'Casey, before writing this one. There's a strong whiff of Anna Christie, and traces of Desire Under the Elms and Juno and the Paycock, the latter in the Act Two celebration that brings on a whole bunch of hitherto unseen characters, to revel in the manner that clearly indicates something bad's about to happen. That's Irish dramaturgy for you.


Grealish is welcoming home, unenthusiastically, his long-absent son Tom (Justin Pennington), who is bringing a bride, Bairbre (Brenda Meaney). Tom met Bairbre in London, during a not-very-successful stretch at several jobs, and it was love at first sight, or something approximating it. Bairbre has rural roots, too, but she's been in London 13 years, and she seems… citified, and mysterious. Put it this way: Had The Mountains Look Different been filmed, not long after its 1948 premiere in Dublin, she'd have been played by Maureen O'Hara.


Jesse Pennington, Brenda Meaney, Cynthia Mace, Liam Forde, Daniel Marconi, and McKenna Quigley Harrington. Photo by Todd Cerveris.


Before we meet any of these people, we first encounter three supporting characters whose presence seems minor but will matter in important ways later on: Bartley (Daniel Marconi), Martin's ill-tempered hired hand; Batty Wallace (Liam Forde), the village idiot, who plays Irish airs on the recorder and dances up a storm; and Matthew Conroy (Paul O'Brien), Bairbre's uncle, a substantial businessman who appears in the first scene to sing Bairbre's praises to an unconvinced Martin, then disappears forever. It's St. John's Eve, an odd early-summer celebration that combines Christian and pagan rituals, and bonfires are being lit around the mountains. It's not the best time for Tom and Bairbre to show up.


Martin, in what is admittedly a rather astounding coincidence, claims to have met Bairbre years ago in London, on his sole sojourn there. It impressed him as a city of nothing but evil, and we're not sure as the first act curtain falls whether he's telling the truth or concocting this whole encounter to serve as an excuse to banish Bairbre from his and Tom's existence. The truth will out, and have devastating repercussions, but not before each of the three leads is rewarded with big, big emotional revelations, and how excellently acted these are. Horgan's Martin is a hard exterior that slowly cracks; Pennington's Tom is a loving spouse whose love will be tested by calamitous realities; and Meaney's Bairbre, most spectacularly, is a fascinating puzzle. Alternately affectionate and standoffish, sympathetic and calculating, she's a woman who has lived a harsh existence and sees her union with Tom as the only way out, and will go to limitless lengths to preserve it.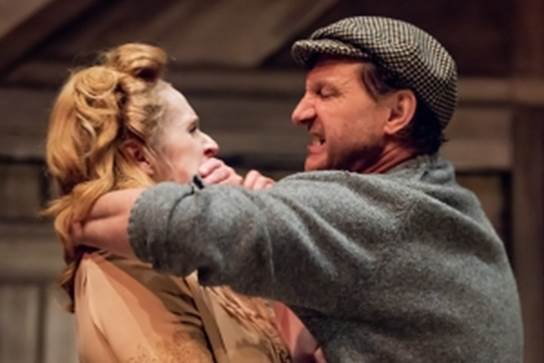 Brenda Meaney, Justin Pennington


Those lengths lead to a climax that could justifiably be accused of being melodramatic, but makes keen psychological sense. Meaney plays her with the raw emotion she deserves, and she's beautiful, charming, and chilling.


Mac Liammoir, a major force in Irish theater in the first half of the 20th century, turns out to have been born an Englishman, Alfred Willmore, his Irish identity being a complete fabrication, not revealed until after his death in 1978. (He was also more or less openly gay, maintaining a long and happy relationship with actor-director Hilton Edwards, and the two played key roles in furthering the careers of several major actors, notably Orson Welles and James Mason.) His dual personas are key to The Mountains Look Different's viewpoint: People are complicated, they wear masks, and the disintegration of those masks can bring about awful consequences.


In a production up to the Mint's estimable standard, one is especially impressed with Aidan Redmond's direction, which maintains a brisk pace and renders plot developments that could strain credibility in lesser hands as utterly believable, and M. Florian Staab's sound design. Dogs, birds, cars, celebrations—they're completely clear, and I'm not even sure whether the offstage revelries in the second act are live or pretaped. Andrea Varga's costumes are true to time and place, and Christian Deangelis achieves lighting effects that are dramatic without being obtrusive.
It's a straightforward narrative with a strong propulsion, and when a major character near the end wails, "Please, make him die," you're inclined both to agree and to slap yourself for it. Torn families, big feelings, and destructive but understandable human behaviors; that's Irish 20th century drama, and with The Mountains Look Different, the Mint serves up an outstanding, little-known slice of it.


Through July 14.
At Theatre Four at Theatre Row, 410 West 42nd St., Manhattan.
Running time: 2 hours, with one intermission.
For tickets, visit Telecharge.com.