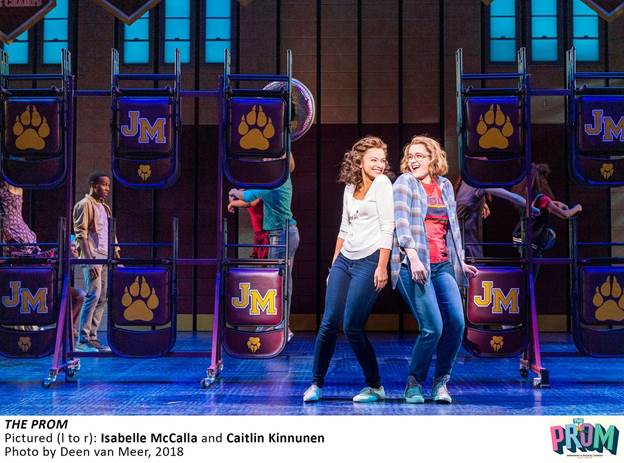 By Marc Miller
So: Some New York show-biz sophisticates descend on a Midwestern town and interfere with the locals, in the process unsettling the high school student body and stirring up parent-child issues, while learning a few lessons about themselves. Bye Bye Birdie, right? Yes, and now it's also The Prom, a new musical comedy that incorporates elements of Birdie, Hairspray, Head Over Heels, and probably a couple of other titles. Coarser than Birdie, and busier, with a Casey Nicholaw staging that doesn't know when to quit, it's nevertheless grand entertainment, and probably the closest we'll get in 2018 to a new Golden Age musical comedy.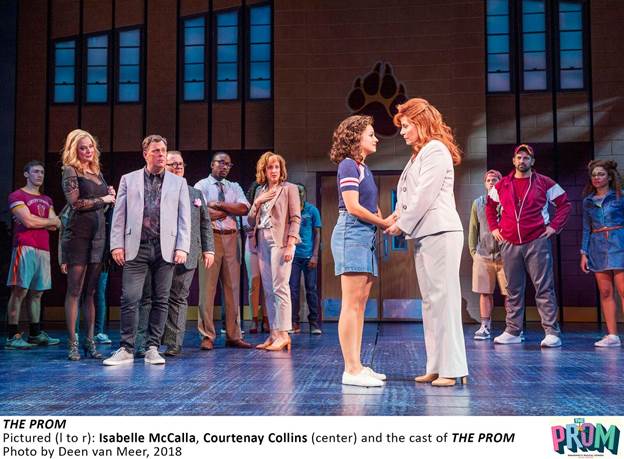 Like the contemporary musical it is, The Prom aggressively preaches tolerance. You expected something different? In fictional Edgewater, Indiana, much as in Sweet Apple, Ohio, the kids are abuzz. Emma (Caitlin Kinnunen), seventeen, has asked her girlfriend, Alyssa (Isabelle McCalla), who isn't out to her homophobic mom, Mrs. Greene (Courtenay Collins), to the prom. Rather than risk the fallout of lesbians at a school dance, the PTA has canceled the whole thing. It's a sad and believable situation, and in fact, it's based on an actual event from 2010.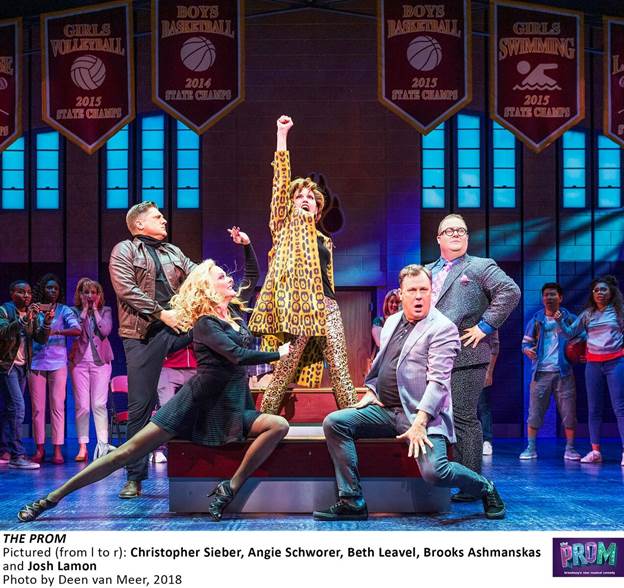 But it's just the issue to revive the careers of Broadway diva Dee Dee (usually Beth Leavel; at this performance, Kate Marilley stepped in) and her "gay as a bucket of wigs" leading man Barry (Brooks Ashmanskas), who have just crash-landed in their one-performance disaster, Eleanor! The Eleanor Roosevelt Musical. Their trouble, says Sheldon (Josh Lamon), their agent, is that they're narcissists. "So talking about yourself nonstop suddenly makes you a narcissist?" huffs Barry.
What they need, says Sheldon, is a social issue to embrace and rally around, currying favorable PR and restoring their careers. Off the three go to Edgewater, accompanied by their actor friends Angie (Angie Schworer), who just quit the Chicago chorus after 20 years of being passed over for Roxie, and Trent (Christopher Sieber), whose current cater-waiter status obscures a Juilliard-trained past, not that he'll let anybody forget it. It would be snide to say, hilarious hijinks ensue, but they really do.
With Thomas Meehan gone, we need a first-rate musical comedy librettist, and Bob Martin may be it. He collaborated on this book with Chad Beguelin. Begueln wrote the lyrics, and maybe if sound designer Brian Ronan just lowered the volume we could understand more than half of them. What we do hear are smart, funny, and, rarest of all, neat—no pretend rhymes or ragged meters here. Set to Matthew Sklar's melodies, which by today's paltry standards are pretty tuneful, the songs pop naturally out of the book, which, a loose thread or two aside, is a model of musical comedy efficiency.
Yes, it deals in stereotypes on both sides—the rigid, suspicious flyover folk vs. the shallow, self-centered theater people (who get to rattle off a number of clever theatrical in-jokes). But Martin and Beguelin, after introducing what could be characters who are caricatures, manage to humanize everybody, turning them into three-dimensional people.
The awful Mrs. Greene, in Collins's sensitive portrayal, is a mom who only wants the best for her daughter, or tells herself that. When Barry tells her she'd better accept Alyssa as she is or she'll lose her, we know it's something Barry has lived through, and this flouncy actor acquires surprising depth.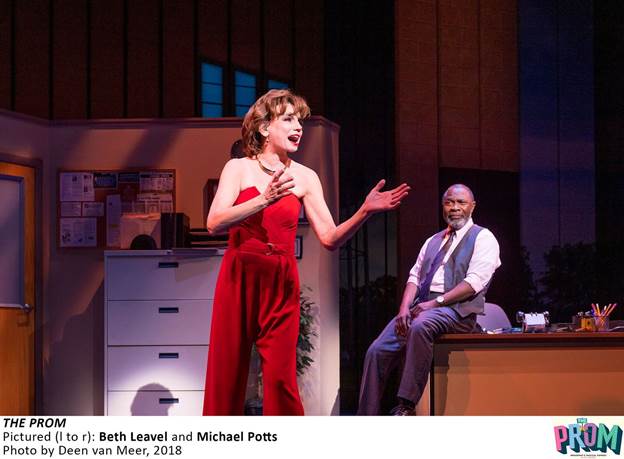 To humanize Dee Dee, the authors give her a romance of sorts, with the school principal, Hawkins (a self-effacing Michael Potts). Dee Dee learns, and grows, in a convincing and satisfying way. (Marilley displayed an impressive belt and landed the jokes adeptly, but one has to assume that Leavel has more, to use the title of a swell Act Two number, "Zazz.")
It's deftly balanced between the larger-than-life New Yorkers and the unremarkable Midwesterners. Kinnunen, who deserves and gets the final bow, is the emotional center, and she keeps Emma human-sized and relatable—as do Potts and McCalla, who are each rewarded with fine songs that tell us more about who Hawkins and Alyssa are.
Meantime, on the other side of the equation, Ashmanskas, Sieber, and Schworer revel in the showiness of Barry, Trent, and Angie. They look like they're having a blast, and they also do well with their few quiet moments. Ashmanskas, who's played this type of role before but never had such good lines, can switch from hilarious to touching on a dime.
Casey Nicholaw, probably Broadway's go-to director-choreographer by now, does what he usually does: keeps the pacing breakneck, and choreographs rather more than he has to. These are not moves Indiana kids would know or be able to execute, and the dazzle-for-dazzle's-sake can get oppressive in spots. On the other hand, he lets the smaller moments play naturally and unassumingly, and when was the last time you saw a book scene in a Broadway musical earn applause? Scott Pask's sets are busy—and confusing, at a crucial late-Act-One point where we're not always sure where we are. But Ann Roth and Matthew Pachtman serve up just the right costumes, glittery for the New York faction and Dress Barn-dull for the townspeople, and Natasha Katz's lighting glows.
In the end, the most impressive work in The Prom comes from the librettists. I slogged a couple of weeks ago through Love, Simon, a recent movie about two cute gay teen boys in love. It ends, spoiler alert, with the happy couple kissing at the top of a Ferris wheel, while the townspeople below, formerly hate-spewing parents and schoolmates, cheer them on. And I thought, no, that ain't gonna happen. But thanks to Martin and Beguelin, everybody in The Prom gets his say, and you believe them, and when a similar happy ending arrives, it's earned and credible.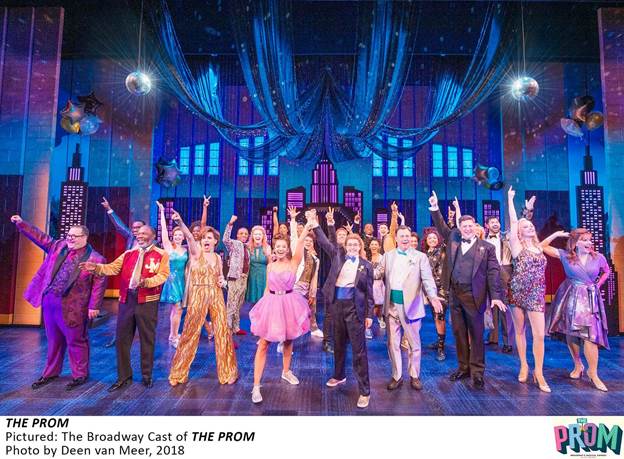 The Prom may be more engineered than inspired, but it works, works, works, and the blending of punch lines and exchanges that make you care about these people is beyond expert, it's genius. Arriving at her woebegone Indiana motel, Dee Dee brandishes her two Tony Awards to get upgraded to a suite. Martin and Beguelin may as well make room on their mantels for theirs right now.
Open run.
At the Longacre Theatre, at 220 W 48th St, Manhattan.
For tickets and more information, phone 212-335-1672 or
visit online www.theprommusical.com
Running time: 2 hours, 35 minutes, including intermission.