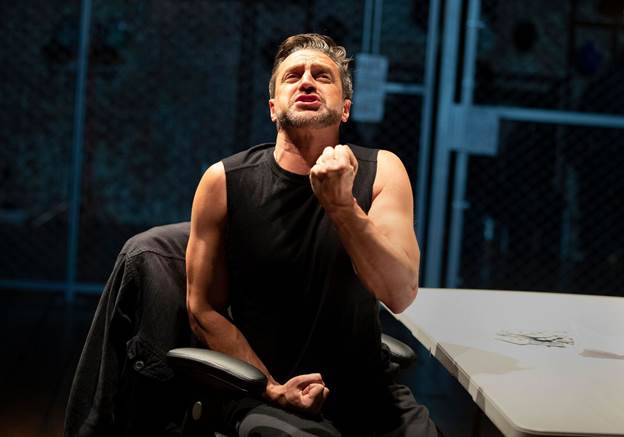 †Raķl Esparza††††††††††††††††††††††††††††††††††††††††††††††††††††††††††††† Photos by Joan Marcus
†††††††††††††††††††††††††† By Ron Cohen
Ever wonder what it would have been like to be in near proximity to Adolf Hitler with his demonic rabble-rousing in full power?
Well, in real life, thatís probably not a consummation devoutly to be wished. But as a theatrical experience, itís a mind-blower. And thatís exactly what Raķl Esparza delivers, playing the title role in Classic Stage Companyís searing production of Bertolt Brechtís The Resistible Rise of Arturo Ui.
Brechtís play is a satirical allegory on the rise of fascism in Germany. He wrote it in 1941 while in Finland, awaiting a visa to the United States, his political stance and writings having forced him into exile for years from his native Germany. However, the play was not produced until after his death, and then in Germany in 1958.† Since then, the play has seen various productions, with two English-language mountings making extremely brief Broadway runs, in 1963 and 1968.
Despite the bumpy production history, the CSC production, directed by its artistic director John Doyle, reaffirms the play to be as relevant today as when the refugee Brecht was writing it in 1941, a thunderbolt of a warning against the ease with which a totalitarian government of violent authority can overtake a society. And Esparzaís performance lifts this smartly realized exemplar of Brechtian theater Ė theater mounted in bare-bones style, enacted in a highly stylized manner and designed to teach and make a statement rather than simply engage the emotions -- into a raging inferno of gut-grabbing drama.
Brecht, itís said, always intended to have Arturo Ui first produced in America, and even though the script is largely written in verse and abounds in Shakespearean references, he gives his play the aura of a 1930s Warner Brothers gangster drama. Arturo Ui, Brechtís stand-in for Hitler, is a lowly born kid from Brooklyn, who comes to Chicago with the aim of taking over its wholesale cauliflower trade, and later the cityís entire vegetable business.
Uiís modus operandi is the protection racket: selling protection to the business owners against the threat of violence that comes from nowhere else but Uiís own mob. Intimidation, arson and assassination are the tools of his trade, and to improve his own personal standing, he takes speech and stature lessons from a classical actor, overcoming his Brooklyn accent and learning how to walk, sit and gesture.
He lures a respected and venerable statesman, Dogsborough, into a corruption plot, threatens workers with warnings against unionizing, fosters frictions between his own henchmen and simply gets rid of anyone standing in his way.
His ambitions quickly stretch over to neighboring Cicero, as Hitlerís did to Austria, and eventually Ui recites a whole litany of cities for conquest. And as Esparzaís Ui rages against supposed enemies and feigns sympathy for those he has victimized, he becomes more and more a pulsating heart of darkness. The bellowing voice, the snarling anger, the idiosyncratic gestures, they all meld into a figure that is at once terrifying and mesmerizing. And even in moments of quiet, when Esparza walks around the edges of the playing area (the audience is seated on three sides), perusing the audience, presumably looking for enemies, you may feel like cowering beneath your seat.
And Brecht makes quite clear his taleís relationship to Hitlerís rise. At various points, actors announce the actual happenings in 1930s Germany that correspond to the incidents depicted in the play.
Doyleís staging hews closely to the Brechtian minimalist manner. Thatís hardly a surprise. Doyleís reputation as a director is largely built on his mastery of the essential, trimming away the superfluous.
The plot unspools in a series of crisp, fast-talking scenes, with the actors handling the pungent language of George Taboriís translation with alacrity. Adopting a presentational manner, the performers sometimes turn away from each other to address the audience directly. Itís a device that works well here, heightening the sense of political engagement.
And the company of seven actors surrounding Esparzaís seething Ui give him plenty to play against, most of them taking on multiple roles. As Dogsborough, Christopher Gurr pretty much defines the well-practiced self-importance that can afflict a long-revered politician. Varying shades of threat come through ominously in the trio of Uiís henchmen portrayed by Eddie Cooper, Elizabeth A Davis and Thom Sesma. You may recognize their prototypes as Eric Roehm, Hermann Goering and Joseph Goebbels, respectively.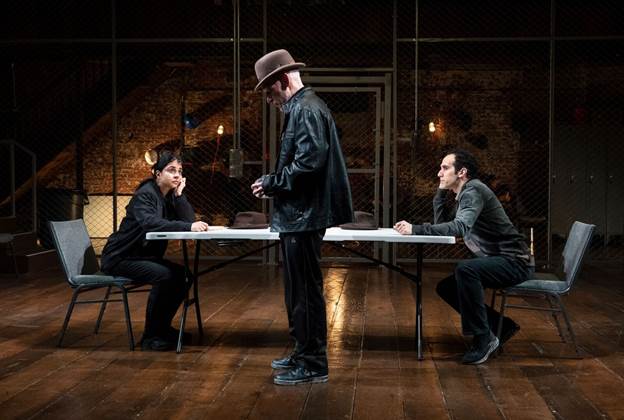 (l. to r.) Mahira Kakkar, Christopher Gurr, George Abud
Thereís also sharply defined work by George Abud and Mahira Kakkar as besieged vegetable businessmen, and, despite Brechtís dictum against engaging emotions, Omozť Idehenre may indeed move you as the bereaved widow of one of Uiís more prominent victims.
As he often does, Doyle designed the set, pretty much a bare stage, with one end closed off behind a cage-like wire fence, where the actors await their entrances and sometimes issue pronouncements. When needed, the actors themselves set up folding tables and chairs for the playís various conference scenes.
Jane Coxís lighting is marked by a series of overhead fluorescent lights, with sudden shifts in lights and traveling spots adding to the naked theatricality. The bleak plebian feel of the proceedings is also expressed in Ann Hould Wardís workaday costumes, topped by what seems an endless supply of fedoras and other headgear eliciting a period atmosphere.
It all adds up to monumental, instructive theater. Even if you donít feel the need to be warned against fascism these days, with the rise of nationalism coming at you from almost all quarters, this is a show worth seeing, if for nothing else but its sheer theatrical ferocity.
Review posted November 2018.
Off-Broadway play
Playing at Classic Stage Company
136 East 13th Street
212 352 3101
classicstage.org
Playing until December 22