The Rolling Stone
By Fern Siegel
In Uganda, where evangelical religion is married to homophobia, Dembe (Ato Blankson-Wood) goes looking for love in all the wrong places. Specifically, with Sam (Robert Gilbert), a charming Irish doctor, the son of a Ugandan woman. Sam is resolute in his passions, while Dembe is acutely aware of the dangerous nature of their relationship.
Now at the Mitzi Newhouse Theater at Lincoln Center, Rolling Stone reveals it is life and death.
The local Kampala paper publishes the names, addresses and photos of men accused of homosexuality. In fact, the show is based on the name of a Ugandan tabloid that in 2010, the year the play takes place, published the names of 100 presumed gay men. The headline read "Hang Them" — and one gay rights activist was killed in his home.
That is the backdrop to Dembe and Sam's illicit affair. The laws against homosexuality are severe, while the religious condemnation is intense. Joe (James Udom) is a pastor who decries sexual deviancy, even suggesting gays should be rounded up and kept in pigpens.
Dembe, Joe's brother, greets his impassioned rants with a mixture of horror and fear. Dembe looks for mercy and solace in religion; Joe's muscular Christianity is focused on destroying what he views as tainted souls. He's joined in his bigotry by Mama (Myra Lucretia Taylor), a family friend who hates gays and has put Joe in his current church post. "These people recruit, rape and spread disease," she cries, sounding just like the American evangelicals who exported the hatred she embraces.
Anyone labeled a "kuchu" is in mortal danger in Uganda. So, when Sam finds that word scrawled on his bathroom wall, it's time to consider alternatives.
But can Dembe leave a country and a family he loves? The emotional sacrifice would be acute. He and his sister Wummie (Laytoya Edwards), close since childhood, are both headed for medical school. She's the more gifted of the two, yet when family finances prove wanting, Joe insists sparse resources are earmarked for their brother.
His sexism is as vile as his homophobia. The problem — the execution of key themes is more surface than serious, particularly in act one. We are not fully engaged with the characters, due in part, to insufficient dramatic tension. Terrible things happen around the family — but it isn't until act two that hard realities — and hypocrisies — hit home, and Rolling Stone shifts into high gear. The ties that bind are put to the ultimate test.
Do Joe and Wummie know the truth about their brother? Are their religious beliefs devoid of compassion? Can someone rant in public, but protect a family member in private?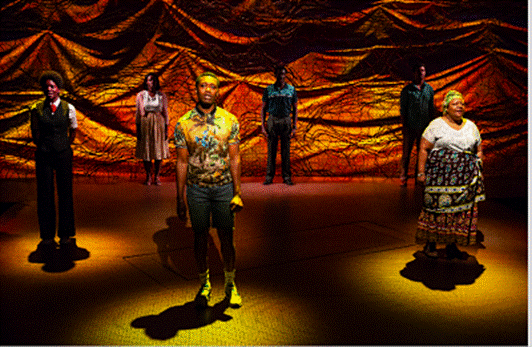 In front: Latoya Edwards, Ato Blankson-Wood and Myra Lucretia Taylor Photo: Jeremy Daniel
The Rolling Stone, an English import by Chris Urch, grapples with such serious questions — though the dramatic tension is occasionally uneven. (He also drifts off into a side tale about Mama's mute daughter that somewhat obscures the focus.) The play would benefit from a tighter first half, though it is blessed with a talented ensemble that works well together.
Each performer mines his/her role for its heartache, and the confrontation between Wummie and Sam about the demands of love is particularly notable. Yet the sacrifice Wummie is forced to make, which she calls love, is really gender denial. Neither Joe nor Dembe would do what the culture expects of their sister.
Rolling Stone addresses the cruelties and ironies of faith in an earnest way. The sets by Arnulfo Maldonado are simple — an abstract wire backdrop on a clay-colored stage. Saheem Ali directs a strong cast, with few visuals. Japhy Weideman lighting and Justin Ellington's original music and sound nicely render time and place.
The bottom line is clear: Dembe and Joe cannot choose to be other than they are, and that dichotomy ups the emotional stakes. Morality, belief and love — it's all on the line. These real-life issues are searing — and Rolling Stone delivers a provocative and disquieting production.
The Rolling Stone, Mitzi E. Newhouse Theater in Lincoln Center, 150 West 65 St. Running time: 1 hour, 55 minutes, through August 25.Tickets: www.lct.org/shows/rolling-stone/